Wishes do come true, even if you're an adult, aboard the brand NEW Disney Wish. The newest Disney Cruise Line ship, the Disney Wish, sets sail on its inaugural cruise on July 14, 2022. Disney invited a slew of media personnel to sail aboard for the Christening Cruise and we explored everything that's new on the Disney Wish for adults.
If you've sailed with Disney Cruise Line before you've probably scoped out the newest ship a little. As someone who has sailed on every Disney ship, except for the Fantasy, I can say without question that the best ship is the Disney Wish for adults. The adult areas on this ship are smartly designed and reconfigured to make things more convenient than ever before.
Note, we were invited aboard the Disney Wish for a special media event during the Christening Sailing. Our cruise fare was complimentary as was our food, however, specialty drinks and other specialty experiences were not part of the package and were therefore paid for on our own. 
1. Adult Lounges on the Disney Wish
First and foremost, the design and layout of the Disney Wish are brilliant. Finding your way on a cruise ship you've never been on before is sure to be bewildering. Be patient with yourself as you get acquainted.
Most importantly, if you're a parent looking for a way to balance family time with adults only time, Disney's newest ship makes it even easier than before. The Oceaneers Club is a kids club for ages 3 -11. And now on the Disney Wish it is located on Deck 2 – which seemed inconvenient to me at first. And yet it is actually genius.
Kids can enter the Oceaneers Club using a clear, slide themed to Alice in Wonderland. The kids club slide goes from Deck 3 to Deck 2. Parents can check in their kids on Deck 3 and watch them slide down right to the desk at the Oceaneers Club, and then walk a few steps to 3 different adult lounges!
The Bayou
On Deck 3, mere steps from the slide to the Oceaneers Club, are three distinctly different lounges for adults. The Bayou is the main lounge, and one of the largest on the Disney Wish. The gorgeous details inspired by the movie The Princess and The Frog create an immersive atmosphere and there is a stage for live music in the evenings. The signature drink is The Hurricane and it is delectable!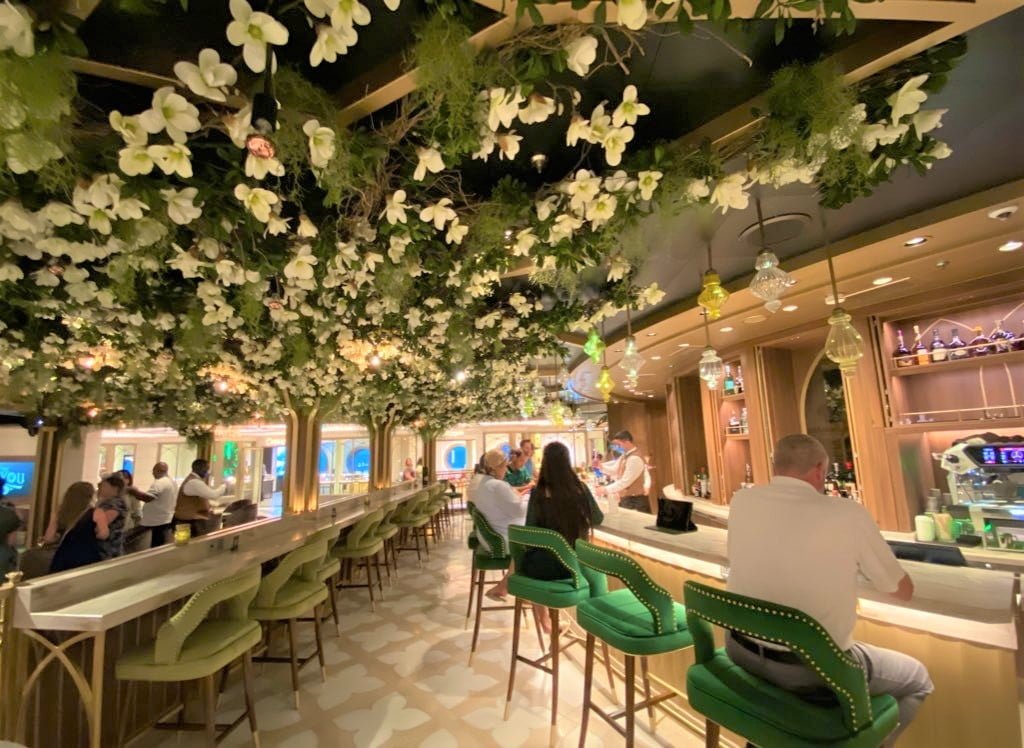 Nightingale's
Nightingale's is also on Deck 3 and is in fact the closest lounge to the Oceaneers Club check in. You can see it from The Grand Hall which is more than the ship's lobby, it is a beautiful space that towers three decks. The Grand Hall serves as a gathering space and entertainment area. It is full of Cinderella details, and Nightingale's Lounge continues that theme. Try one of the Ice Bubbles cocktails which involves pouring the cocktail into an ice orb that you gently break into the glass to enjoy your handcrafted drink.
Star Wars Hyperspace Lounge
The last lounge on Deck 3 is the Star Wars Hyperspace Lounge which is the most unique lounge on any cruise ship, anywhere. It is fully Star Wars themed and truly immersive.
Danny Handke is a senior creative director for Walt Disney Imagineering and spoke to us about the design of Star Wars Hyperspace Lounge. During a panel discussion, Danny Handke described Star Wars Hyperspace Lounge as a more elegant place within the Star Wars universe as opposed to grungier Star Wars Cargo Bay for the kids on Deck 2. Danny Handke describes the lounge as a place for adults to play within the Star Wars universe.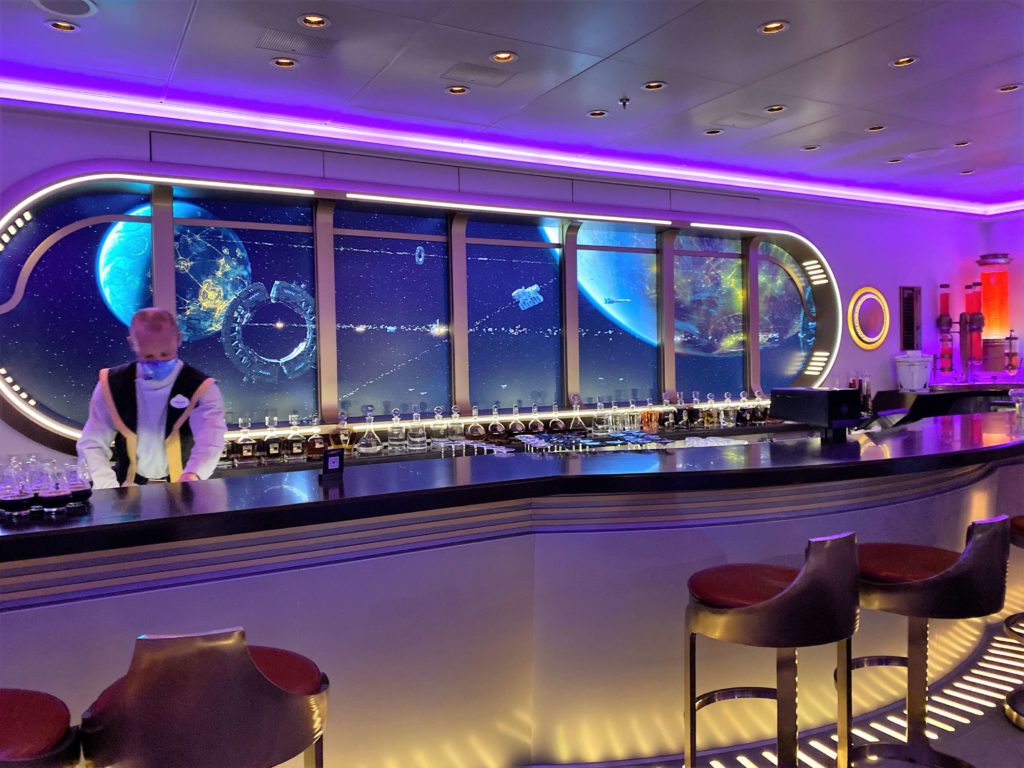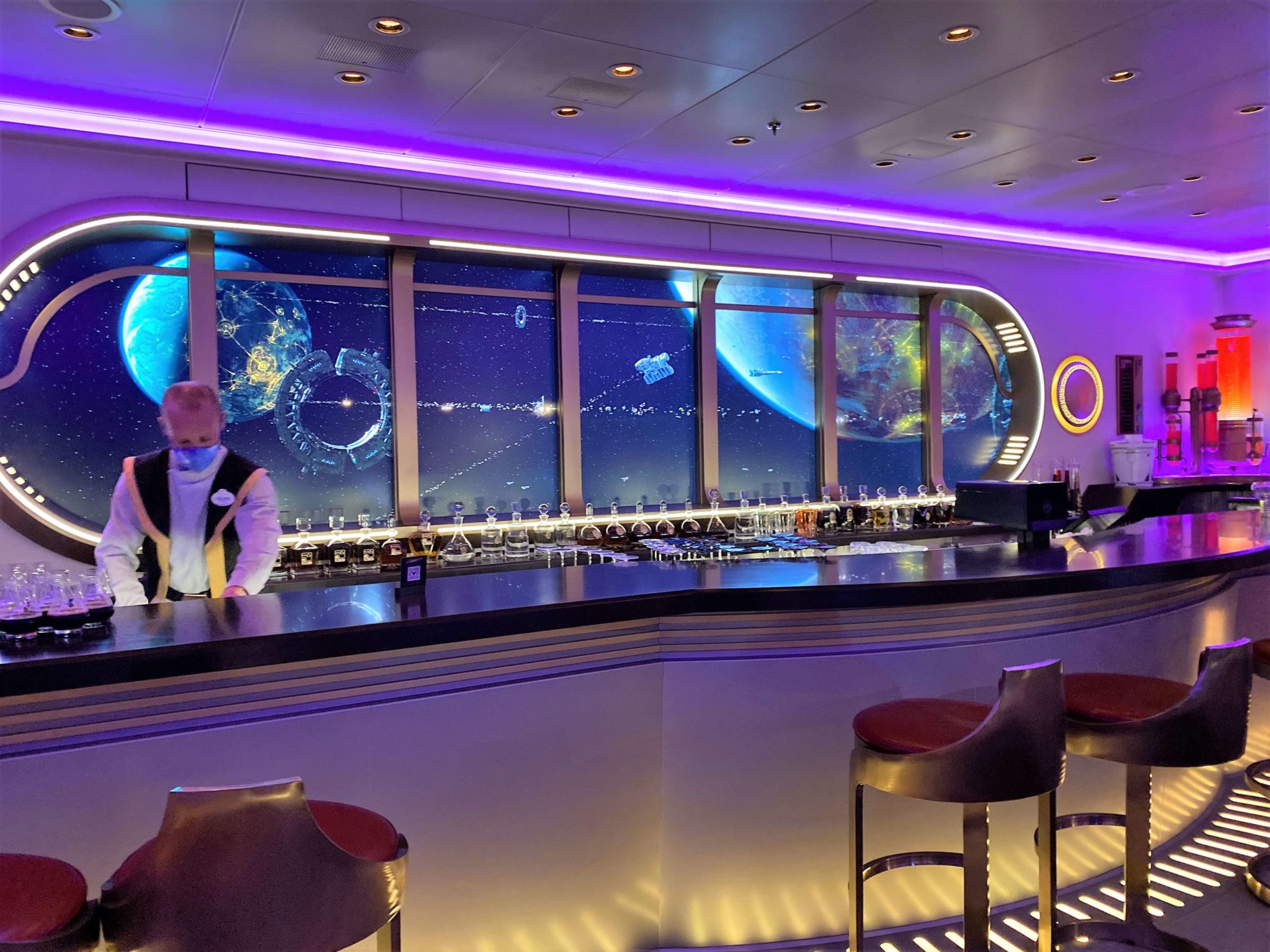 The drinks are truly creative, something you won't find anywhere else on the Disney Wish ship. There are also specialty beers only available in the Hyperspace Lounge.
Star Wars fans with a keen eye are sure to find details everywhere they look. My husband and I loved watching the large "window" screen behind the bar that would show us going into hyperspace every so often. We spotted several ships from Star Wars movies, TV shows, and even theme park attractions.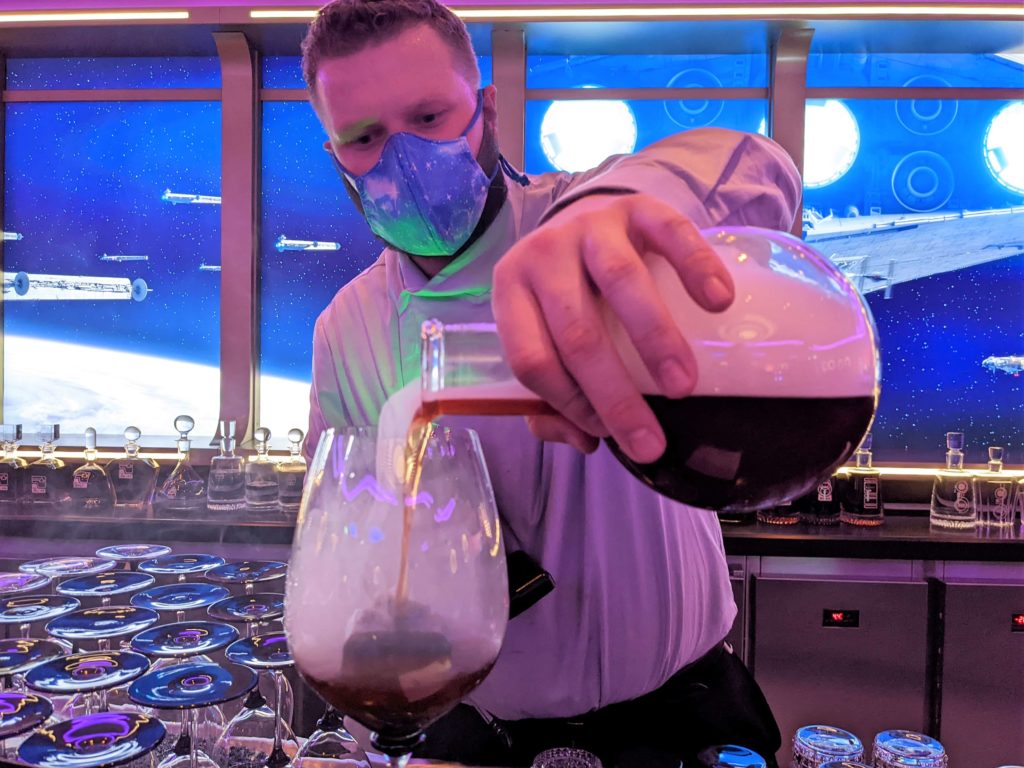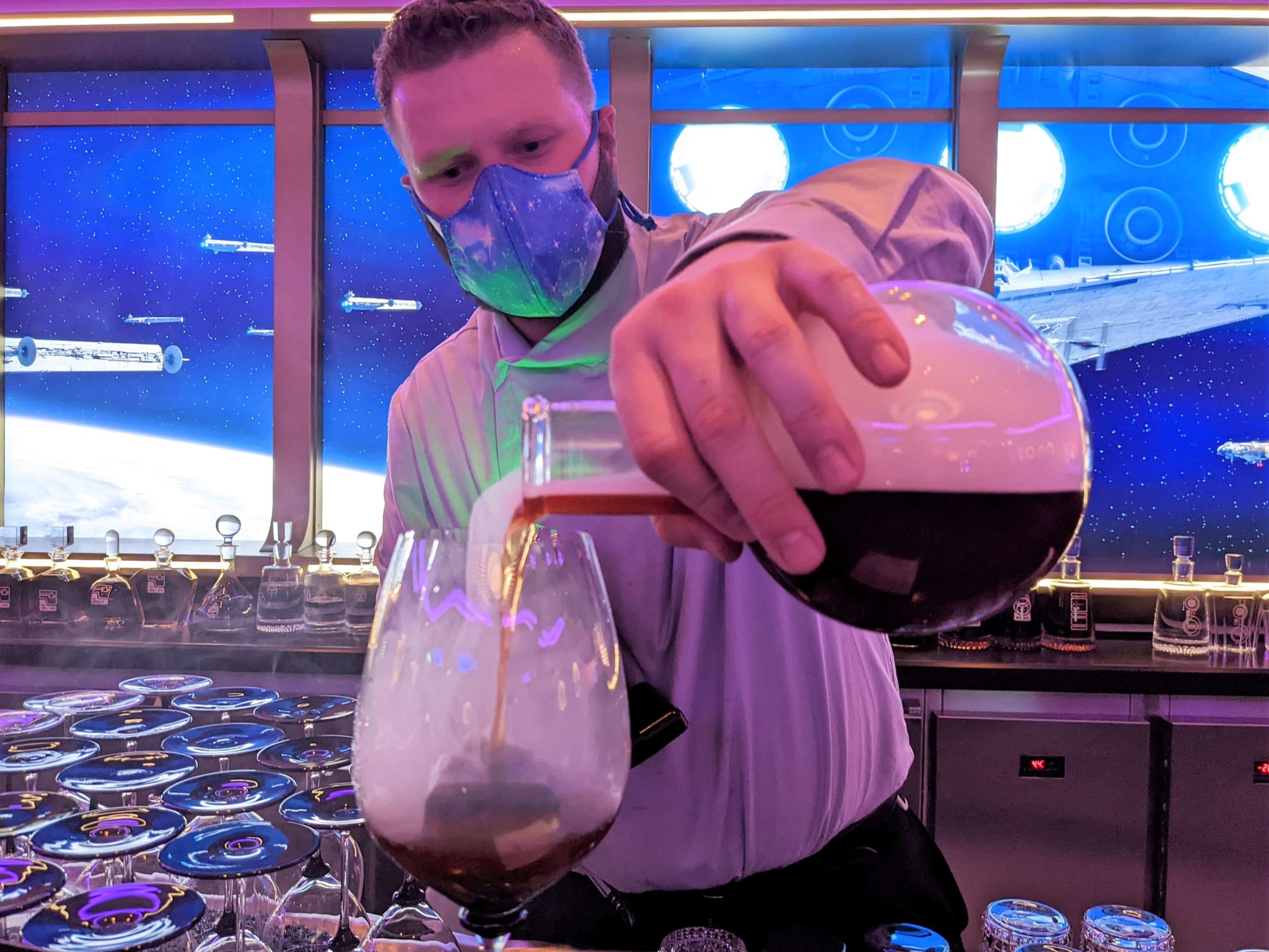 The Star Wars Hyperspace Lounge can feel small, but its size makes sense for being on a cruise ship, and being themed as a lounge on a starcruiser. Check the hours of operation and get your name on the list as soon as you can.
Enchanted Sword Cafe and Wishing Star Cafe
Just off The Grand Hall, you'll find two charming cafes that double as an elegant coffee shop and relaxing lounge.
On deck 4 is the Wishing Star Cafe, themed after Pinocchio. And on deck 4 is the Enchanted Sword Cafe themed after the Sword and the Stone animated movie. Both of these cafes / lounges have the same core menu and offer specialty coffees as well as cocktails.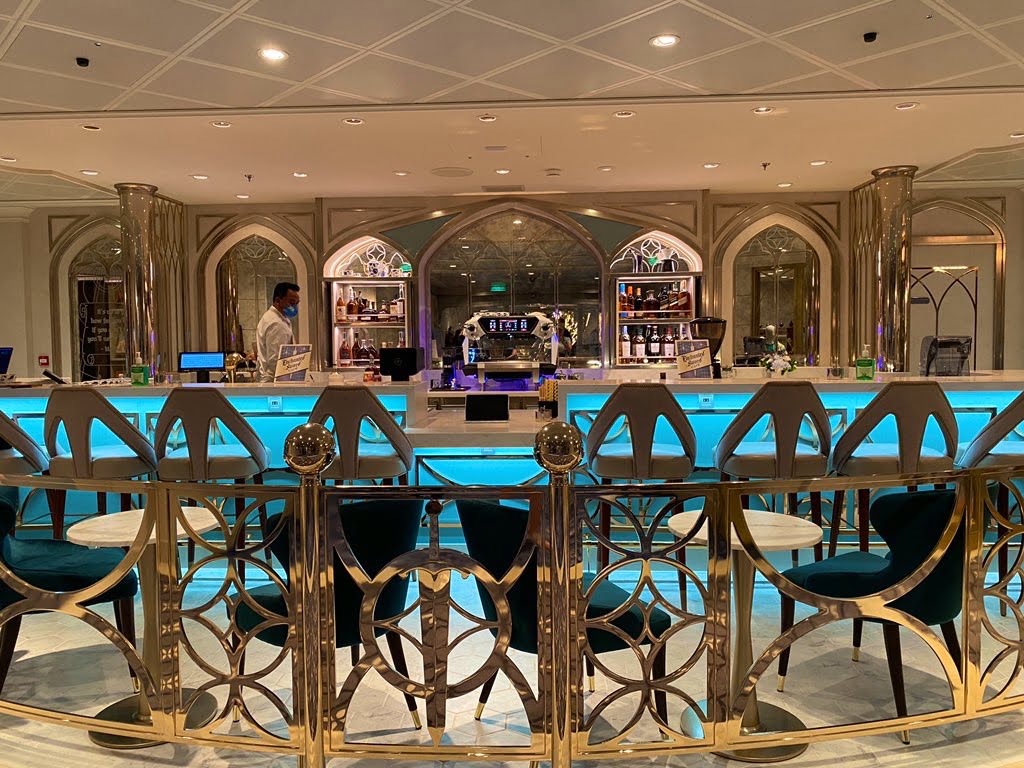 I wanted the best of both worlds and ordered a "Brew Fashioned" cocktail which is essentially an Old Fashioned made with cold brew coffee. It gave me the perfect way to kick off an elegant evening on the ship.
Bonus! Practically every single bar on the Disney Wish has charging ports, most of them are USB ports. So bring along your charging cable while you recharge yourself, and your device.
Keg and Compass
On Deck 5 forward (towards the front of the ship) awaits a nautical-themed pub. I stumbled on the Keg & Compass on the second day of our media cruise and instantly fell in love. Every Disney cruise ship has a traditional or modern pub, and Keg & Compass represents the next evolution in this concept.
The details in this space are astounding. There are wood carvings around each porthole window, featuring an octopus and a humourous Disney detail. Maps, charts, compasses, and plenty of other details will keep your eyes gazing when you're not gazing lovingly into each other's eyes.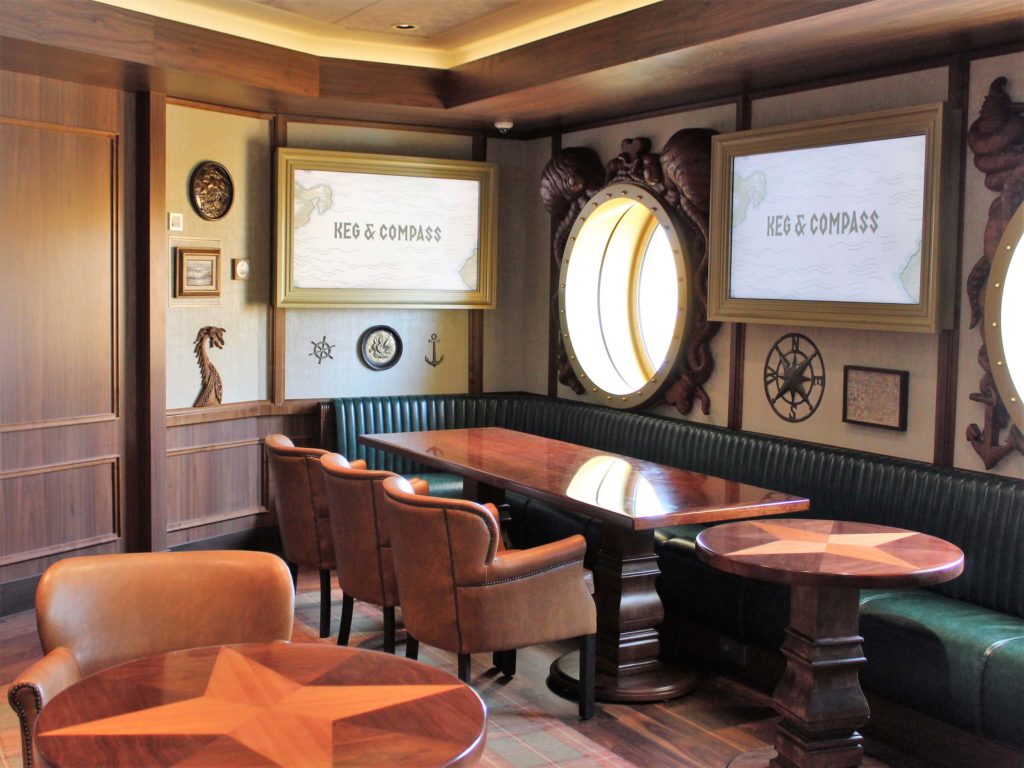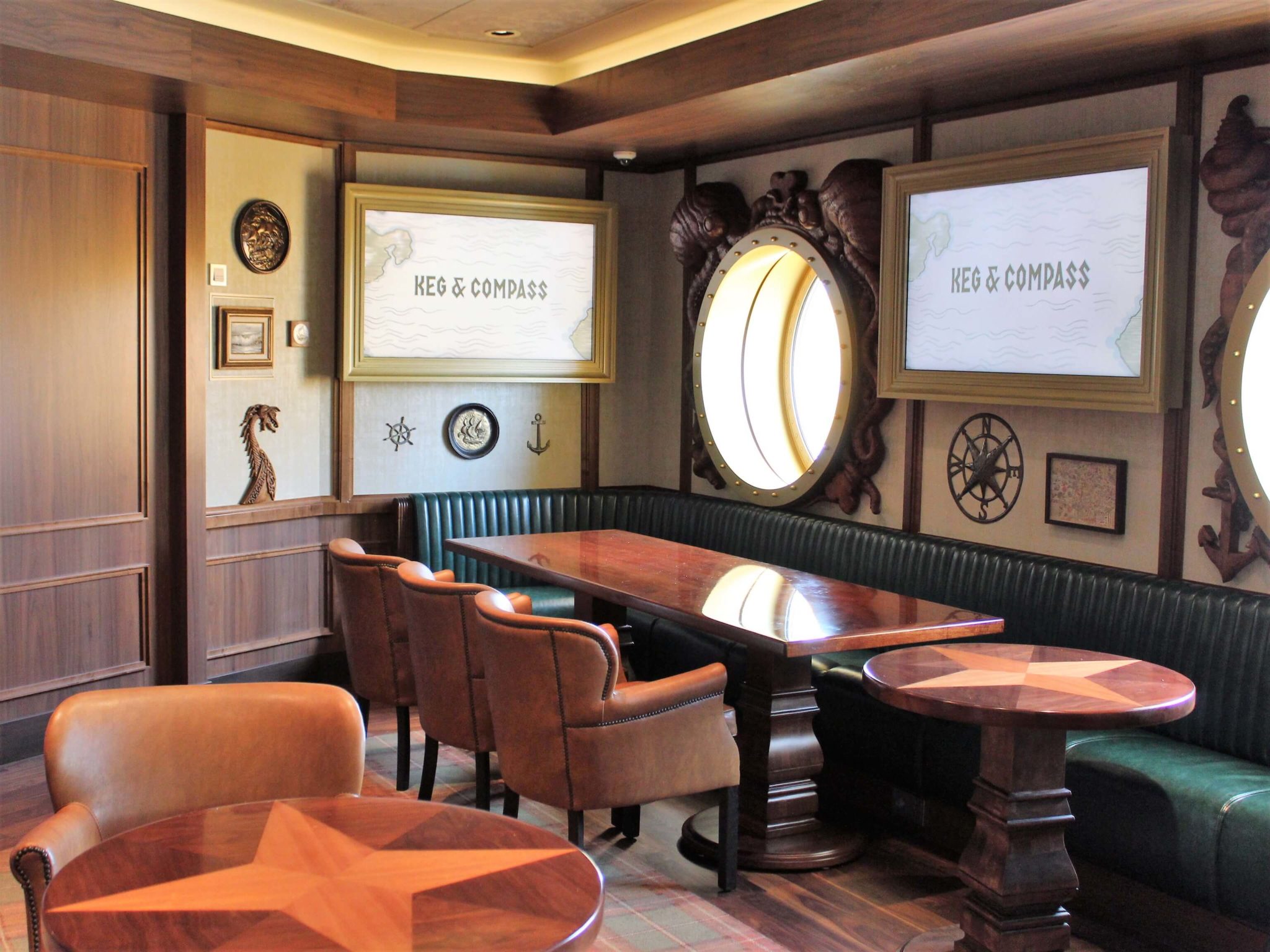 The drinks here are robust. Scrumptious elevated pub grub is also available and is one of the few food items not included in your cruise fare.
Fans of Epcot must visit this spot. There are multiple items that pay homage to Maelstrom, the former boat ride at the Norway Pavilion.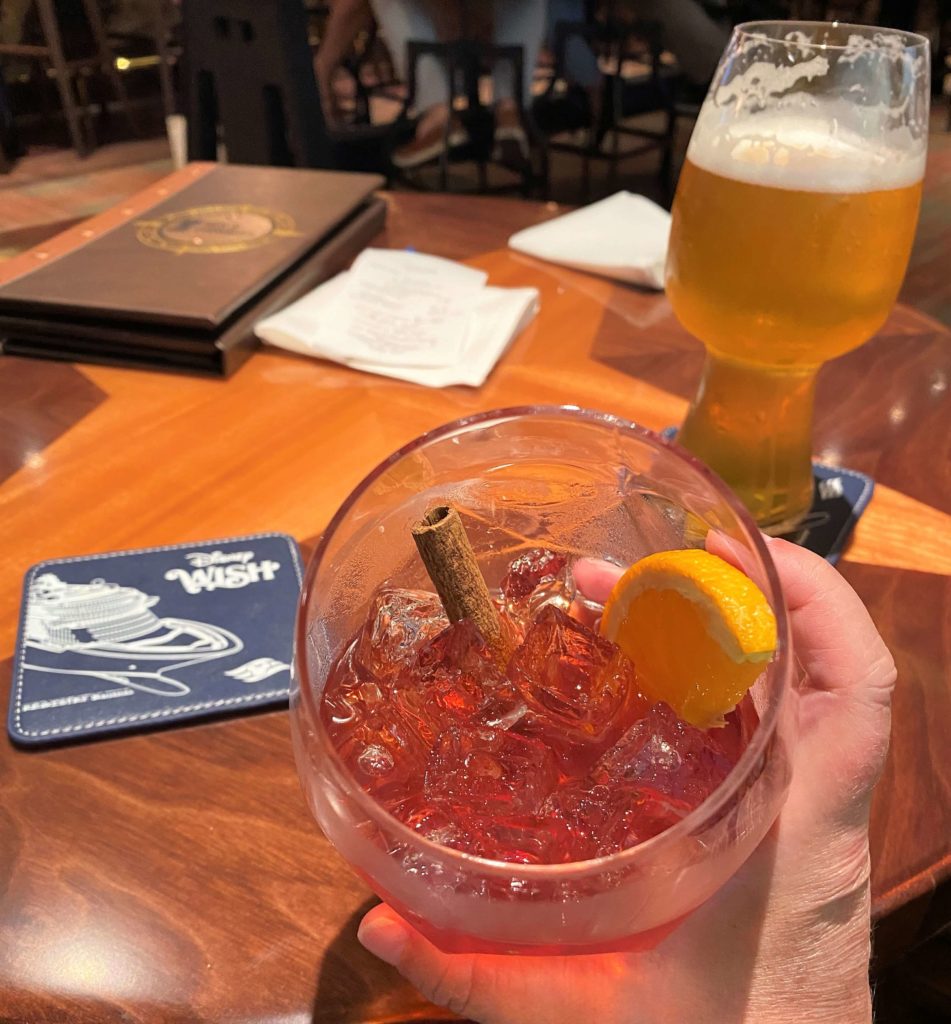 RELATED: Most Romantic Spots at Walt Disney World
The Rose Lounge
As with previous Disney Cruise ships, the best place for adults to relax is deck 12 aft (the back of the ship). You'll find the adults only pools and sundeck on deck 12, and there are two incredible adults-only restaurants on this upper deck too.
And while these special restaurants require reservations, and cost extra, The Rose Lounge is available without reservations and sits just outside the entrance to these two restaurants. It is by far the most elegant and romantic lounge on the Disney Wish.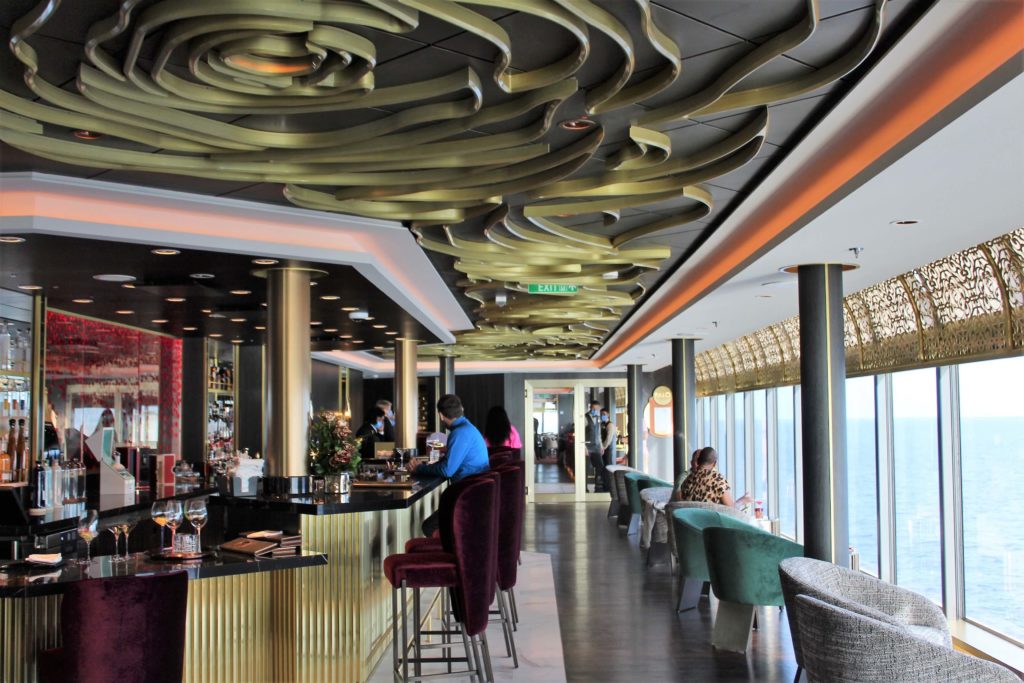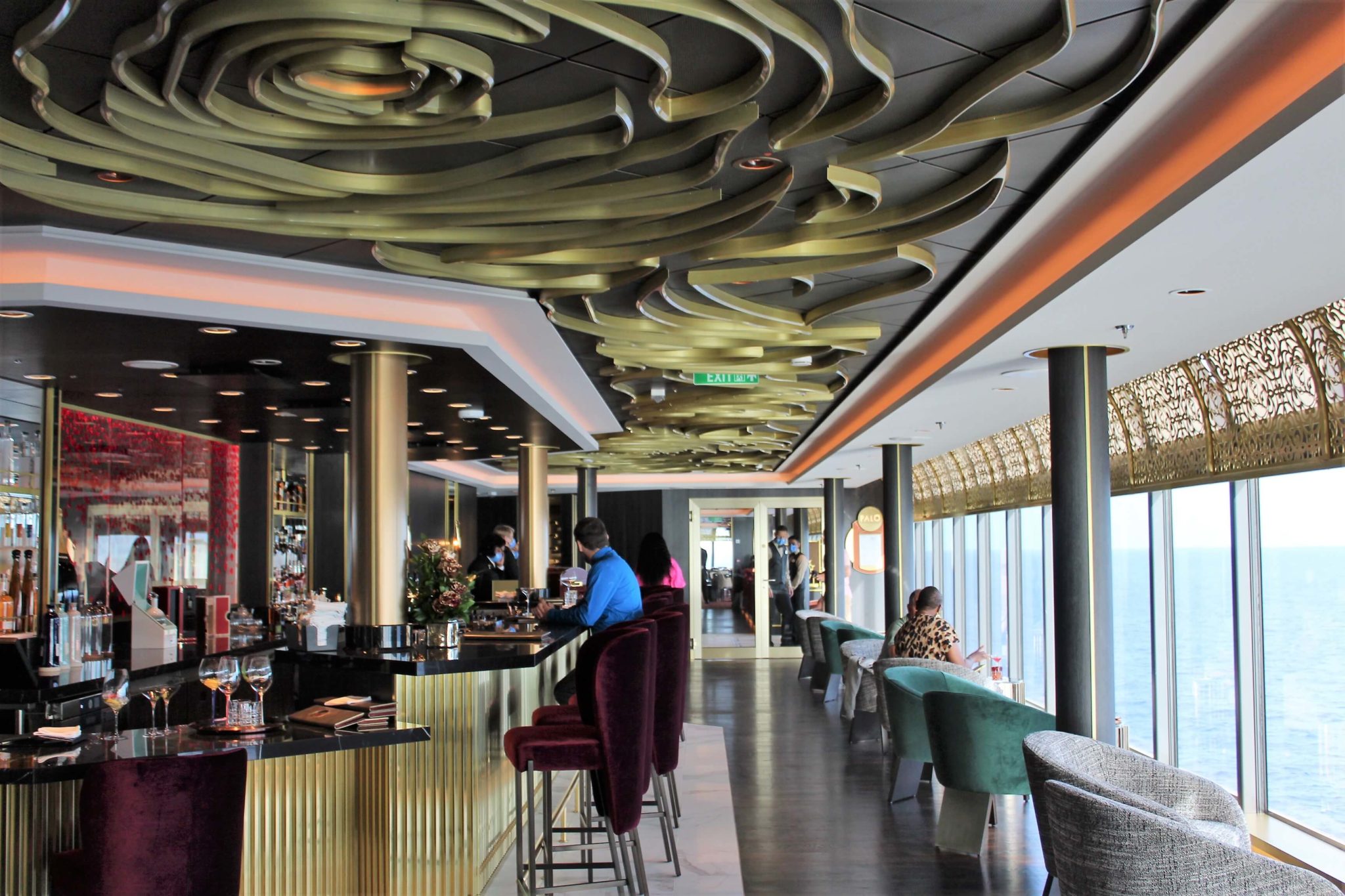 An impressive wine list and sophisticated cocktails await to be sipped as you gaze out over the sea through panoramic windows. My husband and I had a hard time deciding where to look: the gorgeous rose-themed bar or the sparkling ocean before us.
The one thing that is missing in this area is a selection of beer. The wide array of classy spirits and wine are the focus here. Thankfully our magnificent bartender, Kelvin, kindly acquired some craft beer for my husband to enjoy.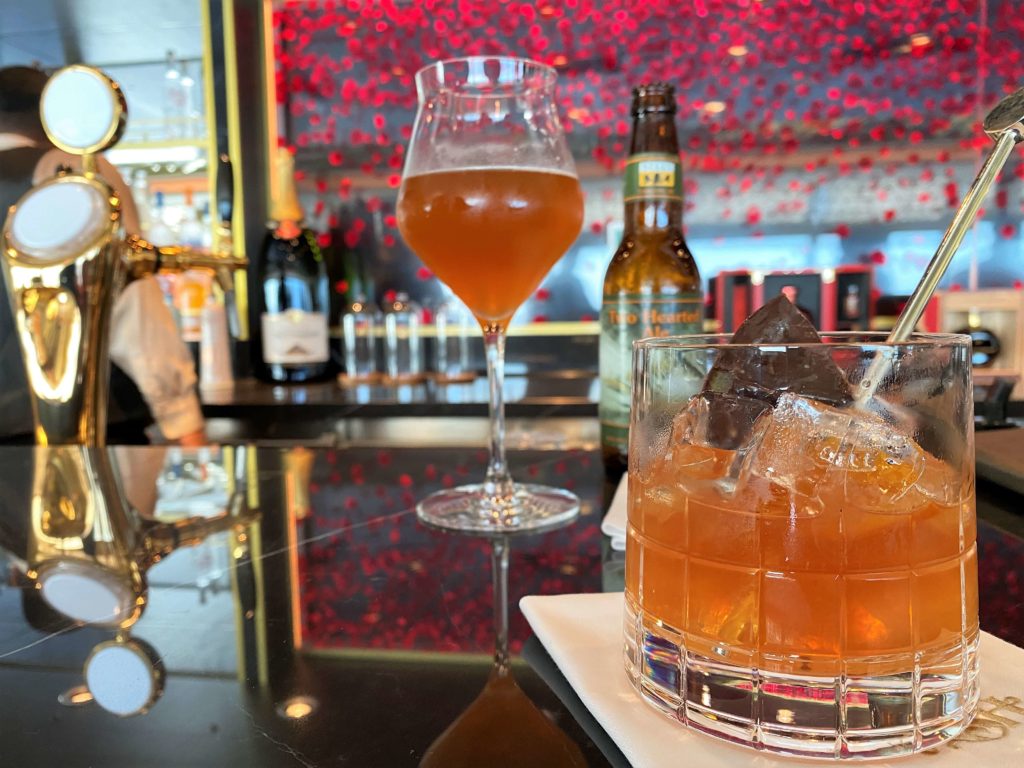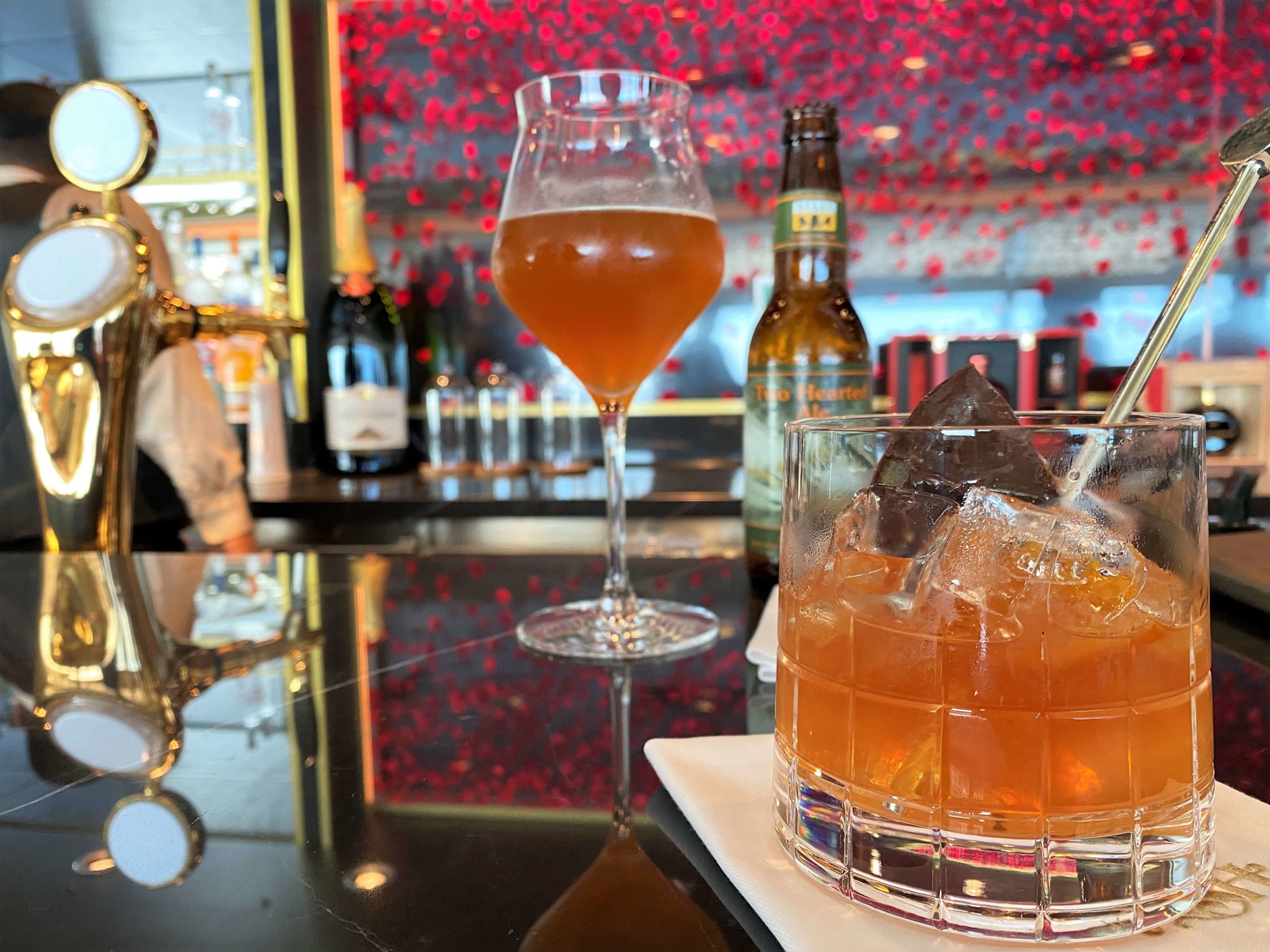 The featured image of this article is of The Rose Lounge.
2. Quiet Cove Infinity Pool
The tradition of an adults-only pool and sundeck area continues on the Disney Wish. This time the adults only pool is a small infinity pool. This marks the first infinity pool ever on a Disney cruise ship. This infinity pool overlooks the back of the ship – a pretty amazing view.
The adults-only pool area feels a lot smaller than the other Disney cruise ships. There are two shallow pools with gentle waterfalls that flank the infinity pool. You can grab a drink from the lovely lounge right by the pools and the Cove Cafe coffee shop just around the corner, with an elegant Moana / Polynesian theme.
Although the pools are smaller than I would have liked, there are lots of lounge chairs throughout the wrap-around sun deck, making deck 12 entirely adults only.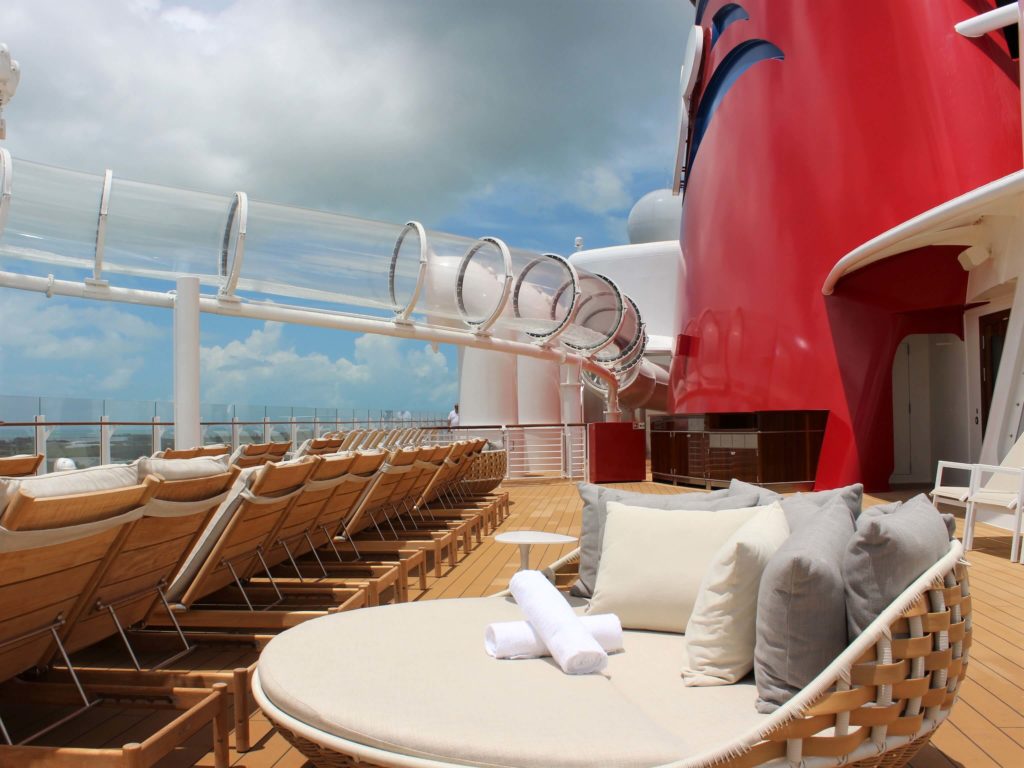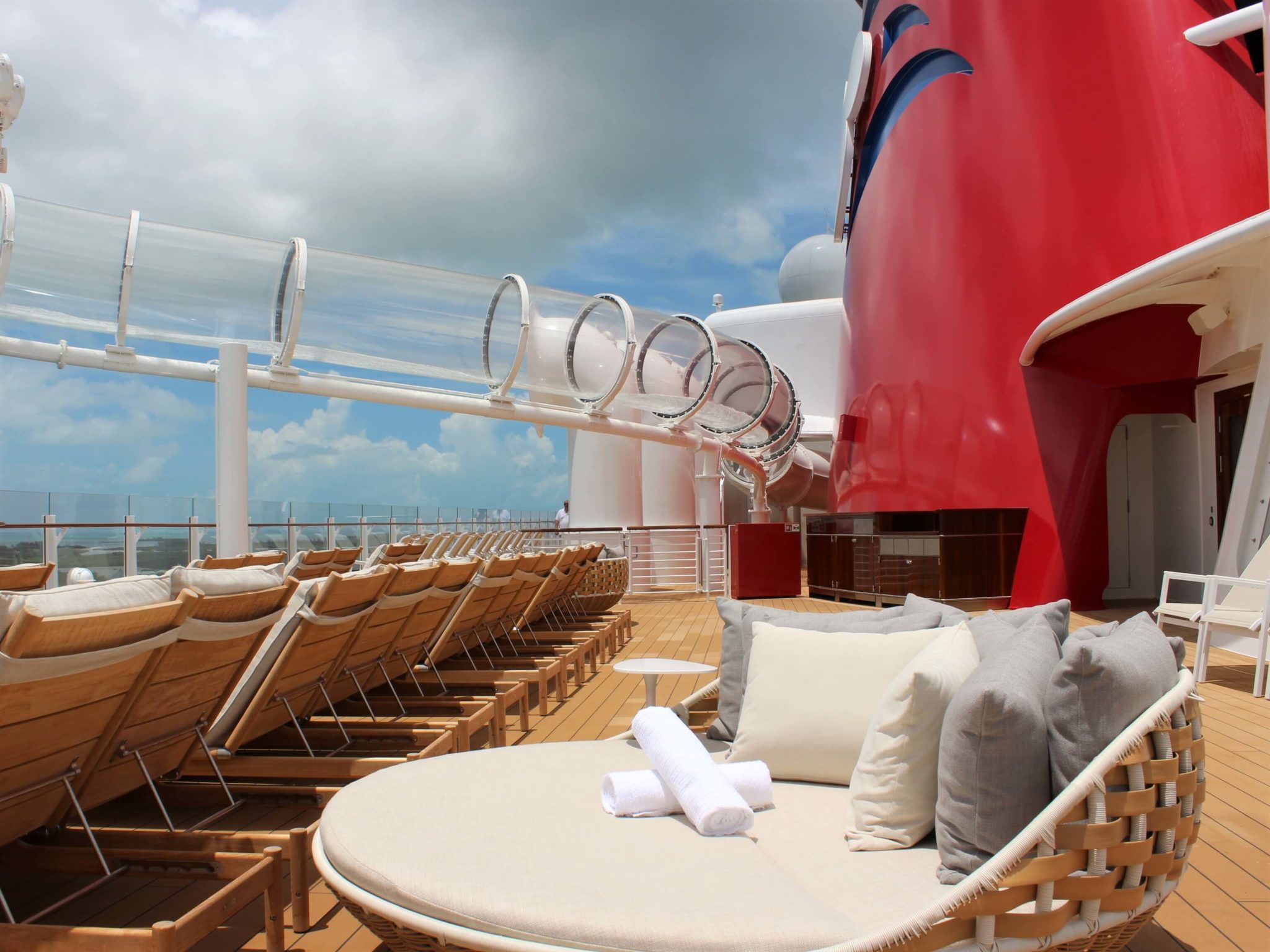 3. Disney Wish Senses Spa
My favorite way to relax on vacation, especially on a cruise, is to indulge in the spa. I especially love spending time with my husband in plush spa robes soaking up the spa atmosphere. And each Disney Cruise ship has a Senses Spa.
RELATED: The Best Spas in Orlando for Couples
The Senses Spa on the Disney Wish is the biggest yet. Not only is the spa itself bigger, but the signature Rainforest Room is also expanded. What's more, the Rainforest Room extends outside. Put your mind and body at ease with scented showers, heated tile lounge chairs, hot tubs, and more.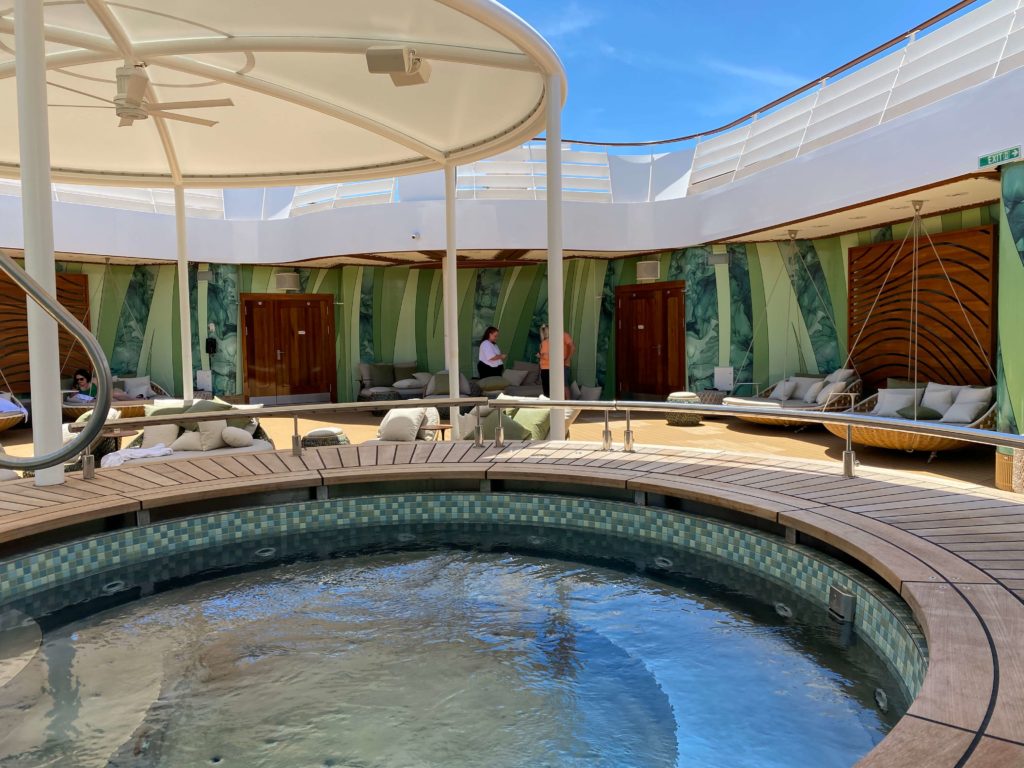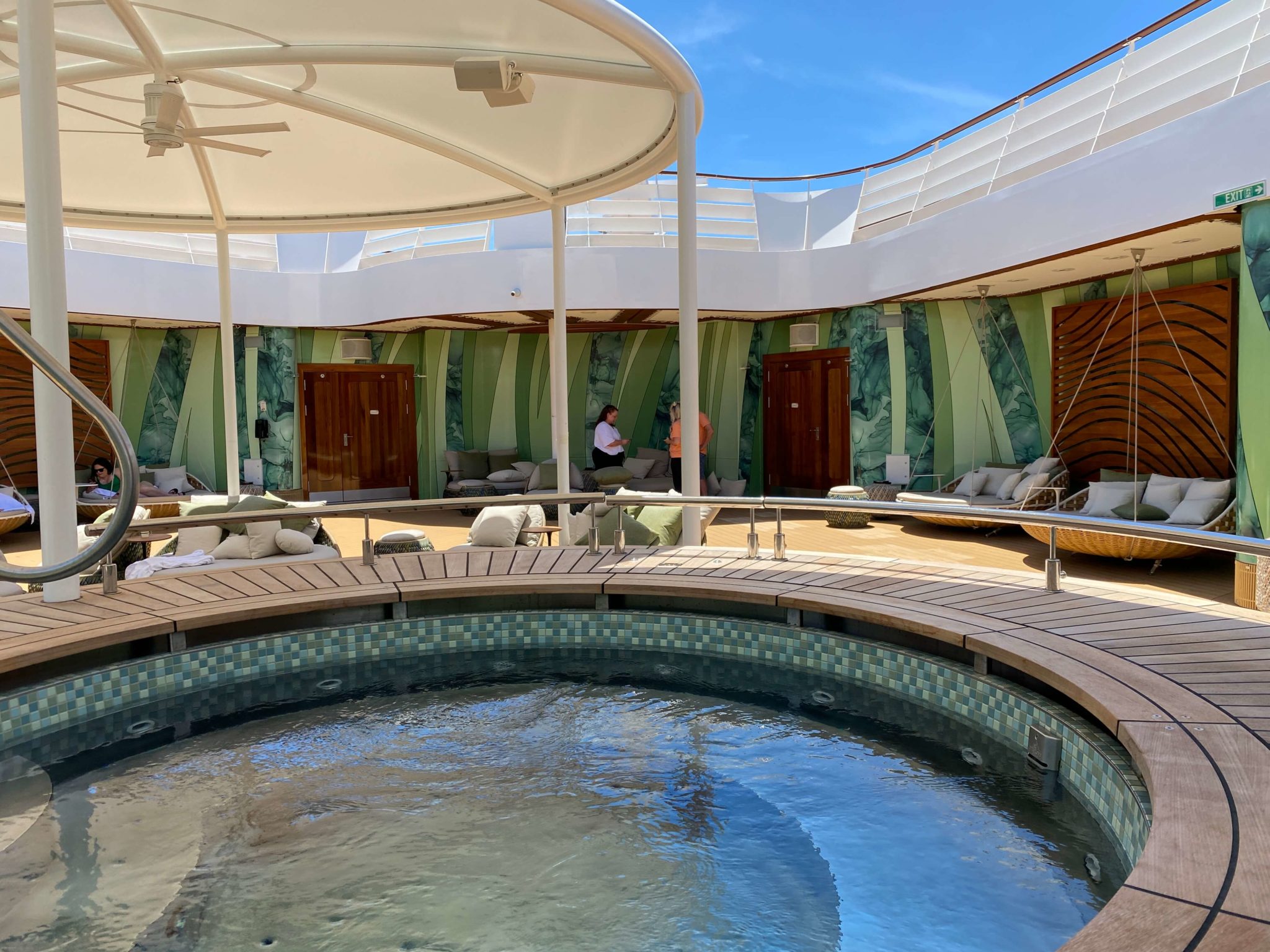 New Salons
Two new salons on the Disney Wish made it possible for the Senses Spa to expand. Untangled Salon and Hook's Barbery are on deck 4 and offer a gorgeously themed space to enjoy services like manicures, pedicures, and more.
4. A Hidden Bourbon Bar on Disney Wish
Speaking of Hook's Barbery, you'll find something surprising here. A "hidden" bar can be found right here. Whether you book a service here or not, stop in for a hand-crafted bourbon Old Fashioned that you get to help design. And if you are receiving a service at Hook's Barbery take it to the top-notch by adding on this bourbon bar experience.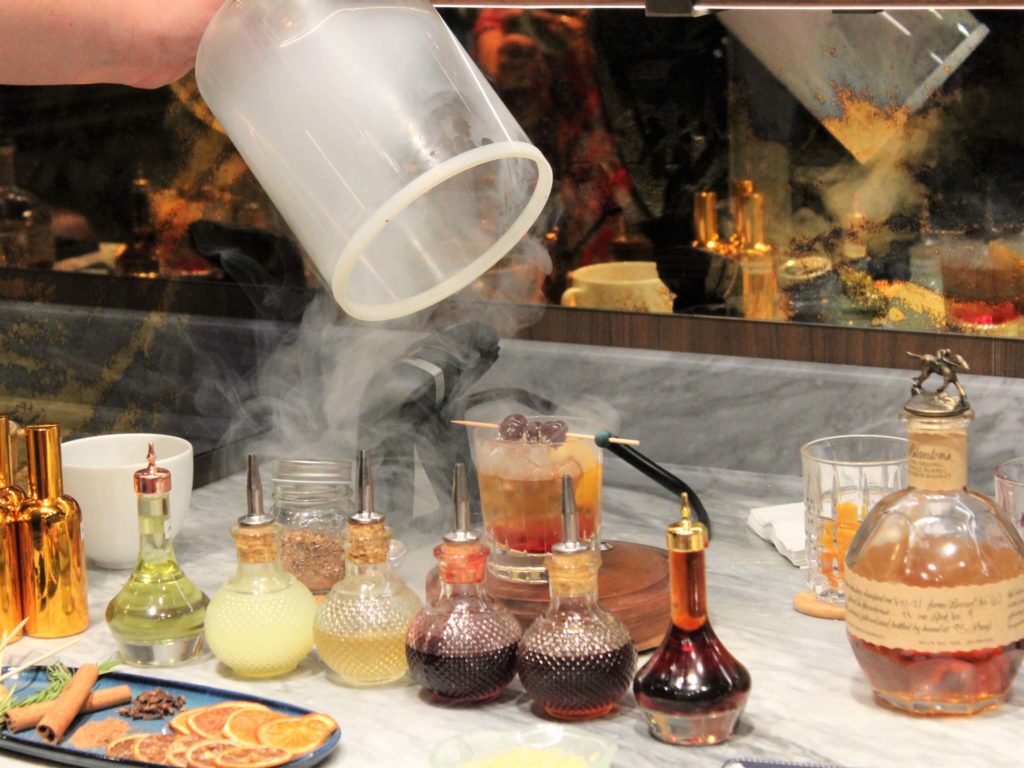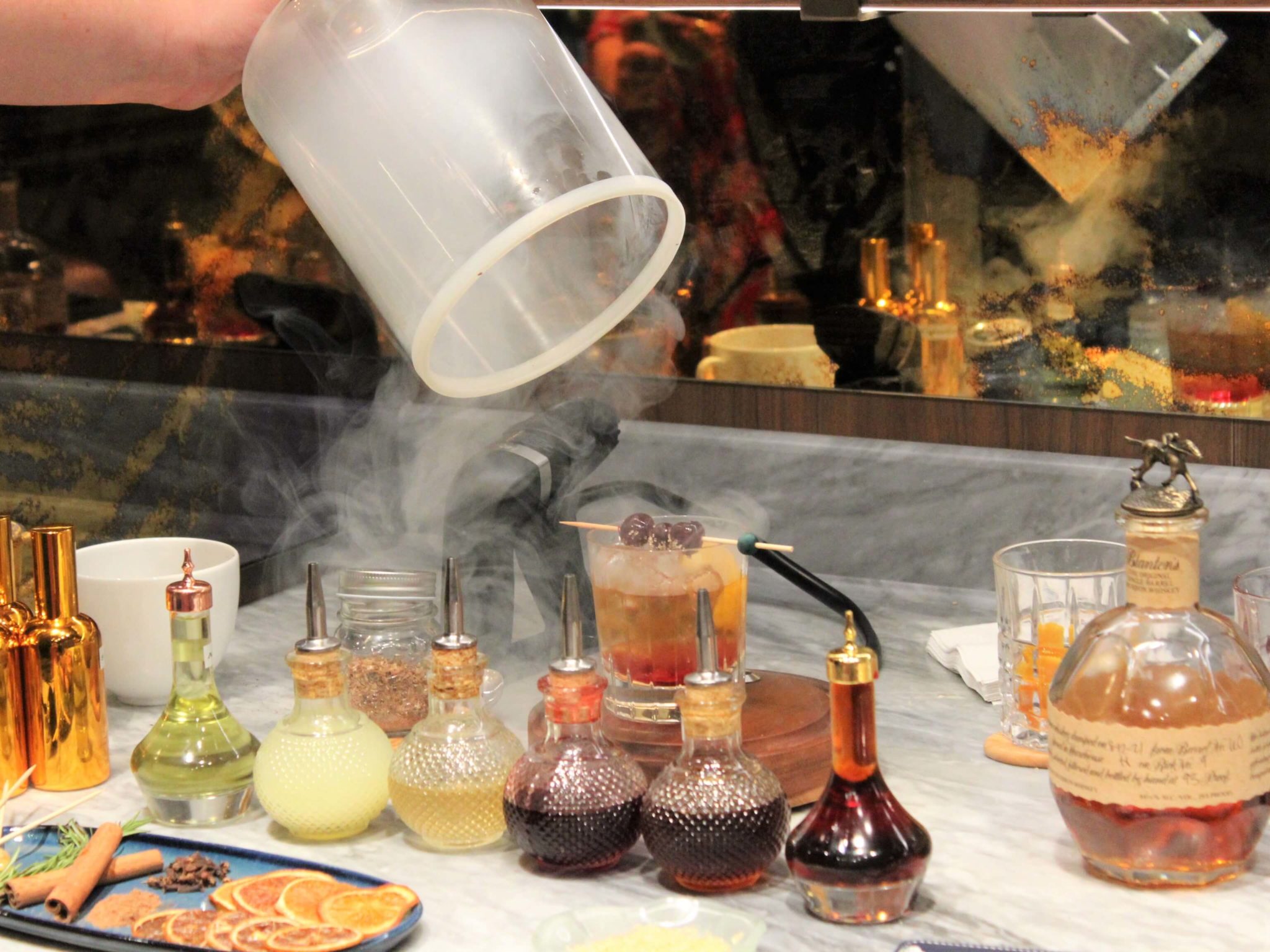 You'll get to hand pick each ingredient, or if you prefer, let the expert bar tender guide you. In our case, we ended up creating the most expensive drink of our cruise. At $25 the "chocolate cherry Old Fashioned" made for the most sophisticated drink to cap off a lovely date night on the ship.
5. Adults Only Restaurants on Disney Wish
Disney Cruise Line is known for providing the perfect balance of family experiences and adults only indulgences. As a mom who values quality time with my son and also quality time with my husband, I find a Disney cruise to be the best way to have it all. Sure, it is among the priciest cruises out there, but I can say without question it is one of the few vacations in which I can truly relax.
One way I like to spend quality time with my husband on a Disney cruise is with an elegant dinner at one of the adults only restaurants. On the Disney Wish are two restaurants just for guests 18 and older. You can either purchase a prix fixe dining experience or order a la carte.
Palo Steakhouse
Palo Steakhouse reimagines the classic Palo restaurant on all other Disney cruise ships. Disney invited me and my husband to dine here on the Wish Christening Cruise. After countless meals at the classic Palo over the years, I felt some trepidation at the thought of a new version of Palo. Palo Steakhouse is more modern than the previous iterations and is every bit as relaxing and sophisticated.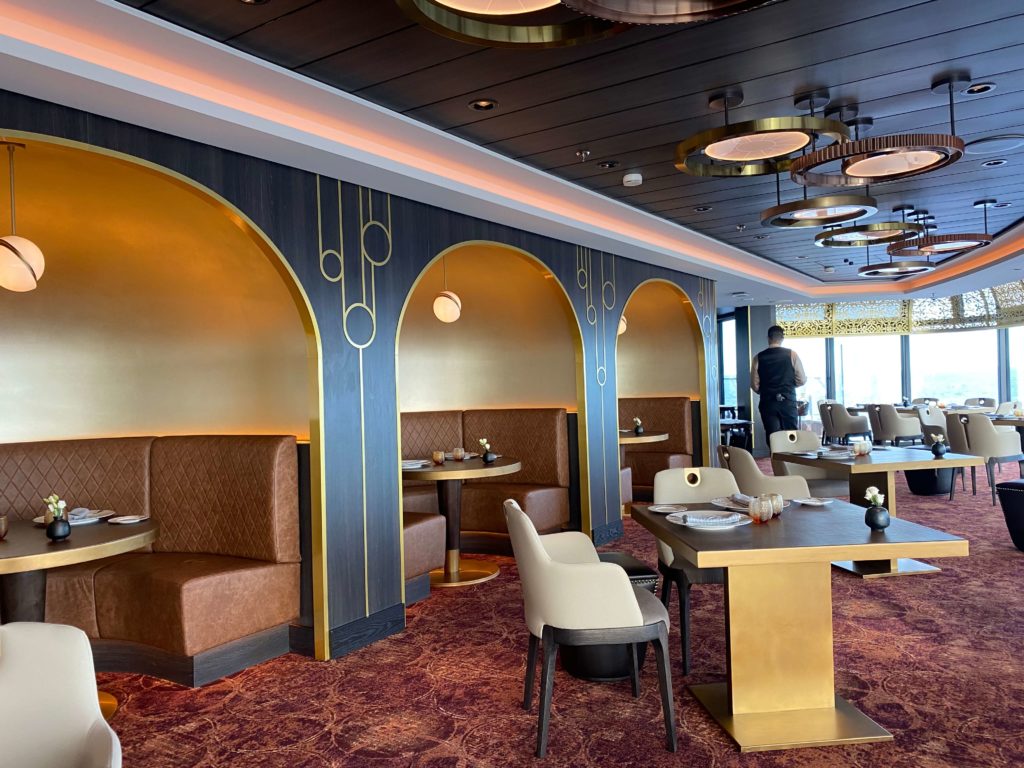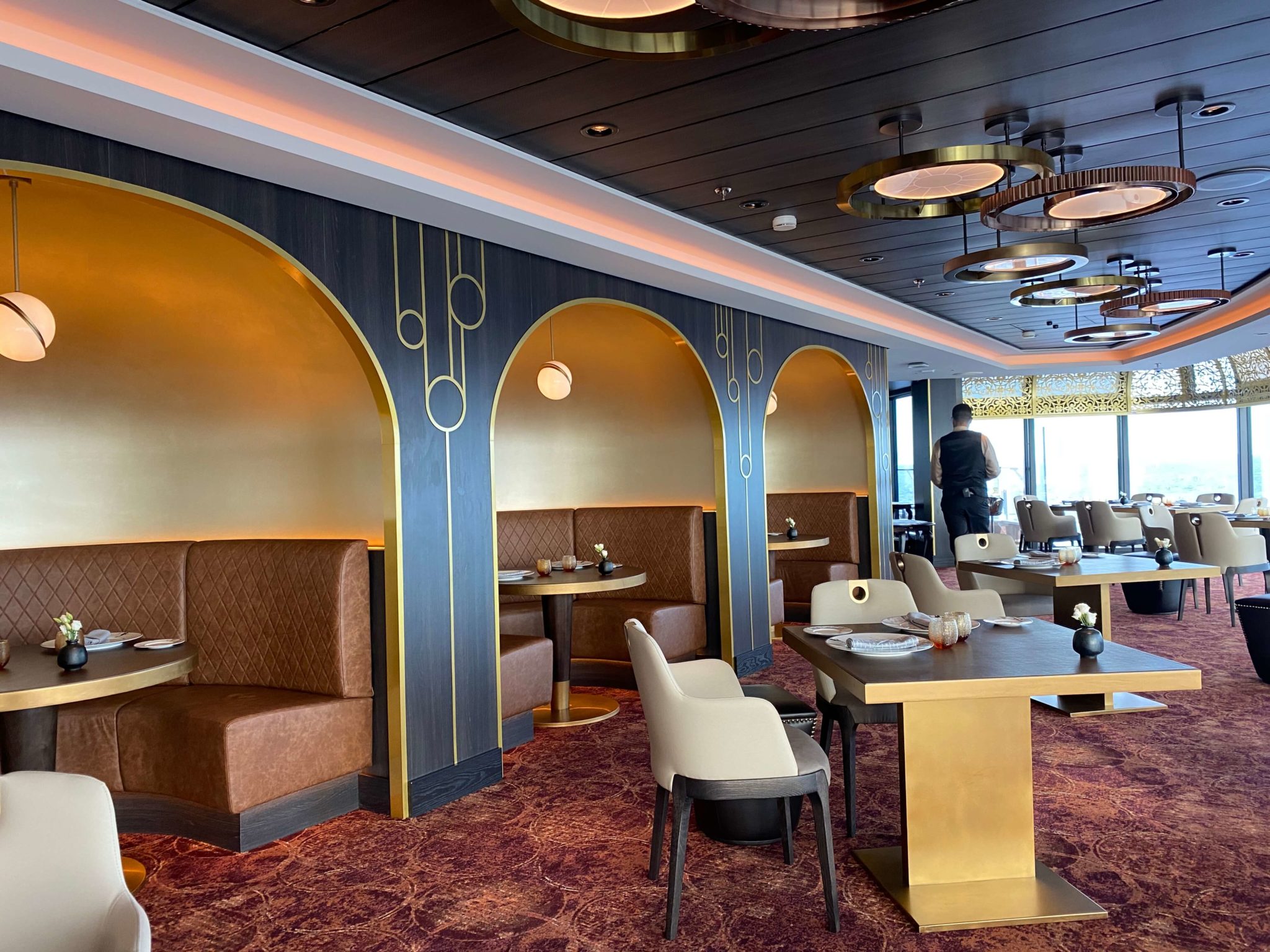 The service we experienced at Palo Steakhouse is unmatched. In my many years, I have learned to listen to a server's recommendations. They spend their working hours hearing the opinions of diners of all walks of life, and so their recommendations often lead to hidden gems that flawlessly please.
At our server's recommendation, we selected the Angonotti pasta to share in between our appetizers and our entrees. It tasted like all four seasons of the year put onto one plate with butternut squash, sage brown butter, buffalo mozzarella, basil, and amaretti.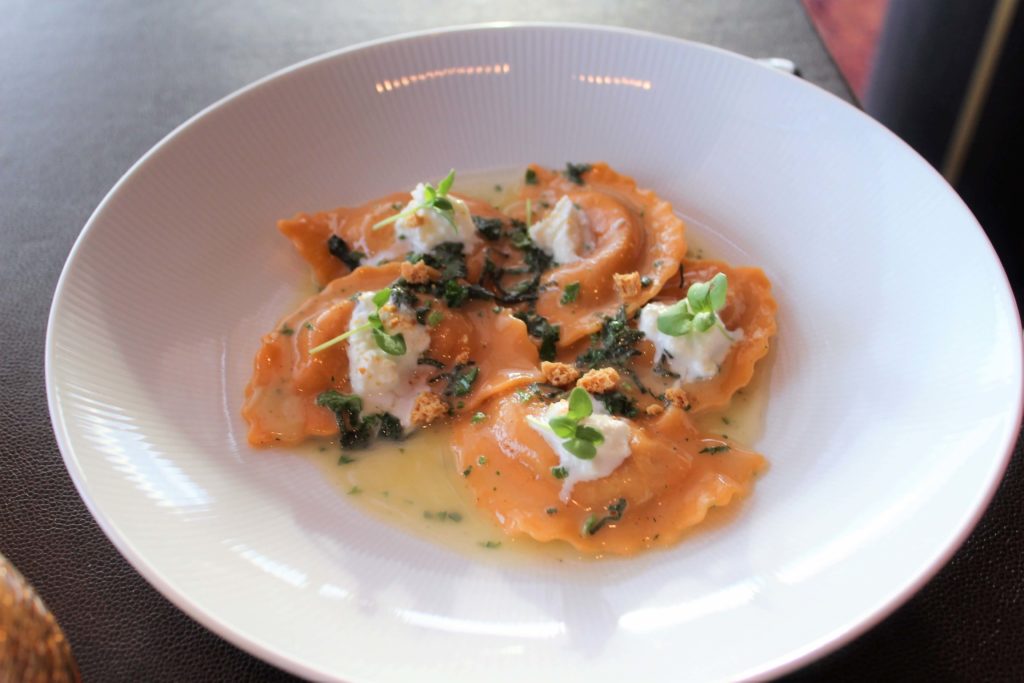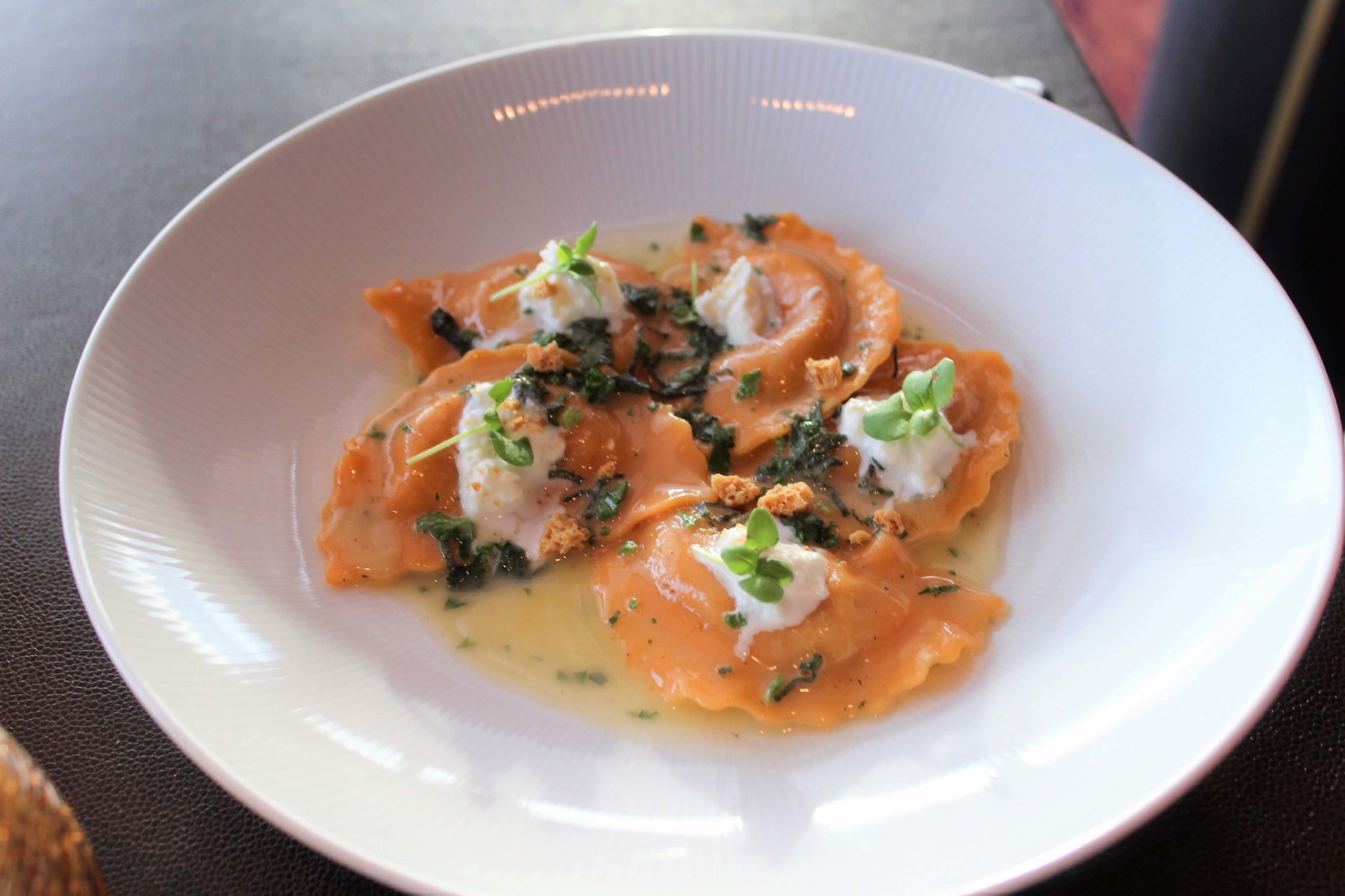 Our server also kindly recommended the Amorone Sartori wine to pair with the Veal Osso Boco. Without exaggeration, it is one of the best wine pairings of my entire life. There are over 200 different labels of wine available at Palo Steakhouse.
We tried two new desserts, Carrot Cake and Tiramisu – both of which are much different than you'd imagine. In the end, when I return to Palo Steakhouse I will stick with the legendary Chocolate Soufflé that's been a staple of Palo for decades.
Palo Steakhouse is available for dinner or brunch, both of which require advance reservations.
Also on the Disney Wish is Enchanté by Chef Arnaud Lallement, who is one of only 137 chefs with three Michelin stars. At this opulent restaurant, you can savor an incredible dinner, brunch, or dessert experience.
With these new spaces for adults only, the Disney Wish is truly a place where wishes come true.
Learn more about Things Only For Adults On Disney Cruise Line.
All images by Dani Meyering