George Town is a small town on a small island in the Bahamas, so one may be forgiven for overlooking this destination over its more popular counterparts in the area. However, this hidden gem is steeped in history and natural beauty that makes it worth visiting.
Founded in the 1700s, this charming town has a rich past that's peppered with tales of pirates, British Loyalists, and formerly enslaved people. Today, George Town is more renowned for its stunning beaches, such as the pristine Jolly Hall Beach or the unspoiled Powder Beach on Stocking Island. In fact, those planning to visit might end up spending most of their time at the beach, but that's a good thing since there are numerous activities for one to experience both on and off the water.
The complete guide covers all one needs to know when planning a trip to this underrated destination, from the top things to do in George Town to where to stay plus so much more.
Things To Do In George Town
The list below is made up of attractions and activities found both in and near George Town, with options for visitors who would like to visit some of the popular attractions in the larger Exuma Cays.
1
Visit The Historic St. Andrew's Anglican Church
Blue arched shutters on St. Andrews Anglican church in George Town 
St. Andrew's Anglican Church's architecture stands out and is an indicator of its advanced age. Built in the early 19th century, this church is one of the oldest buildings in George Town and has served as a place of worship for over two centuries.
Visitors can attend a church service or simply take a tour of this historic church that sits atop a hill and overlooks the town.
2
Hang Out At The Tropic Of Cancer Beach
Aerial view of the Tropic Of Cancer Beach
This breathtaking beach is found about 15 miles from the heart of George Town, roughly a half-hour's drive. Named after the eponymous tropic that runs through the site, it's sometimes also referred to as Pelican Beach. The Tropic of Cancer Beach is famous for being the longest beach on the island, made up of white sands and towering coconut palms that make it an idyllic tropical paradise.
Lovers of swimming or snorkeling can indulge their passions here, or visitors can simply admire the stunning views.
3
Explore Stocking Island
Aerial view of Stocking Island
Stocking Island is found off the coast of George Town, a short boat ride away. This island is home to some of the most beautiful coral gardens and beaches, including the unspoiled Sand Dollar Beach, Powder Beach, and Stocking Island Beach.
There are also underwater caves that are ripe for exploration, for instance, the Blue Ade Underwater Cave, which is home to a variety of fish. Several blue holes are found on Stocking Island, which draw snorkelers and divers.
Plus, visitors can also explore the island's hiking areas like Sunrise Bench. All these features make Stocking Island one of the most beautiful islands in the Bahamas.
Related: This Island Has The Best Snorkeling In The Bahamas
4
Buy Souvenirs At The Straw Market
A street in George Town, Bahamas
The Straw Market has made a name for itself as George Town's flagship spot for buying handmade crafts since it was opened in the early '60s. Those looking for souvenirs can explore this market, where there's a variety of items like handmade bags, hats, and jewelry, made from straw, shells, or beads.
Hours
: Mon – Sat: 9 am – 5 pm (closed on Sun)
5
Visit The Exuma Cays Land And Sea Park
Exuma Cays Land and Sea Park sign
The Exuma Cays Land and Sea Park is found a short boat ride from George Town, so visitors can add this 176-square-mile park to their list of places to visit. A popular attraction in the Exumas, this site is renowned for its wildlife population and exotic birds.
However, it's more beloved for its crystal clear waters and stunning coral reefs that make for an ideal site for snorkeling and scuba diving, as well as swimming.
The highlights of the park are the Thunderball Grotto, an underwater cave system, and the picturesque Shroud Cay.
Hours
: 24 hours (daily)

Fees
: From $25 mooring fees
6
Spend A Day At Moriah Harbor Cay National Park
Open cottage facing the blue sea with a rusty shipwrecked vessel in George Town, Bahamas
The isolated Moriah Harbor Cay National Park sits on its own island, about a 20-minute drive from George Town and a short boat ride. This park is worth the journey as it offers over 20,000 acres of untouched natural space that's home to various animal and bird species.
For instance, the rare White-tailed Tropicbird and the Reddish Egret call this national park home. The landscape is made up of mangrove creeks and sand dunes, not forgetting the stunning beaches, coral reefs, and blue holes that make this park worth adding to your Exuma, Bahamas bucket list.
7
Take A Boat Ride Around Elizabeth Harbor
Boats docked at the George Town Harbor
The breathtaking Elizabeth Harbor in George Town is among the largest natural harbors in the world, offering clear waters and sandy beaches. This harbor is popular among boating enthusiasts as it's protected from the vagaries of the open waters by Stocking Island.
Visitors to George Town have a chance to experience this side of the Bahamas by renting a boat or signing up for a group tour. Minns Water Sports is one company that rents out boats, ranging from 6-passenger to 10-passenger vessels.
Prices start at $237 for a day and discounts are offered to those renting for more than two days.
Elvis Water Taxi, on the other hand, offers tours around Elizabeth Harbor, ideal for those who also want to visit the sites on Stocking Island.
Hours
: 8:30 am – 5 pm (daily)
8
Explore Crab Cay
Scenic mountains of Stocking Island across from George Town in Exuma, Bahamas.
Crab Cay is found a few minutes boat ride from George Town, so visitors can take a day trip to this small island. This location once had a resort that has since been abandoned, but there are new developers who intend to revive the project.
So, as visitors explore this island, they'll notice the stalled buildings amidst what remains to be pristine scenery. There are several beaches around the island, as well as spots where one can dive or swim. Visitors can get here by chartering a boat from George Town.
9
Where To Eat In George Town, The Bahamas
Exterior of a restaurant in George Town
Visitors to the Bahamas will hear good things about the area's Conch dishes, like Conch Salad, Conch Fritters, and Conch Chowder. However, the cuisine in this part of the Caribbean is as diverse as the area's islands, with African, American, and European inspirations. Below is a look at the best places to enjoy Bahamian cuisine in George Town.
Breakfast/Lunch/Dinner
Address
: George Town, Bahamas

Hours
: Mon – Sat: 8 am – 10 pm (closed on Sun)

Meals
: Driftwood Pancakes, Croque Monsieur, Tuna Melt, Grilled Conch Toast
Lunch/Dinner
Eddie's Edgewater
Address
: G63H+9GW, George Town, Bahamas

Hours
: Mon – Sat: 11 am – 9 pm (closed on Sun)

Meals
: Curry Chicken, Crack Conch, Fish Fingers
Address
: Downtown, Georgetown, The Bahamas

Hours
: 11 am – 11 pm (daily)

Meals
: Honey Garlic Wings, Chicken Tenders, Philly Steak, Cheeseburger
Dinner/Drinks
Splash Beach Bar
Address
: Queens Highway at Jolly Hall Located at Hideaways Exuma Georgetown, George Town, Bahamas

Hours
: Sun – Tue: 8 am – 9 pm; Wed – Sat: 8 am – 10 pm

Meals
: Buffalo Chicken, Cracked Chicken, Cracked Conch, Stuffed Jalapeño Cheddar Burger

Drinks
: Pina Colada, Strawberry Daiquiri, Rum Punch, Bahama Mama
Wonderation Restaurant & Bar
Address
: Queen's Highway, Georgetown, The Bahamas

Hours
: Thu – Sun: 6 pm – 11 pm (closed from Mon – Wed)

Meals
: Crack Chicken, Lobster Fettucine
10
Where To Stay In George Town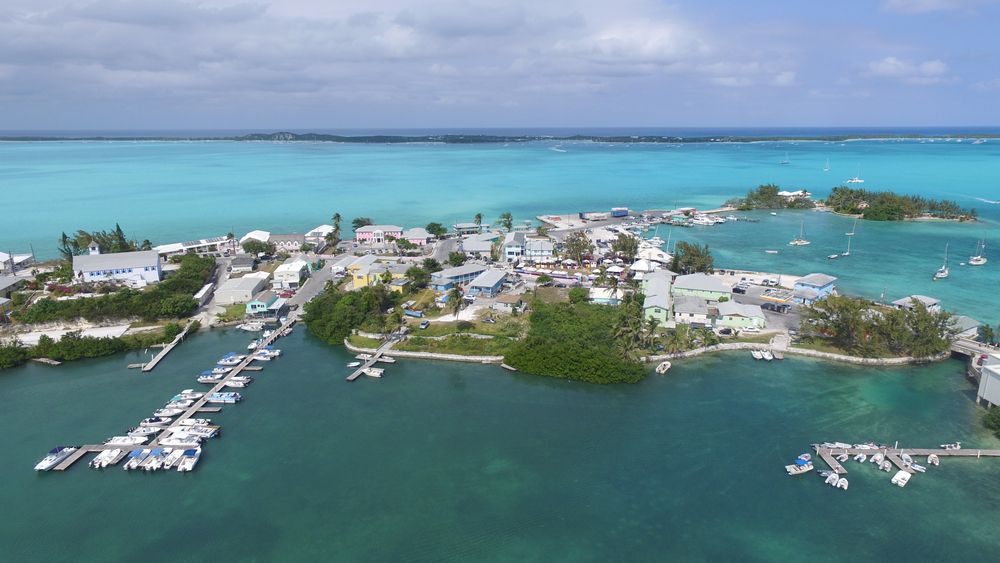 Georgetown has no shortage of gorgeous places to stay.
Hotels
Address
: Queen's Highway, EX29055, Georgetown 29055

Price
: From $371

Amenities
: Pool, pool bar, restaurant, lounge, free parking, business center, bicycle rental
Address
: Lot 5, Stocking Island, Georgetown

Price
: From $788

Amenities
: Spa, gym, pool, bar, restaurant, private beach, shuttle service
Vacation Rentals
Island Time Villas Studio Room
Address
: George Town, Exuma, Bahamas

Price
: From $163

Amenities
: Kitchenette, king bed, cable TV, air conditioning, complimentary kayaks, fitness room, free shuttle service
Address
: George Town, Exuma, Bahamas

Price
: From $244

Amenities
: 1 bedroom, 1 bath, queen bed, waterfront location, free parking, full kitchen, outdoor dining area
Related: 10 Budget-Friendly Airbnbs To Book In The Bahamas
Address
: Great Exuma, Exuma, Bahamas

Price
: From $320

Amenities
: 1 bedroom, 1 bath, queen & sofa beds, ocean view, full kitchen, free parking, washer & dryer, Xbox, children's books, gym equipment
Address
: George Town, Exuma, Bahamas

Price
: From $756

Amenities
: 3 bedrooms, 2 baths, ocean view, full kitchen, TV, private balcony
11
When To Visit George Town
docked boats off the beach in exuma, bahamas
George Town has a tropical climate with warm temperatures throughout the year. The best months to visit are between November and April when the weather is comfortable with little rainfall. Below is an overview of what to expect during the various seasons in George Town.
November to April
The most popular time for tourists to visit George Town is during these months, as the weather is cooler and more pleasant. Average temperatures range from highs of 81 degrees Fahrenheit (27 degrees Celsius) to lows of 66 degrees Fahrenheit (19 degrees Celsius).
With minimal rainfall and lower humidity levels, this period offers the perfect opportunity to explore the area's stunning beaches. Because of the good weather, these months are the peak season for tourism, so there are likely to be larger crowds and higher rates.
Related: 10 Tips For Traveling To The Bahamas During Hurricane Season
May to October
As the summer months approach, temperatures in George Town begin to rise, with average highs reaching 88 degrees Fahrenheit (31 degrees Celsius) and lows around 75 degrees Fahrenheit (24 degrees Celsius).
The humidity levels also increase during this time, leading up to the rainy season. Although it can be hot and humid, visiting George Town during these months has its advantages, as there are fewer tourists and more affordable prices.
However, visitors should be prepared for occasional rain showers and thunderstorms that are common during this season.
June to November is the hurricane season in the Bahamas, with increased rainfall and the possibility of tropical storms. While temperatures remain relatively high, ranging from 85 degrees Fahrenheit (29 degrees Celsius) to 75 degrees Fahrenheit (24 degrees Celsius), outdoor activities may be affected by unpredictable weather. Those looking for a more affordable and less crowded experience may consider visiting George Town during this time while keeping an eye on the weather forecast.
12
Getting Around George Town
Exuma in the Bahamas
George Town is served by the Exuma International Airport, located approximately nine miles from the town. This airport receives daily flights from major cities such as Miami, Fort Lauderdale, Atlanta, and Nassau.
International visitors can also choose to land at the Lynden Pindling International Airport in Nassau, which is about a 40-minute flight from George Town and is served by some of the best-rated airlines. From there, they can take a domestic flight to Exuma International Airport.
To explore George Town and its surroundings, visitors can use the following transportation options:
Water Taxi
The water taxi service in George Town is a popular choice for tourists who wish to travel between Stocking Island and the mainland.
These taxis operate daily from 8 am to 5 pm, with fares starting at $15 per trip and $20 for a round trip.
One service provider is Elvis Water Taxi, which also offers harbor tours.
Related: 10 Things To Know When Traveling From Miami To The Bahamas By Plane
Rental Car
For those who prefer to navigate the island at their own pace, renting a car is an ideal option. Several rental agencies are available in George Town, offering a variety of vehicles to suit different needs and budgets.
Prices for rental cars typically start at $60 per day.
Taxi
Taxis are available in George Town and can be hailed on the street or pre-booked through local hotels or guesthouses. Taxi fares are usually calculated based on the distance traveled and can be negotiated with the driver before the journey.
13
Spending The Perfect Day In George Town
Thunderball grotto in the Exuma Cays
Start the George Town adventure with a stroll beach stroll at one of the town's beaches before getting breakfast at a local restaurant. From here, take a trip to Moriah Harbor Cay National Park and spend the rest of the morning exploring the park's trails and experiencing the area's breathtaking scenery.
Then, take a boat ride to Stocking Island and have lunch at one of its restaurants before hiking in Sunrise Bench. Then, visit one of the island's blue holes or venture to the Blue Ade Underwater Cave. Enjoy an evening boat tour of Elizabeth Harbor before heading back to George Town for dinner and drinks.
FAQ
Q: How does one get to George Town Bahamas?
Visitors can get to George Town by flying from Nassau via Bahamas Air, which flies to George Town twice daily.
Tourists can also opt to travel by boat; Bahamas Ferries operates a catamaran that departs Nassau every Monday and Wednesday evening. However, the boat ride lasts eight hours from Nassau to George Town.
Q: What currency does Exuma use?
The currency used in The Exumas is the Bahamian Dollar, which is equal in value to the US Dollar. The US Dollar is also accepted throughout the Bahamas.
Q: What language do they speak in the Bahamas?
English is the official language in the Bahamas, but it's spoken in a Bahamian dialect.