Chief executive shares his future plans, lessons learned and more in this year-end interview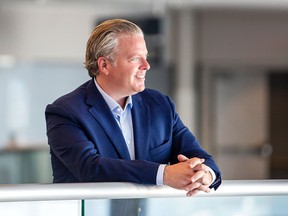 Article content
Porter Airlines Inc. managed to escape many of the challenges faced by its competitors over the past year and is now looking to disrupt the industry by making economy air travel — a highly dissatisfied segment of the market — an enjoyable experience.
Article content
Porter's chief executive Michael Deluce tells us how he'll do that, as well as his future plans, lessons learned and more in this year-end interview.
Article content
Financial Post: What do you foresee for business and leisure travel in 2023 now that demand has rebounded?
Michael Deluce: Overall demand is at or near pre-pandemic levels across Canada and the U.S. from a traffic perspective. It's being led primarily by leisure traffic, which is well above 100 per cent of pre-pandemic levels, and business travel continues to lag in the recovery. But we anticipate that as more people return to the office and things turn around, we'll continue seeing some positive recovery momentum on the business travel side.
The nature of some hybrid-work environments may permanently change leisure travel in a positive way. We sort of have a mix of business and leisure — as they call it, "bleisure" — travel that has emerged and we can see differences in travel patterns by passengers who are travelling a different way than they used to.
Article content
FP: Air travel was a mess this summer due to delays, flight cancellations, strikes and other disruptions. Are you expecting similar challenges in the new year?
MD: Porter was very fortunate to have avoided most of those challenges faced by our competitors. A lot of that was driven by shortages in staffing at other airlines. Porter was successful in bringing back a number of industry members as well as in hiring vacation staff to operate at a high level of operating performance. So, for Porter, it's business as usual, we'll continue offering reliability. As far as competitor airlines, it's still a tough hiring environment. But I know the industry as a whole has spoken very much on ensuring sufficient staffing levels to meet demand, so I would expect that the industry … will continue to see some positive operational performance momentum.
Article content
FP: How will the possibility of a recession affect travellers?
MD: Air travel was down 90 per cent in Canada for an extended period of time — greater than a year — and people were deprived of the opportunity to travel and explore different cities or conduct business, so there's a very strong environment right now. Economic downturns typically put headwinds on air travel — like many elements of the economy, a negative impact — but we also have at the tailwind a pretty significant amount of pent-up demand. We've come from effectively no traffic in Canada. A lot of adjustments had to be made over the last two years to deal with a pretty volatile demand environment.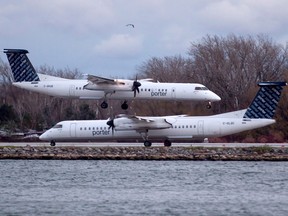 FP: Has inflation had an impact on Porter's business?
MD: There's been a lot of volatility, inflation, fuel costs spiking up and down, and pretty significant grooves in a number of cost-line edits for businesses, not just airlines but around the world in different industries. Inflation as a whole has been high, but we're optimistic that it will continue to settle down as we enter into 2023. COVID and a lot of skews in demand, hiring and abnormal patterns that wouldn't normally be there, but really are a result of two years of economic hibernation, will unwind over time in our view.
Article content
FP: What is the biggest lesson you took away from the past year?
MD: COVID was a difficult time for the airline industry. A lot of team members were personally impacted by layoffs and Porter really strived to communicate very regularly with our team members on the state of the industry, the state of our recovery and our eventual relaunch of service. That really served us well, that constant communication. Team members understood what was happening and what their expectations should be going forward, and that allowed us to retain a lot of our team members who were temporarily laid off during the pandemic. It was a lesson that communication is critical with your team.
FP: Porter recently announced new routes flying out of Toronto's Pearson airport. What are you hoping to achieve with the expansion?
Article content
MD: Porter's main operations for 16 years have focused on providing elevated levels of economy travel for our passengers within our existing regional network. We recently placed an order over the past year for up to 100 E195-E2 aircraft to ensure we have state-of-the-art, next-generation, narrow-body aircraft that are both the quietest and greenest narrow-body aircraft available on the market. Those aircraft are going to allow us to offer flights beyond our existing regional network to our existing customers as well as new customers.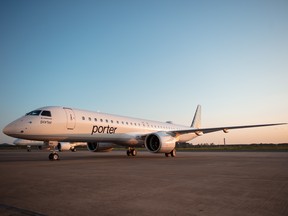 It's an expansion of an existing operation and one that we really envision will focus on changing economy air travel for customers. It's a highly dissatisfied segment of the market. Research shows that economy air travel has many pain points for travellers and Porter's really looking to try to tackle those pain points and make economy air travel something that is enjoyable. That includes things like eliminating all middle seats in economy, something only Porter would be able to provide in the marketplace. All our competitors have middle seats on longer flights. Meanwhile, we'll continue to offer our premium in-flight service, beer and wine served in real glassware, and premium snacks, and we're introducing fast, free-streaming Wi-Fi for all passengers. We'll be the first in Canada to offer that to all passengers travelling on Porter.
Article content
FP: How is Porter navigating Canada's tight labour market during this expansion?
MD: We've been successful in hiring over 1,000 industry members over the last year in 2022. We have substantial hiring ahead as we roll out our growth plans and we have a deep candidate pool of qualified candidates who we're working with and onboarding new team members. It is a tighter environment out there on the labour side, but Porter's been a good destination for team members to work at and one that's resulted in us having a pretty deep pool of candidates.
Transat revenue surges as pandemic pressures subside

WestJet downgraded by Fitch on debt levels, slow recovery prospects

Backed by Airbus and Air Canada, company says it's closer to pulling carbon from the sky
Article content
FP: What steps is Porter taking to reduce its carbon footprint given that the airline industry is a major source of emissions?
MD: From an emissions point of view, the No. 1 contributor from airlines is the aircraft you operate. Porter today has a fleet of 29 Dash 8 aircraft, which is a highly fuel-efficient, environmentally sustainable aircraft relative to all the competitor aircraft on the market. What we've chosen with the E195-E2 as well is significantly cleaner and quieter than all existing production aircraft. Consumers always have a choice and Porter has the most environmentally sustainable fleet of aircraft relative to competitors.
Now, on a go-forth basis, aircraft technology is a long process to develop through certification and step changes take time. As we move into 2030/2035/2040, the industry will start seeing electric and/or hydrogen or other alternative energy source options, greater use of SAF (sustainable aviation fuel). Porter will be very focused on continuing to lower the overall environmental footprint as we go forth.
Article content
FP: What's next for Porter? Are you looking to expand further into international markets?
MD: Our focus right now is the deployment of the 100 E195 aircraft. The first 50 aircraft of that order are coming between now and the end of 2024. That's our near-term and our mid-term focus. We're expanding our network to a range of destinations across Canada, the U.S., the Caribbean and Mexico, focused out of Toronto, Ottawa, Montreal and Halifax, where Porter has an existing strong presence and is the No. 2 carrier on the market.
This interview has been edited for length and clarity.
• Email: [email protected]