What is the perfect cruise for a first-timer?
Choosing a cruise ship, length, and itinerary are the first decisions you'll make when planning a Royal Caribbean cruise. Everything from 3-night cruises to 18-night itineraries are available on Royal Caribbean, and as a first-time cruiser, it can be confusing to know which itinerary to book.
Where should you visit? How many nights should you book? Should you spend time in your embarkation port before the cruise? These are all questions you'll ask yourself before booking a cruise, and luckily, it's hard to go wrong with any cruise vacation.
Nonetheless, there are a few itineraries that work perfectly for first-time cruisers. To help you plan your first cruise, here are a few suggestions of cruises to book, from 3-nights to 3 weeks.
Although we'd usually recommend a weeklong cruise for first-timers, a 3-night cruise can also be a great option. 3-night weekend cruises start on Friday afternoon and end on Monday morning, and they offer a sampling of what a Royal Caribbean cruise has to offer.
The majority of 3-night cruises leave from Port Canaveral, Fort Lauderdale, or Miami. The itineraries visit two ports in the Bahamas: Perfect Day at CocoCay and Nassau.
Perfect Day at CocoCay
Perfect Day at CocoCay, Royal Caribbean's private island, is the highlight of a 3-night cruise. This Bahamian paradise offers white sand beaches, a large pool, a waterpark, exclusive beach club, kids pool areas, and private cabanas.
Related: 40 Perfect Day at CocoCay tips, tricks, and secrets
Most importantly, almost all activities and areas of the island are included in your cruise fare (including food) and your Royal Caribbean drink packages work on shore.
What makes this island so great for first-time cruisers is that very little planning is needed beforehand. While you can book a day pass to Thrill Waterpark or the Coco Beach Club, you can just as easily get off the ship with no plan, head to the beach, and have a perfect day.
Nassau
Nassau, located on New Providence Island in the Bahamas, is one of the world's most popular cruise ports. The island features world-class, picturesque beaches along its perimeter, including Cabbage Beach and Cable Beach.
Related: Best things to do in Nassau on a cruise
Nassau has excellent snorkeling opportunities as well. Popular excursions include visits to Blue Lagoon Island and Pearl Island, which include roundtrip transportation from your cruise ship to the islands' crystal clear waters.
Many visitors to Nassau spend the day at an all-inclusive resort. ResortForADay.com offers day passes to popular resorts near the port, including RIU Palace, Margaritaville, and Baha Bay Waterpark.
We recommend planning your day in Nassau before your 3-night cruise begins to ensure you select the excursion or activity that best suits your travel preferences.
More Nassau tips & tricks:
Which ships sail 3-night cruises from Florida?
3-night Bahamas cruises are regularly scheduled every weekend on these three ships:
All three ships belong to Royal Caribbean's Freedom Class and hold around 4,000 passengers. These ships may not be as big as Royal Caribbean's largest Oasis and Quantum Class ships, but they offer a perfect mix of fun and relaxation onboard.
Waterslides, ice-skating rinks, bungee trampolines, FlowRider surf simulators, an escape room, and mini golf are just some of the activities available on Freedom Class ships. Outside of these thrill-seeking activities, you'll find pools, an adults-only Solarium, and a selection of diverse restaurants and bars.
Related: Guide to weekend cruises: Tips for taking a 3-night Royal Caribbean cruise
As another plus, both Freedom of the Seas and Independence of the Seas recently received significant refurbishments, adding Royal Caribbean's most modern venues and activities onboard.
Why 3-night cruises are a nice option for first-time cruisers
3-night cruises can make a nice "sampling" of a cruise vacation. They are perfect for those apprehensive about cruising, as they don't require booking a long trip, yet still offer the best Royal Caribbean has to offer, including thrilling activities, high-quality entertainment, and diverse dining options.
As another plus, 3-night cruises don't require taking much time off work or school, especially for those who live near a cruise port. It truly makes the perfect "weekend escape" away from the daily grind back home.
Related: Is it worth it to book a short 3-night cruise?
The downsides of 3-night cruises, however, are that the price per night is typically higher than longer sailings, and that it may not be "worth it" to travel far distances to the cruise port for such a short cruise. If you're flying from Montana to Florida for a cruise, for example, you're better off booking a longer sailing.
More often than not, a weeklong cruise is the perfect option for first-timers. Booking an itinerary with 6, 7, or 8 nights onboard a Royal Caribbean cruise allows you to both see a variety of destinations and enjoy ample time on the ship.
Weeklong cruise itineraries are offered around the world, but some of the best itineraries for first-time cruisers leave from Florida ports and visit the Caribbean. While west coast cruisers may prefer a cruise from Seattle or Los Angeles, our top recommendation for others is to sail out of Port Canaveral, Fort Lauderdale, or Miami.
There are two main weeklong cruise itineraries from Florida:
7-night Western Caribbean cruise
7-night Eastern Caribbean cruise
7-night Western Caribbean itineraries visit 4 ports: Roatan, Cozumel, Costa Maya, and Perfect Day at CocoCay. Ports may also include Grand Cayman, Jamaica, and Belize.
Related: How to choose the right Caribbean cruise sailing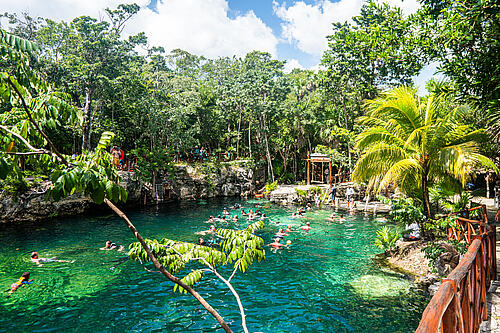 7-night Eastern Caribbean itineraries typically visit 3 ports, which vary between St. Maarten, St. Thomas, St. Kitts, Nassau, Perfect Day at CocoCay, Labadee, San Juan, Puerto Plata, Tortola, and Antigua.
6 and 8-night cruises are also great options for first-time cruisers booking a weeklong sailing. 6-night cruises, while shorter, can still offer a mix of exciting ports with relaxing sea days, and are offered to the Eastern and Western Caribbean.
Related: Ultimate Mexico Cruise Guide
8-night cruises, on the other hand, often visit Southern Caribbean ports such as Aruba, Curacao, and Bonaire. The extra day on 8-night itineraries provides more travel time to reach these islands.
Which ships sail weeklong cruises from Florida?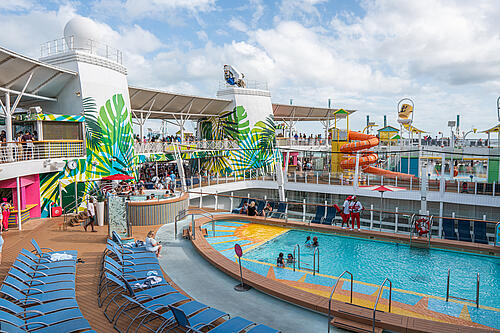 The majority of Royal Caribbean's fleet offers weeklong cruises from Florida at one point or another during the year. For first-time cruisers, though, we suggest a cruise on a Quantum or Oasis Class ship.
These two classes of ships are Royal Caribbean's newest and largest, and offer the features showcased on all Royal Caribbean television commercials. Zip lines, surfing simulators, indoor skydiving, open-air parks, and an AquaTheater are just a few of the mind-blowing amenities found on these ships.
Related: All about Oasis Class cruise ships
Sailing on a Quantum or Oasis Class ship is the best choice for first-time cruisers worried about feeling "bored" on a cruise. There's very little chance (if any) you'll ever feel bored on one of these ships, and they offer the widest range of entertainment, dining venues, and cabin options in Royal Caribbean's fleet.
Why weeklong cruises are a nice option for first-time cruisers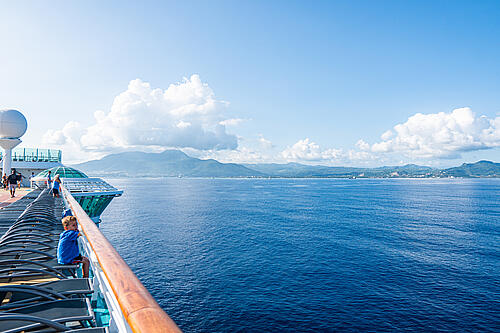 The longer itinerary of weeklong sailings provides extra time to travel to ports further from the United States, meaning you can experience a wider range of cultures and scenery than on a shorter sailing. Visiting ports like Cozumel, St. Thomas, and Labadee are not possible on short weekend cruises.
You'll also have more time to immerse yourself in Royal Caribbean's onboard experience, from attending nightly entertainment shows to spending sea days at the pool.
3, 4, and 5-night cruises can often feel too short, and many first-time cruisers find that by the time they become familiar with the cruise experience, it's already time to return home. On a weeklong cruise, you won't feel pressured to rush from activity to activity, allowing you to fully relax onboard while not "missing out" on anything throughout the week.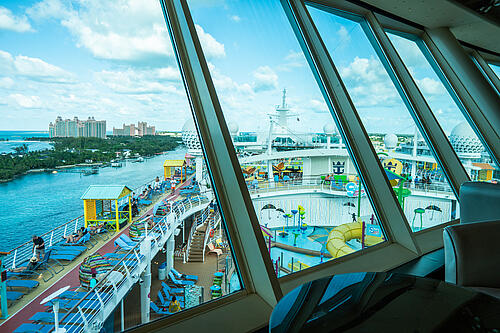 Most Royal Caribbean cruises are under 10 nights, but if you're planning a longer vacation, there are ways to extend a cruise with a land-based trip.
If you have two or three weeks to spare, consider booking a longer cruise and combining it with a land vacation. Many of Royal Caribbean's cruise ports are in some of the world's most famous cities, so we recommend spending time in your embarkation port (or surrounding areas) before your cruise begins.
You can book a cruise to 12-night Greece, for example, and spend several days in Rome or Athens before the cruise. Likewise, you could sightsee around Hollywood before embarking on a 7-night cruise from Los Angeles.
Here are our top recommendations for turning a Royal Caribbean cruise into a longer 2-3 week vacation.
Caribbean cruises
Conflicted on whether to visit Disney World or book a Royal Caribbean cruise? Why not both?
If you're cruising from Port Canaveral, spend time in Disney World or Universal Studios before your cruise. Visiting Orlando means popular parks like Magic Kingdom, Epcot, and Islands of Adventure are at your fingertips.
Related: How to get to Port Canaveral for your Royal Caribbean cruise
We recommend booking the cruise after your trip to Disney World or Universal Studios. It's likely you'll feel exhausted after several days of theme parks, and a cruise vacation will be much appreciated.
Alaska
Alaska cruises are extremely popular; they provide a comfortable way to travel through the state's scenic Inside Passage. While most itineraries are round trip sailings, some are one-way cruises starting in Vancouver and ending in Seward, Alaska (and vice versa).
Starting a 7-night Alaska cruise in Vancouver means you'll have a weeklong cruise to 4-5 diverse Alaska ports, such as Juneau, Skagway, Hubbard Glacier, and Sitka.
Related: Alaska cruise guide
On the last day of the cruise, itineraries cross the Gulf of Alaska to Seward, Alaska. While you could return home once the cruise ends, many passengers spend time in Alaska's interior after the sailing.
One way to extend your time in Alaska is to rent an RV and road trip to Anchorage, Talkeetna, and Denali. Other options include booking a guided Cruise Tour directly through Royal Caribbean or renting a cabin in a coastal Alaska town.
It's easy to spend 1-2 weeks in Alaska's interior, which offers a vastly different experience compared to the Inside Passage.
Europe
A wonderful way to visit Europe is on a cruise. How else is it possible to spend Monday in Spain, Tuesday in France, and Wednesday in Italy? Traveling so quickly from place to place is difficult to achieve on a land-based vacation.
Plus, you won't have to worry about transportation logistics while cruising, making your time in Europe that much more enjoyable.
That being said, there are a few downsides to cruising Europe, the biggest of which is having limited time in ports. It's difficult to properly visit cities like Rome, Paris, and Barcelona in just 10 hours on a European cruise. Visiting the historic landmarks of these cities can easily require several days.
Related: 30 best European cruise tips
Because of this, many cruisers prefer combining a European cruise with a land-based vacation. You can book a 12-night Holy Land cruise from Rome, for example, and spend a week in Italy before your cruise begins.
Alternatively, you could fly to London a week before a cruise from Southampton, giving you plenty of time to visit sites like Stonehenge, Windsor, and the Roman Baths.
It's easy to plan several days or weeks of land-based travel before a European cruise to see more of the continent on your vacation.
Why hybrid land and cruise vacations are great for first-time cruisers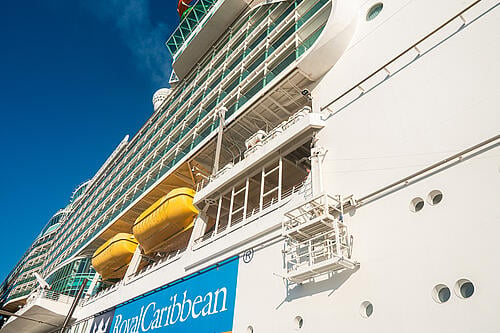 Many first-time cruisers are concerned about having limited time in each cruise port. If they have only experienced land-based vacations in the past, only having 8-10 hours in port may feel extremely limited.
And while most first-time cruisers are surprised with just how much they can experience on a single port day, planning a land-based portion of the trip in combination with a cruise offers the perfect blend of travel styles.
The land portion of a trip can be done at a slower pace than a cruise ship port day, and you'll gain a better understanding of a region's culture, cuisine, and history. There's no set schedule to adhere to when traveling on your own, meaning you can spend extra time at a museum, restaurant, or attraction without worrying about missing the ship.
These hybrid vacations work nicely when traveling far distances to reach a cruise port. If you're flying across the world for a cruise, it makes sense to add a few days to your vacation in order to make the most of the long flight.