If you're looking for a relaxing getaway but don't want to wait months for vacation, consider booking a last-minute cruise. Royal Caribbean's last-minute cruise deals can often lead to incredible savings, allowing you to visit crystal clear beaches in the Caribbean, historic cities in the Mediterranean, and breathtaking fjords in Alaska on a budget.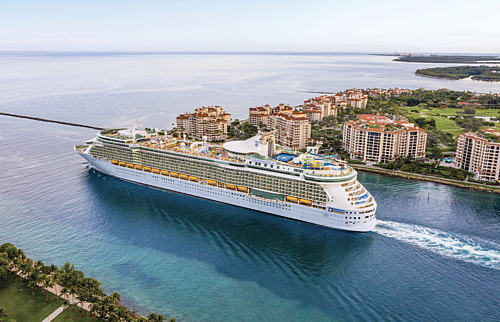 Knowing the ins and outs of booking a last-minute cruise fare can help save you money and avoid any mistakes along the way. While last-minute cruises can be tempting, they aren't always the best choice available for all passengers, and they require much more flexibility than booking a cruise ahead of time.
Let's go over everything you need to know about last-minute cruise deals to help you make the right decision before booking.
In this guide: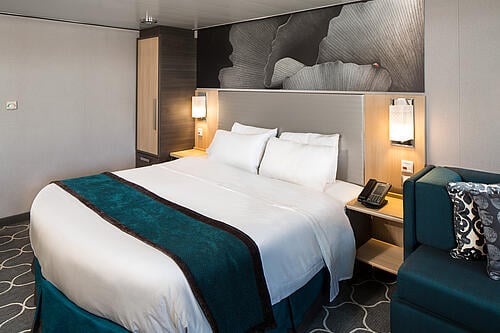 A last-minute cruise is considered any cruise you book past the final payment date for that sailing. Royal Caribbean requires final payment to be made for a cruise at least 75 prior to departure for 1-4 night sailings and 90 days prior to departure for sailings 5 nights or longer.
Royal Caribbean monitors the demand for a particular sailing date and may lower the cruise fare as the sailing date approaches. While last-minute deals do not happen on every cruise itinerary, they can make for some amazing savings on a cruise vacation.
Be flexible
The first step to finding a great last-minute cruise deal is to remain flexible. If you're already set on the ship, itinerary, and time of year you want to cruise, it's probably better to book a cruise further in advance rather than wait for a last-minute deal that may or may not happen.
Last-minute cruise deals are often unpredictable, with deals appearing one day and disappearing the next! If you're truly looking for the best last-minute deal you can find, you won't have much choice over itinerary, ship, cruise length, or stateroom options.
Use Vacations To Go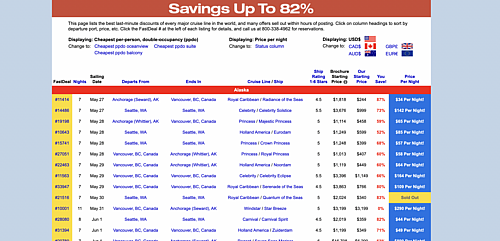 Vacationstogo.com has a "90-day ticker" on their website, providing an extensive list of cruises departing within the next 90 days across major cruise lines. This is an excellent way to quickly search for last-minute cruise deals when you're flexible on port, stateroom choice, ship, and even cruise line.
The 90-day ticker allows you to filter the results by stateroom type, currency, and price per night. The price per night feature is useful for those looking for the cheapest cruise per day, with some last-minute cruises listed for as little as $40 per day!
Once you find a cheap cruise you're interested in on Vacations To Go, you can search for the same cruise directly on Royal Caribbean's website or contact your travel agent to book the cruise for you.
It can be difficult to sort through cruise itineraries, ships, and cruise lines to find the cheapest deal, so Vacations To Go comes in handy when looking for a last-minute cruise.
Look at older, smaller ships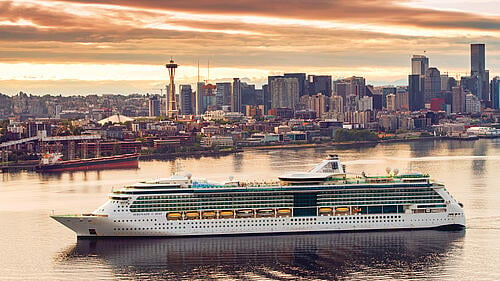 If you're hoping to sail on one of Royal Caribbean's brand new cruise ships, such as Odyssey of the Seas or Wonder of the Seas, you're better off booking a cruise far in advance rather than waiting for a last-minute deal.
Ships in high demand are unlikely to have last-minute deals available, as they're more likely to be booked further in advance.
Read more: Why you shouldn't avoid older and smaller cruise ships
Instead, take a look at Royal Caribbean's older and smaller ships when searching for a last-minute cruise. Radiance Class ships, for example, may have better last-minute deals to Alaska compared to Quantum Class ships.
In addition, Voyager and Freedom Class ships come with great savings in the Caribbean compared to the Oasis Class, which rarely have last-minute deals available.
Consider short and long itineraries
A 7-night cruise is the "standard" length of a cruise vacation, offering just the right amount of time for a mix of sea and port days. This is the most common option you'll see when browsing Royal Caribbean cruises.
Therefore, when searching for a last-minute cruise deal, you might have better luck searching for short (3-4 night) and long (8+ night) sailings.
Itineraries on Navigator of the Seas out of Los Angeles, for example, tend to have regular deals available on both the 3-night and 4-night cruises.
Longer cruises, including repositioning sailings, also tend to have more deals available. A long cruise, especially one that is 10 nights or longer, has less demand due to vacation time required for the cruise. Because of this, it's possible to find last-minute cruise deals on long itineraries if your schedule permits.
Sail during non-peak times of year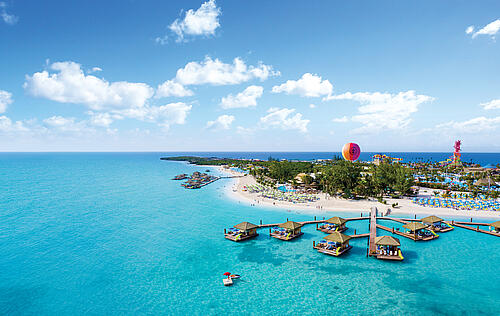 Last-minute cruise deals are more frequently found during non-peak times of year. The peak cruise season in North America and Europe is from May to August, aligning with the school calendar. Peak season is also found during holidays (Thanksgiving, Christmas, and spring break).
Read more: What is the best time to cruise to the Caribbean?
Outside of peak season, you're much more likely to find cheaper cruise fares and last-minute deals. Here are some of the best times to find a last-minute cruise deal:
January and February
March (before the spring break season)
April (after the spring break season)
May
September and October
November (before Thanksgiving)
December (first two weeks only)
Contact a travel agent
Travel agents can be a fantastic resource when trying to book a last-minute cruise.
Royal Caribbean regularly sends information to travel agents about deals on upcoming cruises. Therefore, travel agents may have a better understanding of what ships and sailings are offering last-minute deals.
Read more: Top 5 things to look for in a good travel agent for your cruise vacation
Plus, if a travel agent knows you are looking for a last-minute cruise, they'll be able to contact you whenever a deal appears to see if you would like to book the cruise.
Sail from a port close to home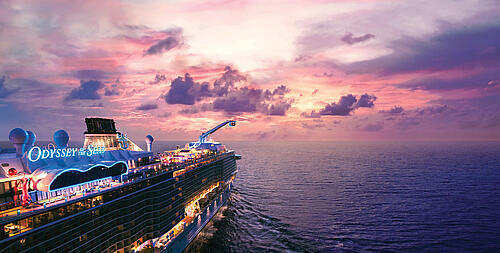 While last-minute cruise fares can lead to some amazing savings, these savings can sometimes be negated by last-minute airfare prices. A plane ticket that would otherwise cost $200 when booked months in advance can increase dramatically when booking at the last minute.
Therefore, we recommend looking for last-minute cruise deals closer to your home port than ports across the country (or world). If you live in the northeast, look for deals out of Cape Liberty rather than Los Angeles or Miami.
Likewise, if you live anywhere on the west coast you're better off searching for last-minute deals from the ports of Los Angeles, Seattle, or Vancouver.
If you do not live within driving distance to a cruise port, be sure to look at airfare prices before booking a last-minute cruise. The last thing you want to happen is to book a cheap cruise only to find out the airfare is astronomically expensive!
Sign up for Royal Caribbean's emails
An easy way to be notified of last-minute cruise deals is to sign up for Royal Caribbean's emails. If you've never been on a Royal Caribbean cruise before, click on the "Deals" tab on Royal Caribbean's website, scroll to the bottom, and fill out the contact information form.
Once your email is added to the form, you'll begin receiving emails from the cruise line regularly detailing not only last-minute cruise deals, but information on new activities, ships, and news from the cruise line.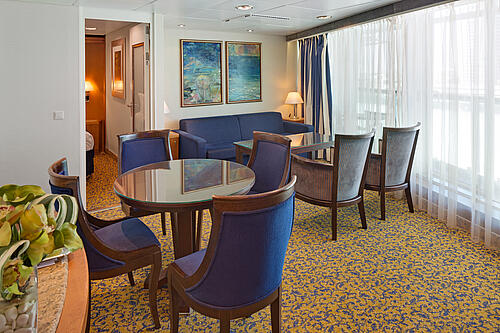 Booking a last-minute cruise deal may come with cheap prices, but stateroom categories will often be limited. If you're booking a cruise just a few weeks (or days) before the cruise departs, some cabins may be sold out. Whether a balcony, interior, or oceanview stateroom, there's no guarantee a particular cabin will be available on a last-minute cruise.
If you are hoping to book a balcony, you may find that only interior cabins and suites are available, leaving you to sacrifice on either comfort or budget.
In addition, if you have a particular suite in mind, you may end up disappointed with suite selection on a last-minute cruise. Many suite categories may be completely sold out, leaving you with fewer options to choose from. In fact, it's not uncommon for all suites to be sold out when booking a last-minute cruise!
While you can still have an excellent cruise vacation in a different room category, it might not be the experience you were hoping for in a suite.
Guarantee staterooms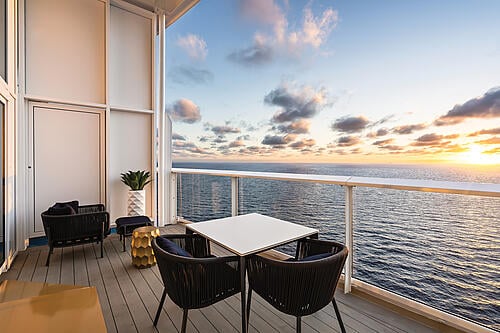 The last-minute deals you see for a cruise may be for a guarantee stateroom. This means that you do not have the chance to select your stateroom location yourself. Instead, you pay for a guaranteed room in a specific stateroom category. Royal Caribbean will then assign you a stateroom close to the sail date depending on which rooms are still available.
Read more: Should I book a guarantee stateroom on a cruise?
There are pros and cons to booking a guarantee stateroom. The biggest benefit is the lower price available, meaning you can save more of your cruise budget for things like drinks, shore excursions, and specialty dining.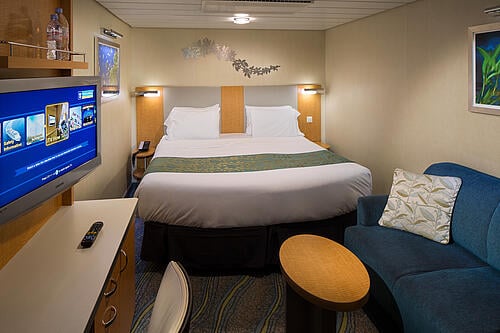 There's also the slight chance of an upgrade if there are no more staterooms available in your guaranteed category. If you booked a guarantee oceanview room, for example, and those rooms are sold out, you could be upgraded to a balcony cabin at no extra cost.
The major downside to booking a guarantee cabin, though, is that you have no control over your stateroom location. If you prefer being midship and close to the action onboard, you may end up in a cabin located very far forward or aft. Not only will this lead to longer walking times, but you may feel more of the ship's movement in your cabin.
Therefore, if choosing your stateroom is extremely important to you, you will want to make sure the last-minute cruise deal is still available when choosing your own cabin location.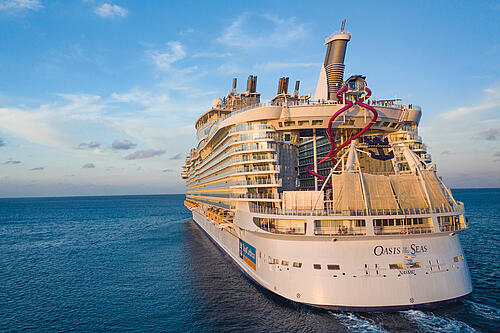 Booking a last-minute cruise does not necessarily mean you'll find the cheapest fare. In fact, a quick search on Royal Caribbean's website shows that many of the cheapest fares listed when filtering the search from "Price: Low to High" are for many months in advance.
Cruise pricing is extremely dynamic and quite unpredictable, so just because a cruise is departing in a few days does not mean the price will always be cheaper than a cruise several months later. In fact, the cheapest cruise fares are usually found right when Royal Caribbean releases new itineraries, which is usually around two years prior to the departure date.
Read more: How to find the cheapest cabins on Royal Caribbean
That being said, it's still possible to find last-minute deals, but you should not expect to always see cheap fares close to departure.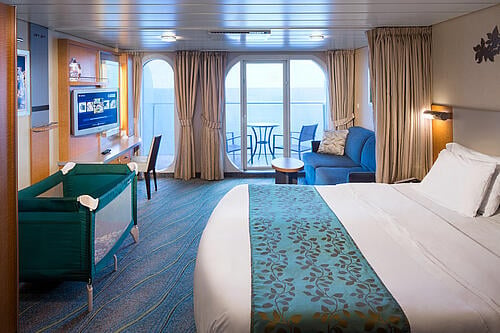 Repricing non last-minute cruise deals
While the prospect of booking a last-minute, cheap cruise fare may seem tempting, it's not necessarily the best way to find a cheap cruise.
Booking in advance can actually offer a cheaper (and more flexible) cruising experience due to Royal Caribbean's repricing policy.
No matter how far in advance you book a cruise, you're able to reprice your cruise an unlimited amount of times prior to final payment. If you initially paid $1500 for a 7-night cruise and the price drops to $1200, Royal Caribbean will refund you the difference in fare.
Read more: Do cruise prices drop?
The only downside to repricing a cruise is that you are unable to reprice the cruise after final payment date. Therefore if the cruise suddenly drops in price ~50 days prior to departure, you'll be stuck paying a higher fare than those booking last-minute.
However, booking earlier is recommended. More often than not, a last-minute cruise deal will not occur for your sailing. Extremely cheap last-minute cruises are the exception, not the rule.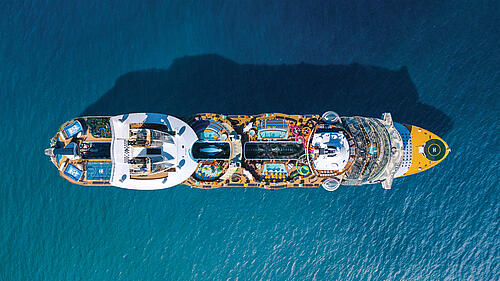 Because last-minute cruises are booked so close to departure, there is not as much cancellation flexibility compared to booking a cruise months or years in advance. Depending on when you book a last-minute cruise, you may have to pay a cancellation charge if you decide to cancel the sailing.
Ranging from 25% to 100% of the total cost of your cruise, cancellation fees can easily reach thousands of dollars. Therefore, it's important to be 100% certain you plan to cruise before you book a last-minute sailing.
Royal Caribbean has the following cancellation policy, with cruise cancellation charges varying depending on how far in advance you cancel a cruise:
Cancellation charges on 1-4 night cruises
75+ days prior to departure: no charge (except nonrefundable deposit)
74 to 61 days: 50% of total price
60 to 31 days: 75% of total price
30 days or less: 100% of total price (no refund)
Cancellation charges on 5+ night sailings
90+ days prior to departure: no charge (except nonrefundable deposit)
89 to 75 days: 25% off total price
74 to 61 days: 50% off total price
60 to 31 days: 75% off total price
30 days or less: 100% of total price (no refund)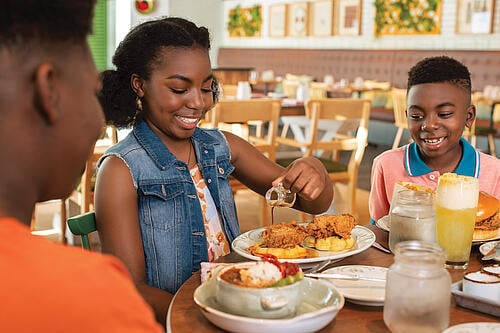 Great savings
If you're lucky enough to find a cheap last-minute cruise deal, you can have a truly amazing cruise experience on a budget. Saving money on cruise fare can mean splurging on extras like spa treatments, drink packages, or even a higher category stateroom.
Spontaneous vacation
Spontaneous adventures, whether road trips, date nights, or vacations, are a whole lot of fun. Transitioning from normal life to life on a cruise with little notice can be exhilarating. After all, why spend the weekend watching TV at home when you could be relaxing in the Caribbean?
Cons of booking a last-minute cruise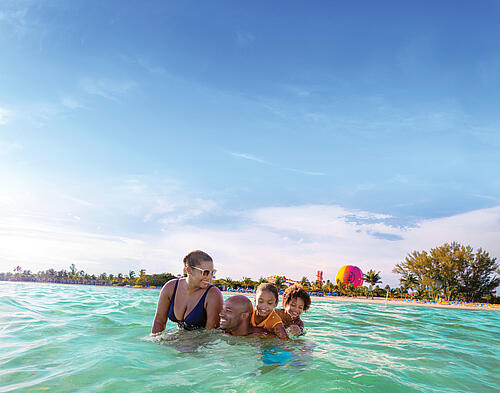 Cruise addons
Booking a last-minute cruise means you are late to the game when it comes to booking cruise addons like shore excursions and dining packages. By the time you book your cruise, you may find much less availability on excursions and dining packages may be sold out.
Prices of cruise addons may be more expensive as well, as you don't have the ability to book addons far in advance and later cancel and rebook if you see a cheaper price.
Airfare and hotel prices
Booking a last-minute cruise may mean spending more on transportation to and from the cruise departure port. Airfare, rental cars, train tickets, and hotels tend to only increase in price over time.
You'll also have less choice when it comes to booking a flight schedule and hotel, which can lead to less than ideal scenarios.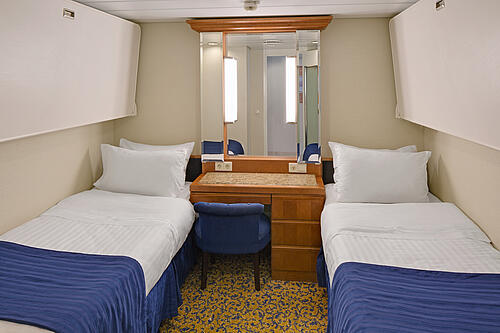 Fewer stateroom choices
One of the biggest cons of a last-minute cruise is that fewer stateroom choices are available. How much this matters to you depends on your cruising style, as some passengers spend a lot of time in their cabin and others view the cabin as just a place to shower and sleep.
Booking at the last minute comes with far fewer stateroom categories than booking in advance, which could leave you disappointed.
Logistics can get complicated
If you have pets, figuring out who can watch them while you're away on short notice is not always easy. If you have kids, it can be difficult to take them out of school at the last minute when homework, tests, and activities are happening throughout the week.
Planning a last-minute cruise can be more complicated for some passengers than others, so it's important to consider logistics before booking.
More cruise planning resources: