Check out our annual RV Lifestyle Holiday Gift Guide! It's packed with the best RV gadgets, tools, fun & games & more in all price ranges…
Happy Holidays from RV Lifestyle! We've got a HUGE list of great gifts for RV owners. It includes gifts at every price level and is separated into categories.
The categories include Comfort, Travel-Related, Kitchen Gadgets, Tools, Sports & Outdoors, and Relaxing Entertainment!
Plus, some of the gift ideas below link to even more gift options! So, this list of 35 gift ideas actually covers 100s of potential gifts for campers and RVers.
Oh, and don't forget the discounts! Some of our RV Lifestyle partners are offering great discounts for certain products or even store-wide. I've included the links and discount codes wherever applicable.
We use affiliate links and may receive a small commission on purchases at no added cost to you. Thank you for your support. You can read our full affiliate disclosure here.
The RV Lifestyle Holiday Gift Guide
Here is our list of the best gifts for RV owners, from useful gifts like tools to fun gifts like a stargazing kit!
The list has a whole range of options, big and small, cheap and luxurious! So be sure to skim the whole list to find the perfect gift for your RVer.
The Gift of Comfort
1. Beddy's RV Bedding
Beddy's is the most innovative RV bedding solution we have ever seen. We like them so much we bought two of them for our RV's twin beds for a recent RV of ours.
The entire bedding goes on the mattress like a fitted sheet. It's one piece with the bottom sheet sewn (permanently) inside. It stays in place; is no bunching up!
Beddy's advertises itself as "the bed that practically makes itself." In the morning, you just "zip your bed" and it is completely neat and made up.
Here's a video and blog review we did on Beddy's. They come in many different styles and colors.
If you are uncertain what style or color to order, Beddy's will send out 2 x 3 in fabric samples to help you make a decision.
2. Cute & Funny RV Throw Pillows
I have a whole list of cute & funny RV throw pillows that you can see by clicking the above link. Some have cute designs, and others have funny sayings that RVers can relate to.
They make comfy and fun gifts for RV campers. Various sayings include:
●    Sorry for what I said while I was setting up the camper trailer
●    Camping, where you spend a small fortune to live like the homeless
●    Sorry for what I said while we were trying to park the camper
Another great idea: This super-soft neck support travel pillow or any of these comfy travel accessories.
I'm of the opinion that every RV should have at least one pair of noise-canceling headphones. They come in handy when you don't want to disturb (or be disturbed by) your travel companion.
And they're especially handy when parked next to bad camping neighbors.
You can also check out our list of 5 RV Privacy Products to Make Your Campsite More Private.
An RV feels a lot less claustrophobic when you have fresh, crisp air. This small charcoal air purifier really helps get rid of any musty smell.
It's a great gift to use year-round but easily tucks away when not in use, too.
Travel-Related Gifts for RVers
There's something really satisfying about a visual representation of everywhere you've traveled. This sticker map tracks everywhere they've been in the United States in a fun, interactive way.
Your gift recipient can easily mount it in their RV, which is a nice decorative reminder and a great talking point for anyone who visits.
If your loved one is a National Park enthusiast, they'll love this scratch-off poster. They get to scratch off sections of the poster when they visit each national park.
Scratching reveals a hand-painted, unique image depicting the various national parks. It can easily be framed and includes 62 info cards.
7. EBook Guide Boondocking
This is an excellent gift for new RVers or anyone getting tired of the same old campgrounds.
We put together a 65-page digital eBook on what RVers need to know to solve common boondocking issues and how to get a rig "boondocking ready."
This eBook is a great choice since it is digital and will not take up any precious space in an RV or camper van! It's one of the best gifts for RV owners, especially new RV owners. And if you prefer a PRINT copy – go here!
We also have a whole library of RV Adventure Guides that outline tried-and-tested itineraries across the U.S.
This all-encompassing book is a great addition to any RV traveler's library. It includes information about all 59 National Parks, including photographs, maps, and hiking tables.
It provides useful information for any RVer checking out our national treasures.
9. RV LIFE Pro (Trip Planning Tools)
The four RV Life Pro tools make it easy for anyone to discover, plan, go, and share their RV trips. The 4-in-1 membership includes:
RV LIFE Trip Wizard
RV LIFE Campground Reviews
RV LIFE App (RV-Safe GPS)
RV LIFE Maintenance Tracker
Just to be clear, you get all four of these tools in one with an RV LIFE Pro membership for a very reasonable price. Most users would agree that the price is cheap considering the value it brings. 
RV Life Pro only costs $59 per year if you purchase the annual membership (less than $5 per month). The annual membership also comes with a 7-day free trial. The monthly subscription is $19.99 per month and does not include a 7-day free trial. BUT NOTE the discount code below!
To get 25% off, add this coupon code: RVLIFESTYLE, which gives you 25% off the price!
–> Note that discount codes must be entered on a computer – if you try to sign up with the mobile app, there is no place to put the coupon code. <–
10. RV Lifestyle digital guidebooks that cover the following favorite destinations:    
These guidebooks have tried-and-true itineraries that cover the best things to see and do along the way. Plus, the best campgrounds to stay at in the area.
It takes away all the stress of planning the perfect vacation! Many of these are bundled together (like all the Florida Guides) and you can get our first TEN ebooks all together too!
11. RV TODAY Magazine Subscription
RV TODAY is an independently owned and operated magazine for RV owners available in both Print and Digital formats.
Since RV TODAY is not owned by dealerships, campgrounds, or manufacturers, they are simply a magazine FOR RVers, BY RVers.
RV Kitchen Gadgets
12. Best RV Coffee Maker
I do not know about you, but one camping highlight for me is having a nice hot cup of coffee in the morning while enjoying the cool, crisp outdoor air. 
That is why a great coffee maker makes an excellent gift for any RVer. I've compiled a whole list of the best RV coffee makers you can choose from. Just click the above link to see the full list.
The Cafe du Chateau French Press is a fantastic choice for most people. It has a small, space-saving design but doesn't have to be plugged in. It is an excellent choice when you don't have hookups or boondocking. 
13. Wildland Coffee
Speaking of coffee, Wildland Coffee is perfect for an on-the-go cup of Jo. That's why it's one of the most popular coffee brands for campers.
The coffee grinds actually come in a tea bag that you can dip straight into hot water.
Wildland sources its coffee from Cerrado, Brazil. It's 100% traceable, so you know you are getting quality and ethical beans.
The coffee bag is made of corn fiber, so it's 100% compostable!
When storage space is tight, what better gift can you give than something that can perform double duty? Their usefulness and practicality make these tumblers one of the best gifts for RV owners.
These tumblers are compact, durable, and insulated. They're perfect for many food and drink items, including wine, coffee, ice cream, and chili.
Available in several different color options, these tumblers are a great gift idea for any RV lovers!
You can also check out these 7 Best RV Kitchen Gadgets for Beverages.
15. Countertop Ice Maker
Another great gadget for RVers is a convenient countertop ice maker. This is a treat for those folks that love iced tea or ice in their adult beverages!
If you click on the link above, it'll take you to a list of ice makers that are great for RVs.
The Igloo ICE26AQ is one of the great options on our list. It can produce ice cubes in as little as seven minutes. It can hold up to two pounds of ice simultaneously and produces as much as 26 pounds in one day!
This pie iron is great for making homemade panini, pizza pockets, pies, and even cinnamon rolls over the campfire!
Pie irons should really be as commonly found in RVs as marshmallow roasting sticks! But most people don't have them. So, they make a great gift!
For more great campfire options, check out 10 Best Campfire Accessories to Keep in Your RV.
Tools & Gadgets
This is one of the best gifts for RV owners who like practical gifts. This toolset can come in handy for many issues that a motorhome owner might face, from a loose screen door to a stuck trailer hitch. The possibilities are endless, so having awesome tools on hand can come in, well, handy.
This universal tool kit is compact. It can easily be stored in an outdoor hatch, utility closet, or cabinet. When RVing, you never know when you will need a tool, so you can't go wrong with having a set on hand.
If you'd like to see more tool gifts for RVers, go to 10 Top Tools Every RVer Needs to Carry.
Backing up an RV can be quite a task. Especially for those without a lot of experience or driving a new rig.
A backup motorhome camera can be the perfect gift to ease the tension of having to back up such a large vehicle. Not only does it cut down on the driver's stress level, but it can be safer for everyone.
If this gift caught your attention, you should check out "Backing Up an RV" Learner's Kit: Everything You Need.
One of the things is that on a motor home you can have an inside dual tire or something like that that goes low or on a towable, you blow out a tire you don't even know you did it until you see pieces flying off down the road and you've done a lot of damage at that point.
And I've seen tires do some pretty catastrophic damage to travel trailers and fifth wheels over the years. And so it's not something you want to deal with.
A tire pressure monitoring system is going to tell you when that tire goes down and you'll be able to get off the road before big damage happens.
 This is the TPMS system Mike and Jennifer use
This tool is really a life-saving device. It detects combustible gas leak sources like propane, emitting an audible and visual alarm.
Since it's portable, it can be used to actually determine where the leak is coming from. Or at least close to.
It's a great little tool that every RV owner should own. You might want to forward them this article on 11 Critical Tips on How to Detect Carbon Monoxide in Your RV.
While enjoying the outdoors and even going off the grid is the point of RVing, it can also open you up to some risks. You may trip and fall or come into contact with an insect or other wildlife creature. 
That is why having a first aid kit is essential, which also makes an excellent gift for other travelers. You can take care of minor cuts and abrasions on your own. Or, help triage an injury until you can get the professional help you need!
The M2 Basics 350-piece Emergency First Aid Kit comes with everything you need. This wall-mountable kit comes with over 350 things that are commonly used to treat minor injuries. 
It includes bandages, gloves, scissors, tweezers, antiseptic, and cotton swabs, among other commonly used items. 
22. Emergency Roadside Kit
Every traveler knows that sometimes things need to go right. While no one wants to think about things that can go wrong on the road, they still do. 
It would help if you were prepared for any adverse scenario as best you could. That is where an excellent emergency roadside kit comes in. 
Every RVer should have a good emergency kit for those "just in case" scenarios. This is also an excellent gift for any other RVer that you know!
If you click on the above link, you can see a list of different roadside assistance kits and accessories that make perfect gifts.
This practical gift would come in handy for any RVer. Whether I need to fix my awning or clean up a spill in a high cabinet, this little step stool saves the day. 
The best part about this stool is that it folds up flat for easy storage. It can easily be stored in an outdoor storage hatch or utility closet inside. It can even be tucked away under a couch or bed if they are elevated above the floor.
For tougher reaches, you could also consider a telescopic extension ladder. 
24. RV Tech Course
This Home Study Course is produced by the National RV Training Academy. It teaches students how to maintain and repair their RV at their own pace and at the most convenient time for them.
Every time your loved one drives their RV, it's like driving through a hurricane during an earthquake. Parts break, and many items need to be maintained.
This program teaches the recipient of your gift how to save time and money. They'll also gain the confidence to take on the most common issues they'll encounter.
Give them a new skill set and you peace of mind!
Sports & Outdoor Fun
25. Stargazing Kit
What better place to go stargazing than off the beaten path with no light interference? Here is another excellent gift idea for those that love to be out in nature, especially at night! Make them a stargazing kit!
To put together the perfect stargazing kit, you can click on the Stargazing Kit link above for the full list of recommendations. Or, check out some of the main items: 
These items create a nice beginning kit for stargazers, which they can add to over time. 
26. Lectric Bikes
You know we love our RAD Power bikes – and have featured them for years, but we recently tested out and LOVE our new Lectric foldable ebikes. Being able to fold them up allowed us to put them in our Wonder rear garage area for a recent RV Lifestyle Gathering. 
You can check out our experience with them right here on our YouTube Channel.
27. RV Rider Ebike Rack
The RV Rider bike rack for RV's, motorhomes, and fifth wheels carries 2 E-Bikes (up to 80 lbs. each) on the back of an RV Motorhome, a 5th wheel, or a flat towed vehicle. A 2″ hitch is required for this rack.
Special features include universal heavy-duty wheel holders for heavy load-carrying capacity. These wheel holders can fit any tire up to 5″ wide and include a ratchet wheel strap. Locking frame grabbers secure the bikes in place. 
This bike rack is not compatible with bumper pull, travel trailers, or bumper-mounted hitch receivers. 
If you want to look at everything they offer, not just the RV Rider rack — go here and explore all the options!
This is a great gift for those RVers that love to enjoy an outdoor fire but do not want to lug or hassle with firewood.
Why is this fire pit one of the best gifts for RV owners? It can be turned on and off quickly, so you only have to hassle with a fire when you are ready to enjoy it. It is compact and comes with a travel bag to make transporting it a breeze.
For more options, check out Best Portable Camping Fire Pit (9 Top Picks)
29. "Bugs Off" Kit
I am still waiting to hear an RVer say that they love bugs. But unfortunately, bugs are just a part of the RV lifestyle. Being outdoors in nature means being around these annoying pests. 
We've created a Bug Off shopping list that includes everything from screen tents to repellents to bite treatments to give RVers a full line of defense… and offense… against bugs!
Just click the above link to see all the options to customize your own kit.
30. Yard Games
Do you know someone that would love a fun yard game to add to their RV? One of our follower's favorites is the collapsible cornhole set. It collapses to a travel-friendly size and can be easily set up in seconds. 
If your friend or loved one already has cornhole and you want some other travel yard game ideas, that's just one of our recommendations. Be sure to click on the above link for the full list.
Relaxing Entertainment
31. Travel Crafts for Adults
Are you looking for a gift for a craft lover? So many RVers I know enjoy doing crafts while traveling. It is relaxing, and you can make souvenirs that reflect your travels. 
One of my favorite gift ideas is a travel paint set. There is something so cool about setting up and painting the scenery you are in.
If painting is not your friend's or family's "thing," check out other ideas from the above link.
32. Best Books to Read While Camping
Another great gift idea is to get that special someone a book that's perfect to read while camping. I've compiled an entire list of the best books to read while camping.
The list of books spans continents, decades, and many genres, so there is something for everyone. You can check them all out by clicking the above link. 
33. Travel Journal
Are you looking for a gift for someone that already seems to have it all? A travel journal may be the perfect item. 
Many RVers love keeping travel journals to chronicle their outdoor adventures. They find peace in writing down thoughts or experiences while enjoying the quiet sounds of nature. 
If you click on the link, it'll take you to a list of the best travel journals for RVers.
Pet-Related Travel Gifts for RVers
We see so many animal lovers in our travels. That is because many RVers we come across either spend a great deal of time on the road. Or families love bringing their beloved Fidos along for a weekend of adventure. 
A great gift idea for those that travel with pets includes dog wipes, mats to keep your pet and RV cleaner, fur removers, and non-skid pet bowls. You can even get a screened-in pet tent that slows your pet to be outdoors in a safe, enclosed space. 
Check out our pet travel favorites list for some great gift ideas! The next gift is also a great option for RVers that travel with dogs…
35. SpotOn Virtual Fence
With this amazing and easy-to-use collar, you use satellites to "draw" an invisible fence (without the need for wires) that will correct your dog if he strays outside the boundaries. And if he should, it will allow you to quickly track him down.
I love that you can have multiple fences in multiple locations. We bought the system for Bo. I drew a GPS fence around 7 acres of our Michigan property and about 3 acres at our Tennessee property. When he gets close to the boundary, he receives a correction tone – no electrical shock – that sends him securely back inside the boundary.
It's so easy to set up and is managed through a smartphone app (iOS or Android). This is perfect for campers, especially boondockers who want to be sure their dog is safe and doesn't wander off. Check out the video below. NOTE: The size of the "fence" you set needs to be at least half an acre.
For $100 off, use the promo code RVLIFESTYLE100. Check it out at https://rvlifestyle.com/spoton
Looking for exciting RV trip ideas and travel suggestions?
We've written a library of RV Travel books that lay out guided RV explorations of scenic areas of the US that we''ve explored and think would make an excellent RV trip for you.
In each location, we provide a suggested route and itinerary (7 stops in each guide, one for each day of a week trip!) as well as links to multiple campgrounds and boondocking spots, local tips, and interesting things to do at each location.
You can hit everything in seven days, do a whirlwind weekend tour, or you can take your time and explore the area over a 2+ week period.
Planning an RV trip can be very time-consuming so that's why we've done the research for you! Just take our guides and use them. We're sure you'll have an RV trip for the ages! Instant download. CLICK HERE for information on our RV Travel Guides
---
---
---
---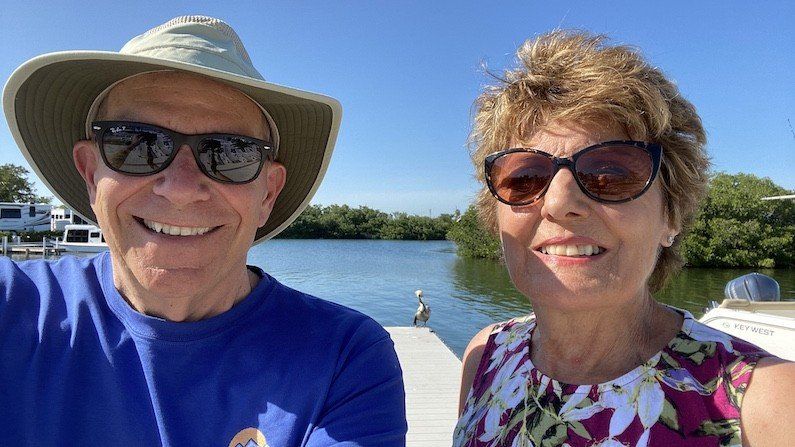 Curious about the gear, gadgets, accessories, and RV products Mike & Jennifer use and recommend?
On this RV Lifestyle Travel blog, our RV Podcast and our RV Lifestyle YouTube Channel, we mention all sorts of RV-related products and gear that we use, So we created a special page that links to them. We update this all the time.  CLICK HERE to go to it directly.
---