Welcome to The Weekender, Coveteur's travel series where seasoned globetrotters share their insider guides to top destinations across the world. Read on for the best spots to eat, stay, and enjoy.
During harvest season, Napa Valley is nothing short of magical. From August to October, the region that encompasses Napa, St. Helena, Yountville, Calistoga, Rutherford, and more beautiful cities is filled with luscious green vineyards, gorgeous mountainsides, and viticulture steeped in tradition. That's not to say you can't enjoy its beauty year-round though. I visited Napa for the first time in December 2015, when it was cold and the landscape was surrounded by brown sticks, yet I still had an incredible time visiting wineries, eating great food, and taking in the fresh air. In fact, it only made visiting during harvest season seven years later that much more special. If you're considering booking a trip to Napa Valley and aren't sure where to start, find out where to stay, what to do, and where to eat, below.
Where to Stay
Stanly Ranch
The private outdoor patio featuring a large sofa, two lounge chairs, a fire pit, and dining table that seats four (on the other side, not pictured).
Photos: Courtesy of Rachel Epstein
The incredible bathroom (peep the indoor and outdoor shower in the reflection of the mirror!).
When I received an invitation to stay at Stanly Ranch—a new Auberge Resorts Collection property located on 712 acres of ranch land on the southern edge of Napa Valley—I knew it would be beautiful, but nothing could have prepared me for the heaven I stepped into. Upon entering the wooden doors of the Rambler One Bedroom King Suite, the 976-square-foot cottage boasted a spacious, modern living room, a half bathroom, a bedroom with a dual fireplace that can also be used in the living room, an outdoor patio with a sofa and fire pit, and the bathroom of my dreams complete with two matte black sinks, an indoor shower, an outdoor shower, and a freestanding soaking tub. Basically, if I didn't leave the property at all, I would have been more than okay with it.
While the visit could get pricey for those who aren't used to staying in such luxe quarters, especially if you're traveling solo and booking a lot of wine tastings, the property is also a great place to stay with a group of girlfriends (I saw lots of friend groups during my stay) so you can split the cost of a guest room or suite. There are a range of guest room and suite options to choose from, which all consist of the same modern farmhouse finishings that look like they belong in the latest issue of Architectural Digest.
What to Do
Book a Spa Treatment
The waiting area at the Halehouse spa.
Photos: Courtesy of Rachel Epstein
Inside the locker room at Halehouse.
After a long travel day (especially if you're traveling from the East Coast) that likely includes an hour-and-a-half drive from the San Francisco airport, there's no better place to unwind than at the spa. Within an hour or so of getting settled at the property, I walked over to Stanly Ranch's Halehouse spa (known for its customized programs and targeted treatments), where I received a deep tissue massage that may or not have been one of the best massages I've experienced in recent years. Once you change into a bathrobe and slippers in the locker room that's an oasis within itself, head over to the outdoor seating area that overlooks the vineyards surrounding the property and sip on warm bone broth until your practitioner is ready for you. The spa is adjacent to Springhouse and Fieldhouse, which encompasses the property's commitment to wellbeing.
Go Wine Tasting
A piece of art known as "Sanna" at the HALL St. Helena property, where I booked the HALLmark Tour. The winery is known for its art as well as its wine.
Photos: Courtesy of Rachel Epstein
Now for the reason you came to Napa Valley in the first place: the wine. If you're planning to visit during harvest season (a.k.a. the busiest season), try to book your wine tours and tastings at least a month in advance. While it's possible to secure tastings and tours last minute, you likely won't be able to snag the time slot of your choice and therefore will find yourself drinking at 10 a.m. (guilty!). Booking wineries can feel incredibly overwhelming, especially when there are hundreds to choose from and you don't consider yourself an oenophile, which is why you should ask yourself the following questions before beginning your research: Do I solely care about the quality of the wine? Do I want to experience an underground cave tour? Am I okay with only a tasting and no tour? Am I prepared to purchase this brand's wine after the tasting? Do I only want to visit family-operated wineries? Is the scenery a priority?
After thinking carefully about these questions, during my trip to Napa Valley I booked a tasting and tour at HALL in St. Helena (about a half hour drive from Stanly Ranch) and a tasting at Rutherford Hill Winery later that afternoon. It's possible to experience four-plus wineries in one day (this will totally depend on how much you want to drink), but I recommend giving yourself some breathing room—especially if you plan to visit wineries multiple days in a row. Some other popular wineries that check a lot of visitors' boxes are Cakebread Cellars, Pine Ridge Vineyards, Duckhorn Vineyards, Regusci Winery (I visited this one in 2015!), and Frog's Leap Winery. Wherever you end up going, prepare to be there for at least an hour and tip your guide at the end of the tasting or tour.
Drive Along the Silverado Trail
A beautiful vineyard spotted along the Silverado Trail.
Photos: Courtesy of Rachel Epstein
A photo of me in said vineyard. If you're heading to the area in the fall or winter, make sure to layer! It can get very chilly—especially in the evenings.
Before you head to the wineries for the day or once it's safe enough for you to get behind the wheel, take a drive along the Silverado Trail. This 29-mile scenic route along the Eastern edge of Napa Valley will have you mesmerized with views of large estates, gorgeous vineyards, and mountains that look like they belong in a movie set. To do this, you'll likely use the car you rented at the airport (try to snag a Volvo XC60, which is an incredible plug-in hybrid vehicle, if it's available!) that you can also utilize to explore neighboring towns (more on this below). If you don't have a rental car, you can also hire a driver service (this is great for larger groups during a day of tastings) or use Uber.
Explore & Shop in Neighboring Cities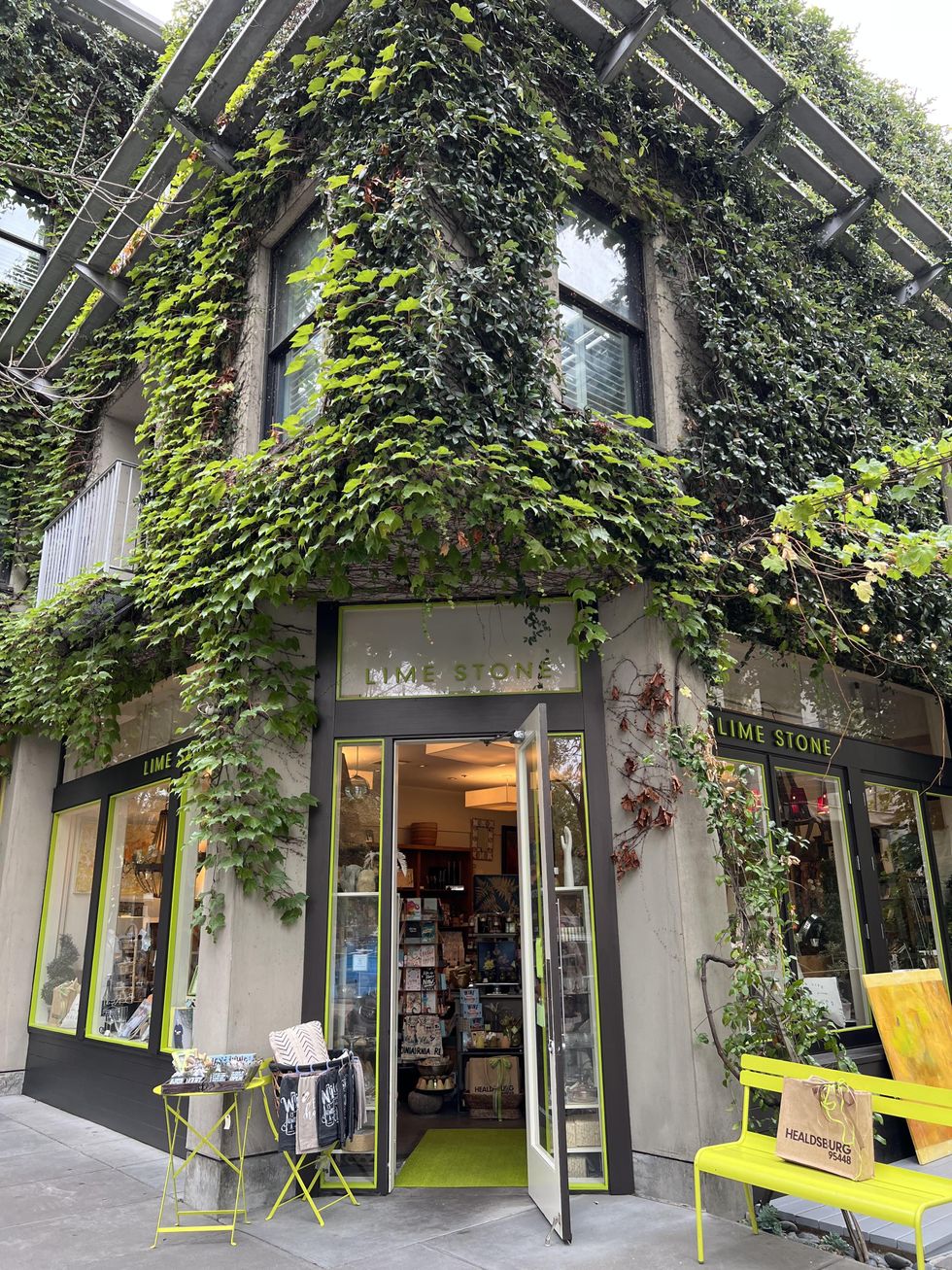 A storefront in Healdsburg, California.
Photo: Courtesy of Rachel Epstein
Napa Valley's namesake city, Napa, is obviously the most well-known city, but it's also worth heading to the neighboring areas of St. Helena (where you'll find a lot of the popular wineries), Yountville, and more cities that make up Napa Valley. A highlight of Yountville is The Shops at the Marketplace, which has a range of boutiques and art galleries to explore. St. Helena, on the other hand, is lined with more understated shops along the main road that are also worth stopping into. If you have enough time and are down for a road trip within the winding mountains, head to Healdsburg (about 50 minutes north of St. Helena), where you'll find additional shopping, coffee shops, and restaurants.
Where to Eat & Drink
Bear
The crispy rice (top left) and farm vegetables (bottom right) at Bear.
Photo: Courtesy of Rachel Epstein
After stopping for a pre-dinner drink at Stanly Ranch's Basin Bar, head to the property's on-site restaurant, Bear, that's available to both guests and non-guests alike. With both indoor and outdoor seating that emits a similar modern farmhouse vibe as the cottages, the cozy, stunning space is the perfect spot to have an amazing dinner after a long day of drinking (life is hard). Start off with the crispy rice and farm vegetables, then order the half chicken for your main dish and end the meal with a delicious apple cobbler that's sprinkled in a whiskey sauce.
Gott's Roadside
If you're tired of the cheese and crackers throughout the day and need something more fulfilling in between winery visits, head over to Gott's Roadside in St. Helena. With an extensive menu that ranges from burgers to salads to tacos, the casual outdoor restaurant is a great place to soak up the rays and enjoy a mid-afternoon lunch at the grassy picnic tables behind the restaurant. When you're driving past it, don't let the long line overwhelm you (it goes by quick!). Just make sure to give yourself at least 45 minutes there.
The Charter Oak
The entrance to The Charter Oak in St. Helena.
Photo: Courtesy of Rachel Epstein
After a full day of wine tastings in St. Helena, The Charter Oak is a great spot for a delicious meal. With both indoor and outdoor seating (try to reserve a table in the heated outdoor patio!), the farm-to-table restaurant is known for its all-day California fare. Start with the famous Charter Oak Bread, then order a Salad of Little Gems (the restaurant's take on a Caesar salad) or Roasted Beet Salad. For your main dish, order the Hanger Steak or Koji Eggplant, though I also wish I tried the cheeseburger!
Gavel
For a delicious iced coffee and pastry in the morning before leaving the property for the day or a quick snack once you're back, head over to Stanly Ranch's Gavel coffee shop that also includes retail, craft goods, and picnic items for purchase from Bay Area artisans. It's open from 7 a.m. to 5:30 p.m.
Mustards Grill
Located right off the St. Helena highway, Mustards Grill is a classic staple in the area. Though I didn't dine here during my most recent trip, I still remember the caesar salad and wine I enjoyed for lunch nearly a decade ago, which makes sense considering the restaurant has been around for more than 30 years.
Shop Napa Valley Packing Essentials:
window.REBELMOUSE_ACTIVE_TASKS_QUEUE.push(function(){
var makeMonitor = (getStatus, cb, delay) => delay = delay ;
var leftArrowCarrousel = makeMonitor( function () return document.querySelector( ".shop-sidebar.shop-posts .posts-wrapper .slick-next" ); , function (res) res.addEventListener("click", () => gtag("event", "Left Arrow Click", event_category: "Shopping Module", event_label: "Previous product at carrousel", ); );
);
leftArrowCarrousel.start();
var rightArrowCarrousel = makeMonitor( function () return document.querySelector( ".shop-sidebar.shop-posts .posts-wrapper .slick-prev" ); , function (res) res.addEventListener("click", () => gtag("event", "Right Arrow Click", event_category: "Shopping Module", event_label: "Next product at carrousel", ); );
);
rightArrowCarrousel.start();
var buyButton = makeMonitor( function () return document.querySelectorAll( ".shop-sidebar.shop-posts .posts-wrapper .widget__product-buy-link-btn" ); , function (res) { for (let button of res) button.addEventListener("click", () => gtag("event", "Buy button click", event_category: "Shopping Module", event_label: `$button["href"]`, ); );
} );
buyButton.start();
var imageShopp = makeMonitor( function () return document.querySelectorAll( ".shop-sidebar.shop-posts .posts-wrapper .widget__head a" ); , function (res) { for (let image of res) image.addEventListener("click", () => gtag("event", "Image click", event_category: "Shopping Module", event_label: `$image["href"]`, ); );
} );
imageShopp.start();
var productTitle = makeMonitor( function () return document.querySelectorAll( ".shop-sidebar.shop-posts .posts-wrapper .widget__headline .widget__headline-text" ); , function (res) { for (let product of res) product.addEventListener("click", () => gtag("event", "Product title click", event_category: "Shopping Module", event_label: `$product["href"]`, ); );
} );
productTitle.start();
});
window.REBELMOUSE_ACTIVE_TASKS_QUEUE.push(function()
window.REBELMOUSE_STDLIB.loadExternalScript("https://s.skimresources.com/js/150311X1615657.skimlinks.js", function()
);
);
window.REBELMOUSE_ACTIVE_TASKS_QUEUE.push(function()
let modDate = new Date (document.querySelector('.current--post .social-date-modified__text').textContent); let createDate = new Date (document.querySelector('.current--post .social-date__text').textContent); let m_names = new Array("January", "February", "March", "April", "May", "June", "July", "August", "September", "October", "November", "December");
function dateToMDY(inputDate) var d = inputDate.getDate(); var m = inputDate.getMonth(); var y = inputDate.getFullYear(); return '' + m_names[m] + ' ' + (d <= 9 ? '' + d : d) + ', ' + y ; document.querySelector('.current--post .social-date-modified__text').innerText = dateToMDY(modDate); document.querySelector('.current--post .social-date__text').innerText = dateToMDY(createDate); ); window.REBELMOUSE_ACTIVE_TASKS_QUEUE.push(function() !function(f,b,e,v,n,t,s)if(f.fbq)return;n=f.fbq=function()n.callMethod?n.callMethod.apply(n,arguments):n.queue.push(arguments);if(!f._fbq)f._fbq=n;n.push=n;n.loaded=!0;n.version='2.0';n.queue=[];t=b.createElement(e);t.async=!0;t.src=v;s=b.getElementsByTagName(e)[0];s.parentNode.insertBefore(t,s)(window, document,'script','https://connect.facebook.net/en_US/fbevents.js');fbq('init', '1248680838922690');fbq('track', 'PageView'); ); window.REBELMOUSE_ACTIVE_TASKS_QUEUE.push(function() window.REBELMOUSE_STDLIB.onElementInViewport( threshold: 400, selector: "video", oneTime: true, onIntersect: function(entry) var element = entry.target; element.setAttribute("allow","autoplay"); element.loop = true; element.muted = true; element.autoplay = true; element.setAttribute("playsinline","true"); //element.controls = false; element.play(); ); ); window.REBELMOUSE_ACTIVE_TASKS_QUEUE.push(function() let headings = document.evaluate("//p[contains(., 'Want more stories like this?')]", document, null, XPathResult.ANY_TYPE, null ); let thisHeading = headings.iterateNext(); console.log(thisHeading.textContent, 'head changed'); thisHeading.innerHTML = "More From Coveteur"; thisHeading.style.fontFamily= 'Playfair Display'; thisHeading.style.fontSize="24px";
);
window.REBELMOUSE_ACTIVE_TASKS_QUEUE.push(function()
IcreateElementChangeListener('.shop-posts .widget__headline-text', (el)=>
el.setAttribute("rel","nofollow");
);
);