From skiing to hiking to enjoying gorgeous views of the Alps, there's something for everyone in Chamonix, France – and that's why we think the Alps enclave deserves a spot on your travel list.
In the summer you can hike from mountain hut to mountain hut, take in the soaring views from atop some of France's highest peaks, and easily day trip to Switzerland or France. In the winter you can ride trams, gondolas, or chairlifts to some of the best skiing in the world, adventure into the backcountry, and access a dozen different ski areas on one pass. And all year round, you have access to a town full of world-class dining, shopping, and nightlife.
Over the past several months, multiple members of the Thrifty Traveler team have visited Chamonix. Thrifty Traveler Founder & CEO Jared and his wife Erica took their son in the spring and I made the pilgrimage with some friends over the New Year, giving us different glimpses into the stunning, one-of-a-kind mountain town nestled in the Alps.
Despite experiencing Chamonix in two different seasons, our verdict was the same: Chamonix is a can't-miss travel destination. Here's our guide to visiting Chamonix this year or next.
(Oh, and let's just get this out of the way right now: It's pronounced, "shaa-muh-nee.")
Why Visit Chamonix?
You can have it all in Chamonix, that's why.
If an idyllic mountain town is your vibe, you've got it. Ditto if an extreme sports mecca is what you require. Carry a copy of your Michelin guide to fine dining with you? The Chamonix valley has eight different restaurants listed. And, if you're looking for a bottle of local wine that will knock your socks off – you'll find one for $10 or less.
We loved Chamonix for all of these reasons. It's the perfect travel destination for the modern traveler and, for my money, is all of the best parts of Europe wrapped into one mountain town.
Jared and Erica visited Chamonix with an eye toward adventuring through the Alps with their young family during the quieter spring months. I came to Chamonix as a sort of religious pilgrimage to some of the most renowned skiing in the world over the New Year's holiday.
We came for different reasons, but we left with the same takeaway: More travelers should put Chamonix on their list.
How to Get to Chamonix
For how remote and intimate Chamonix feels, it's actually a very accessible European travel destination thanks to nearby Geneva Airport (GVA).
In fact, there are five different nonstop routes between North America and GVA.
Air Canada from Montréal (YUL) – Geneva (GVA)
Delta from New York (JFK) – Geneva (GVA)
United from Newark (EWR) – Geneva (GVA)
Swiss from New York (JFK) – Geneva (GVA)
United from Washington, D.C. (IAD) – Geneva (GVA)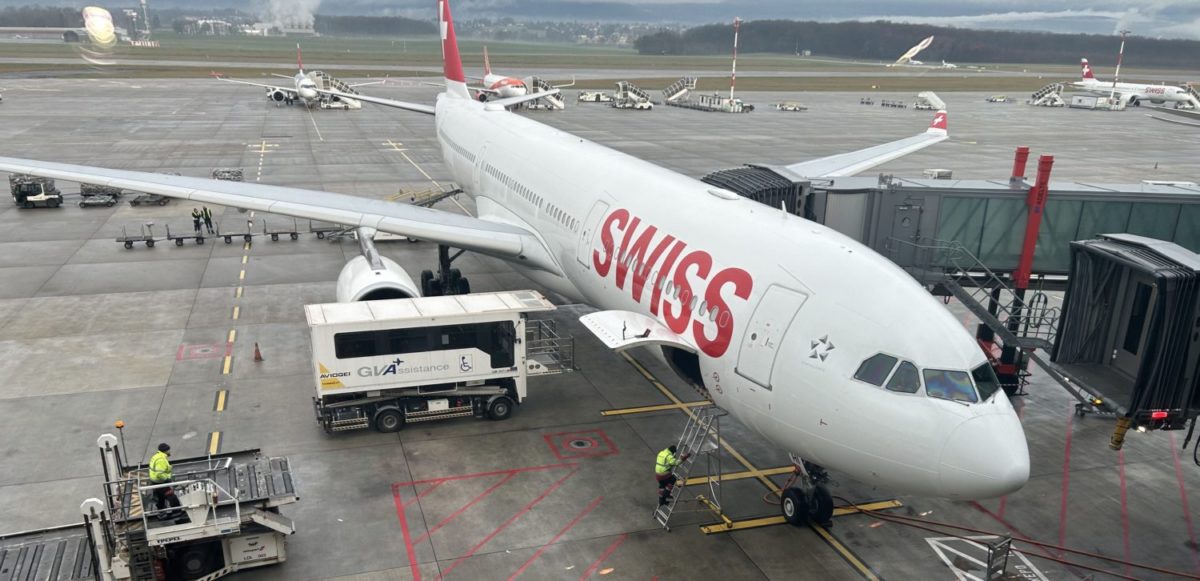 These routes make it easy to connect quickly from the U.S. straight to Geneva straight, and that leads to some great sales on Geneva flights from time to time.
We sent our Thrifty Traveler Premium members a Geneva deal a few months ago that featured more than 100 North American cities for less than $599 roundtrip.
If you're looking for a slightly comfier seat, you can book business class seats on all four of those airlines flying to Geneva as well. Our most recent business class deal to Geneva was flying this super comfortable United Polaris Business Class.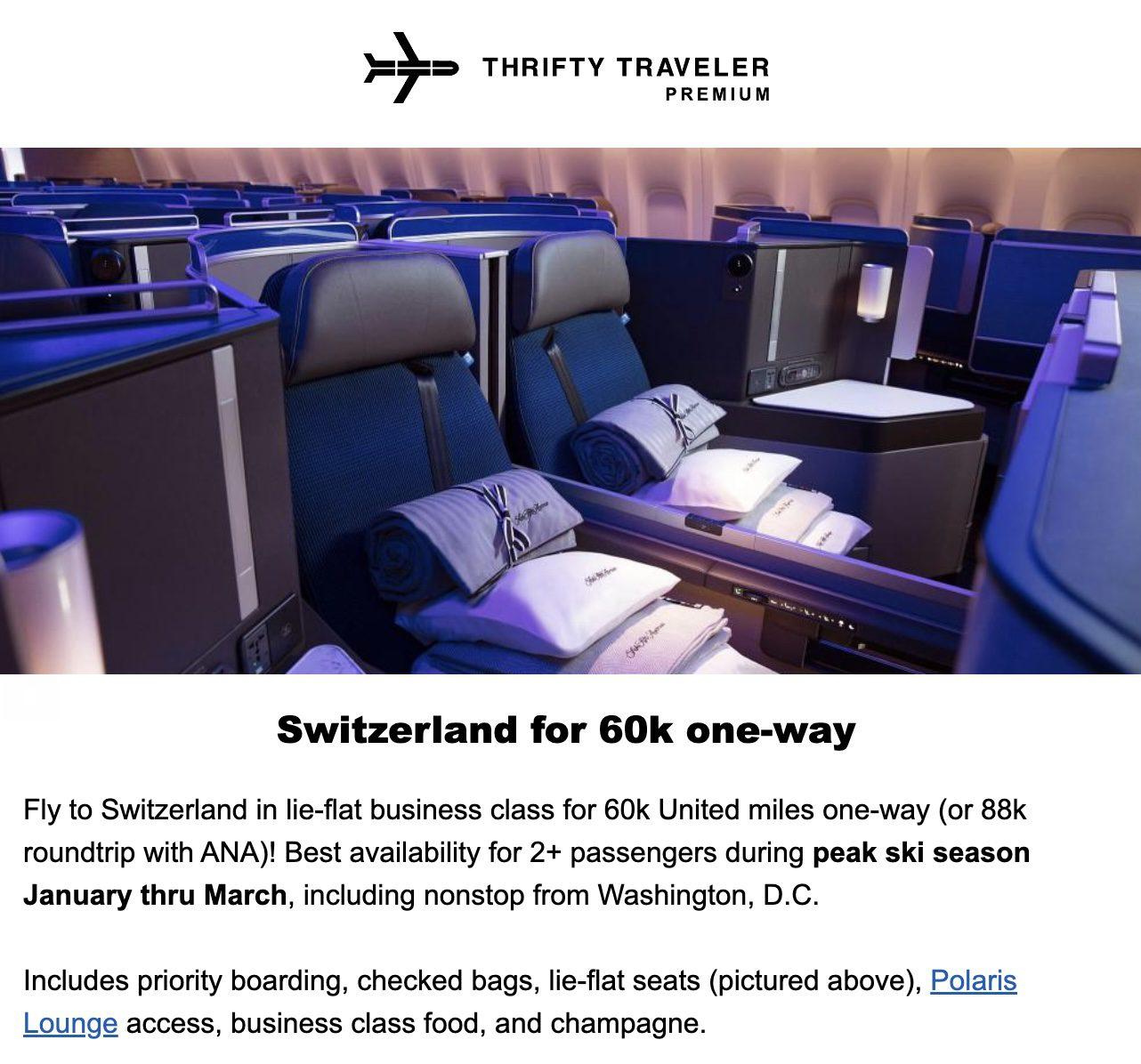 Geneva (GVA) is by far the most convenient place to fly into if you're planning a visit to Chamonix. Paris (CDG) is a very long train ride away, as is Zurich (ZRH). You could also fly into somewhere in the French Riviera, but you're looking at a long drive to get up to Chamonix from those places, too.
If you want to fly to Chamonix, plan on booking flights to GVA and then figuring out your transportation from there. Lucky for you, it's not hard to do so.
Dozens of buses run between GVA and Chamonix every day. Use Rome2Rio to find some really great, cheap options, as well as some timetables to line up with your inbound flight.
In our case, the most convenient and cost-effective bus company we used was AlpyBus, which made the process very simple for four weary travelers with suitcases and ski bags. You can book door-to-door service or point-to-point service, which drops you off in downtown Chamonix.
We opted for the point-to-point service to save some money but opted for the flexible fare. It ended up being $25 per person all-in, including ski bags and everything.

Almost all bus service in Chamonix ends up at the Chamonix Sud Bus Station just outside the main downtown area. It's very centrally located and is close to the connecting trains and buses in town as well.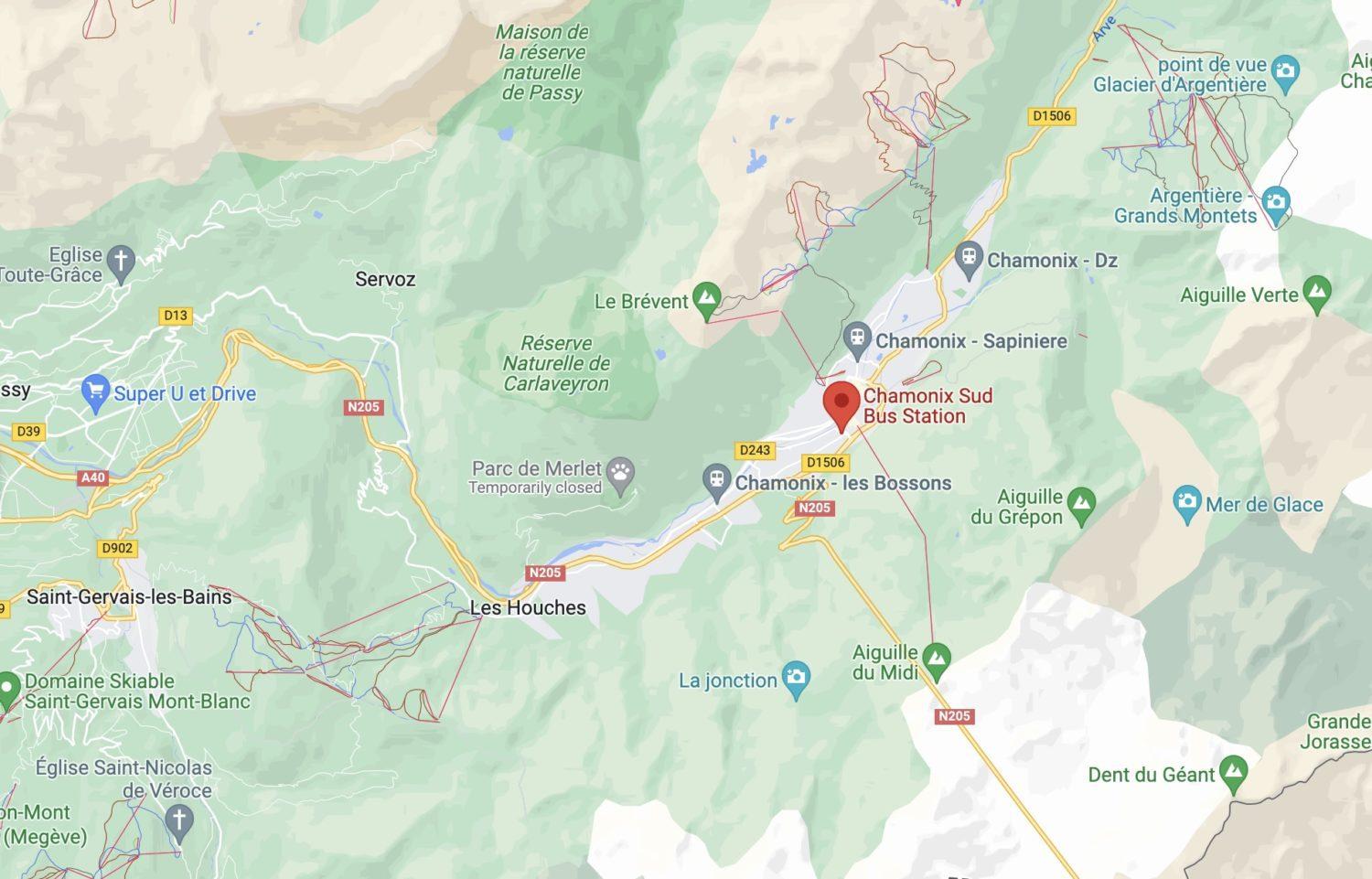 In my experience, getting to Chamonix from Geneva was a breeze. The region is used to handling travelers and made the process exceptionally easy.
Do You Need a Rental Car in Chamonix?
There are a couple of factors to consider if you're thinking about getting a rental car for your Chamonix trip.
Jared and Erica did get a rental car for their spring trip. They were traveling with an infant and had day trips to nearby towns and attractions lined up (more on those later), making the rental car an obvious choice for them.
Read Next: How to Use Autoslash, the Best Way to Find a Great Deal on Rental Cars
I planned to stay within the Chamonix valley for the entirety of my trip, just commuting to the ski hills and back. For my plans, the bus system was a much better option.
Plus, when you have a pass to ski any of Chamonix's mountains, the Chamonix Valley bus system is completely free. Without a ski pass, the buses will run you around 3 euro. However during the busy holiday period I was there, we never even had our passes checked – the buses were free for everyone.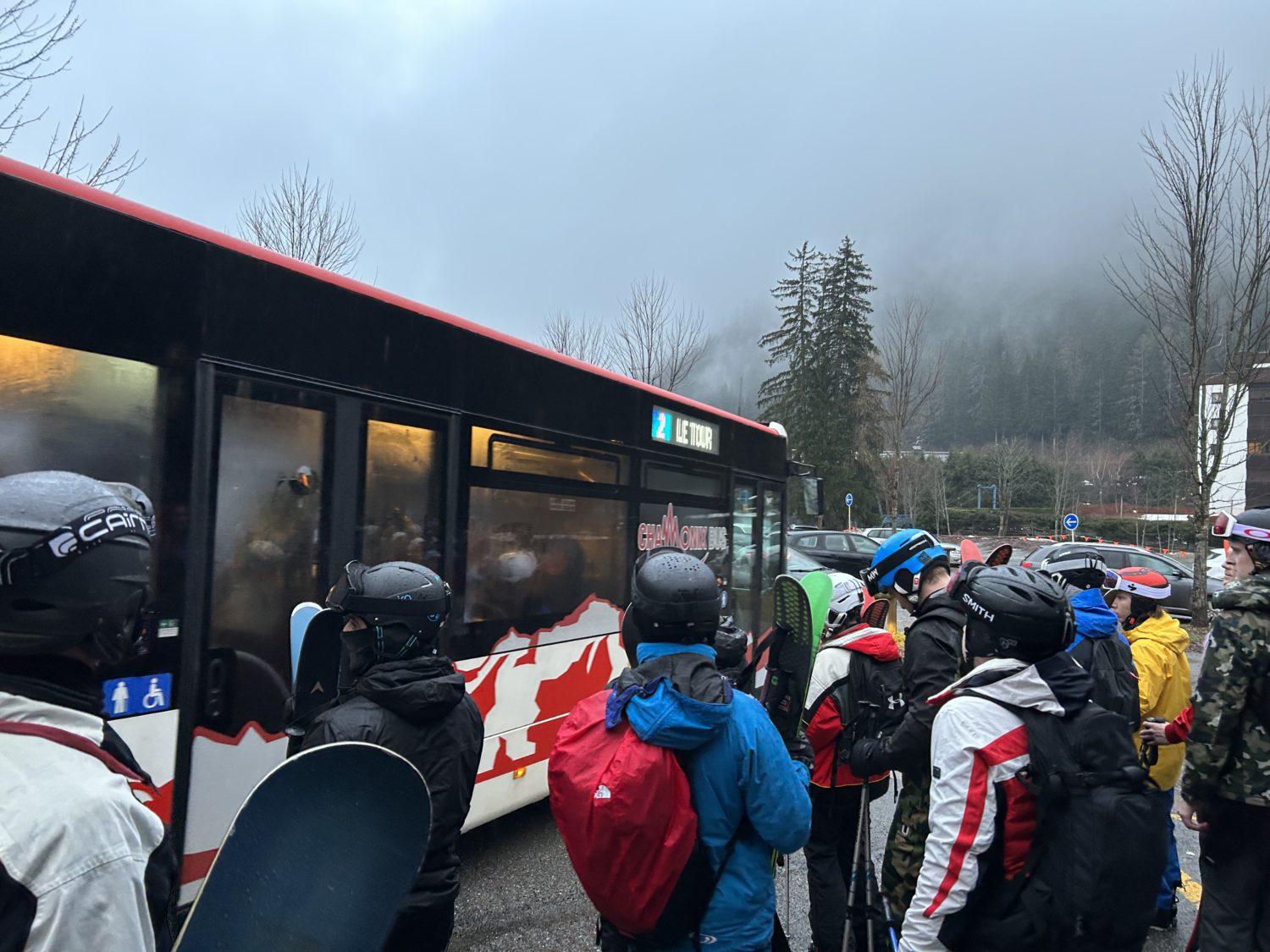 On our first morning, (a powder day on New Year's Eve) the buses were completely full, forcing us to walk to a nearby hill to start our ski day, but it was the only issue we had getting a bus the whole week.
The decision on whether or not to use public transit may come down to what time of year you visit. For the winter, I would do my trip exactly the same. If I went in the summer, I would definitely opt to rent a car.
Where to Stay and What to Eat in Chamonix
Chamonix has more than a century of tourism infrastructure, so there's no shortage of places to stay and eat when you're in town.
Where to Stay
And when I say in town, I mean you want to stay right in the heart of Chamonix if you can. It's not more expensive to stay downtown in most cases, although you might have to give up a little space to do so.
Being in the heart of the city is where you'll find that quintessential Chamonix energy. Not to mention the views of the Mont Blanc from your restaurant seat are priceless.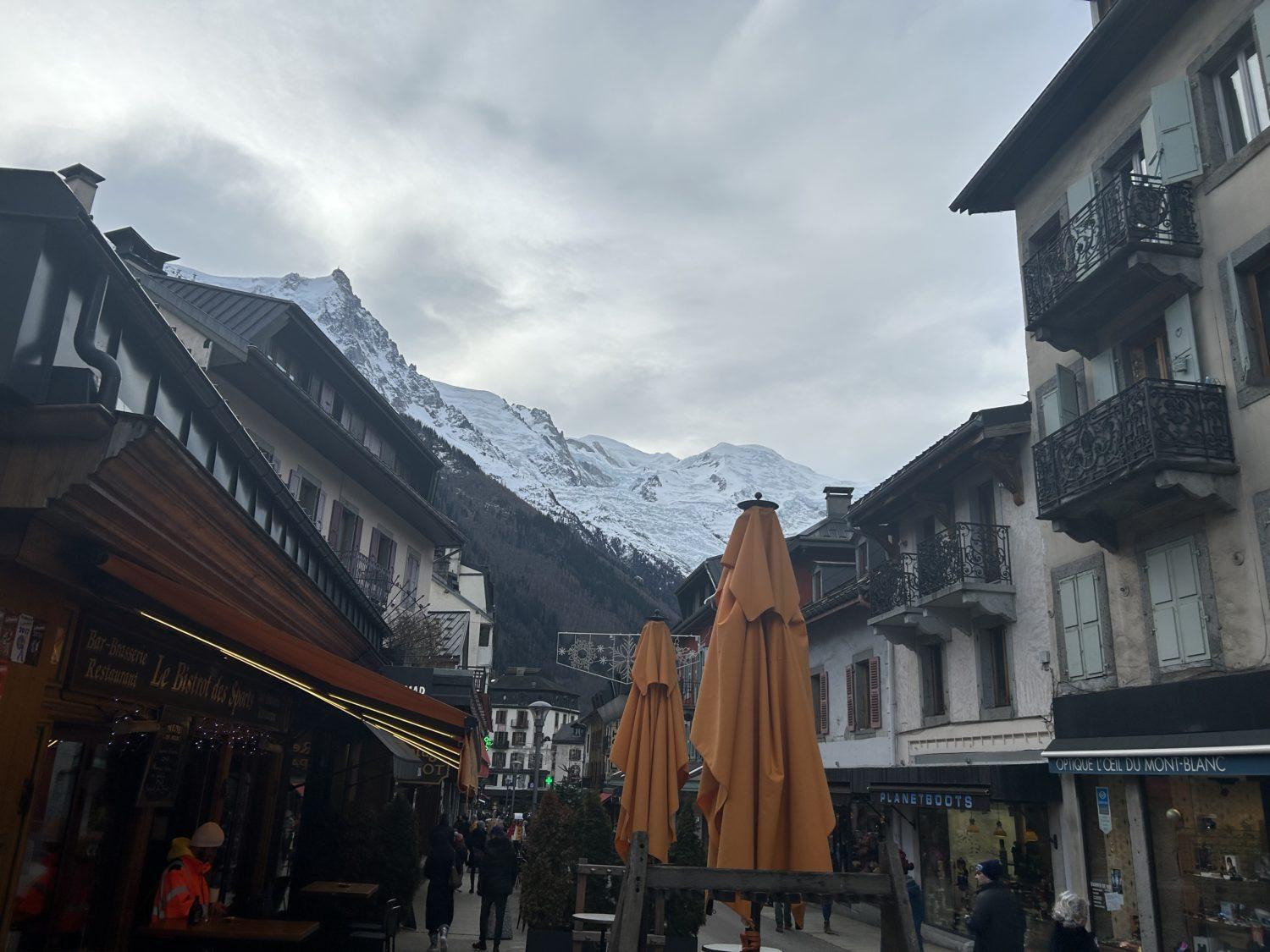 Luckily, there are tons of great lodging options right in downtown Chamonix. Here's a quick Google Hotels search showing some of the price points and locations of downtown Chamonix hotels.
Whether you're looking for an efficient night's stay at a $109 hotel or a luxurious 5-star stay for closer to four figures per night, there's something for you.

The same goes for vacation rentals, too. There are many, many vacation rentals in town, many of which you can find on Airbnb or VRBO, but some of which you'll have to search for directly.
The pricing is very similar to the hotels in the region.
We stayed just off the main downtown area in this Airbnb. It was less than a 10-minute walk to downtown and the closest bus stop, and it butted right up to the mountains on the south side of town.
The Airbnb wasn't spectacular, but was well-located, very affordable, and had enough beds to house a group of five comfortably. We also enjoyed the sauna most nights and saved some cash by using the updated kitchen to make a few of our meals.
What to Eat
I'll admit that I'm a little out of my depth in the restaurant recommendation department. I don't purport to be a foodie or have the most discerning palate. I do, however, have a pretty in-tune radar for great restaurant vibes, and those are plentiful in Chamonix.
I'll start with the best meal we had during our trip at Atmosphére. The cozy basement restaurant doesn't have a ton of street flair, but it is listed in the Michelin guide.
We grabbed a reservation at Atmosphére for New Year's Eve to celebrate a friend's birthday. It was a really tasty meal with snappy, helpful service. From my memory, both the duck and the lamb entrees were delicious.
The tables at Atmosphére are all in that small, punched-out section over the river through town. It was a very cool, fun place to have a New Year's Eve dinner. It was on the pricier side, but we were ready for that. Get a table well in advance and book this place for a special occasion.
If you're looking for a tasty bakery, we enjoyed the Salon de thé Pâtissier downtown.
One thing you should do while in Chamonix is have a fondue meal. There are many, many fondue spots all over the city. A quick Yelp search for "Fondue" and "Chamonix" will help narrow down your search.
Make sure you get reservations ahead of time! Many of the fondue spots have very few tables and filled up quickly around the holidays.
Skiing Chamonix in Winter
Let's talk about skiing in Chamonix, because if you're used to skiing at North American resorts, you're in for an entirely different experience in the Alps.
Chamonix-Mont Blanc's ski resorts and lifts are all operated by what the people there call the Compagnie. But the resorts of Chamonix-Mont Blanc are not connected by anything other than a lift ticket.
That's right, my lift ticket to ski Chamonix-Mont Blanc got me up to Flegére on New Year's Day (pictured above), but also could have let me ski nine other ski areas.
The 10 ski areas of Chamonix-Mont Blanc are spread throughout the valley and can be up to an hour apart from each other, too.
There are areas for beginners or intermediates like Planards, le Savoy, and Le Tour, but there are also plenty of options for more experienced skiers and riders at places like the twin (and connected) resorts of Brevent-Flegére, the high alpine of Grand Montets, and the vastness of Megéve.
My trip this winter was split between Brevent-Flegére and Grand Montets.
The photo below was taken over a beer on the patio at Les Deux Aigles. It's a pretty spectacular spot for lunch, a beer, or a few minutes off your feet if you're skiing a day at Flegére.
Above that restaurant is the T-Bar at Flegére, which takes you high into the mountains and offered some more incredible views.
Flegére is the perfect mountain to ski on a day without any new snow or if conditions aren't great elsewhere. The south-facing slope gets tons of sun, which softened the pretty tough snowpack as the days went on.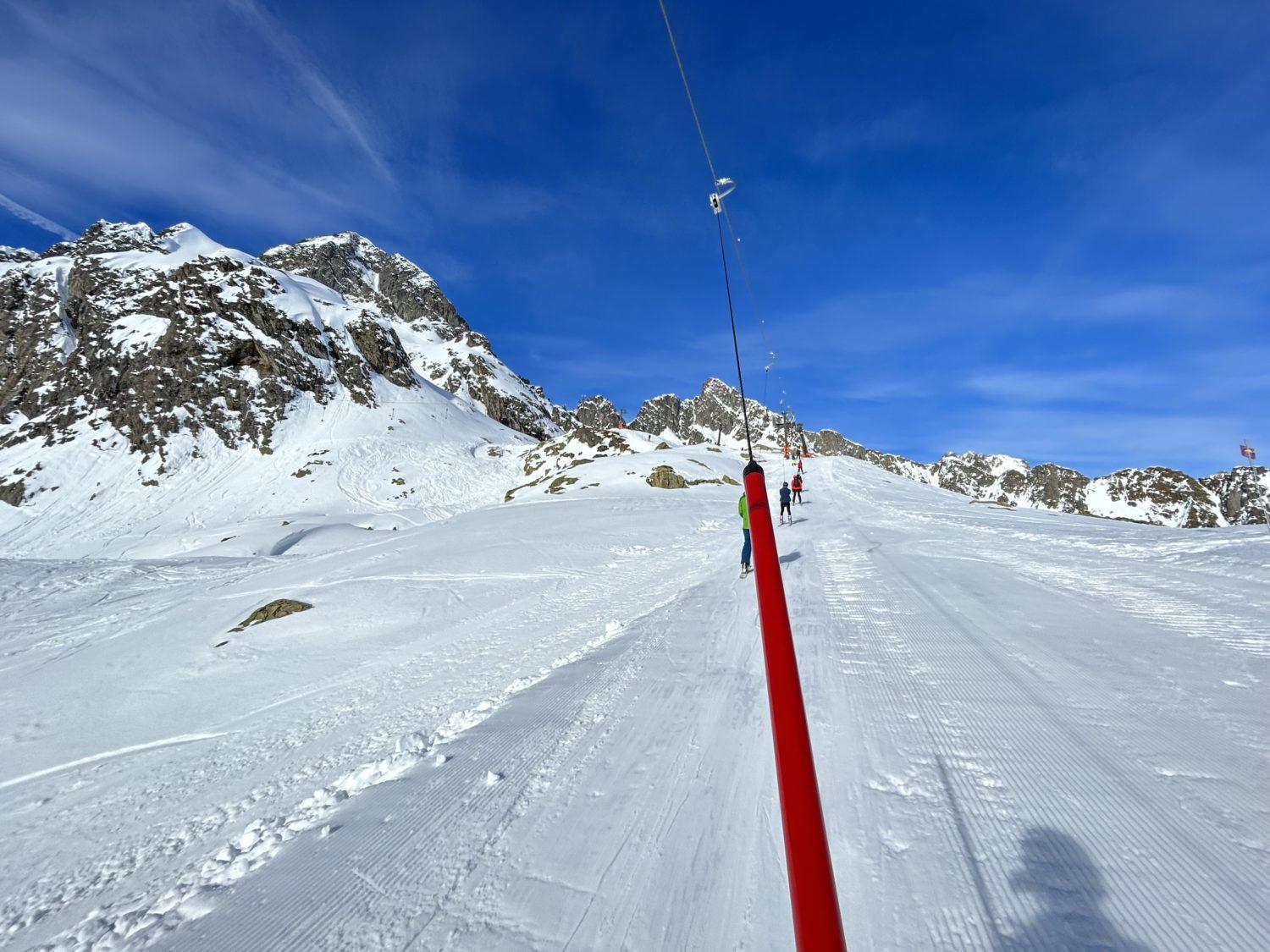 Brevent is worth a visit if for no other reason than to ride the tram to the top. The lifts take you to some amazing places in the Alps, and the Brevent tram is a special one.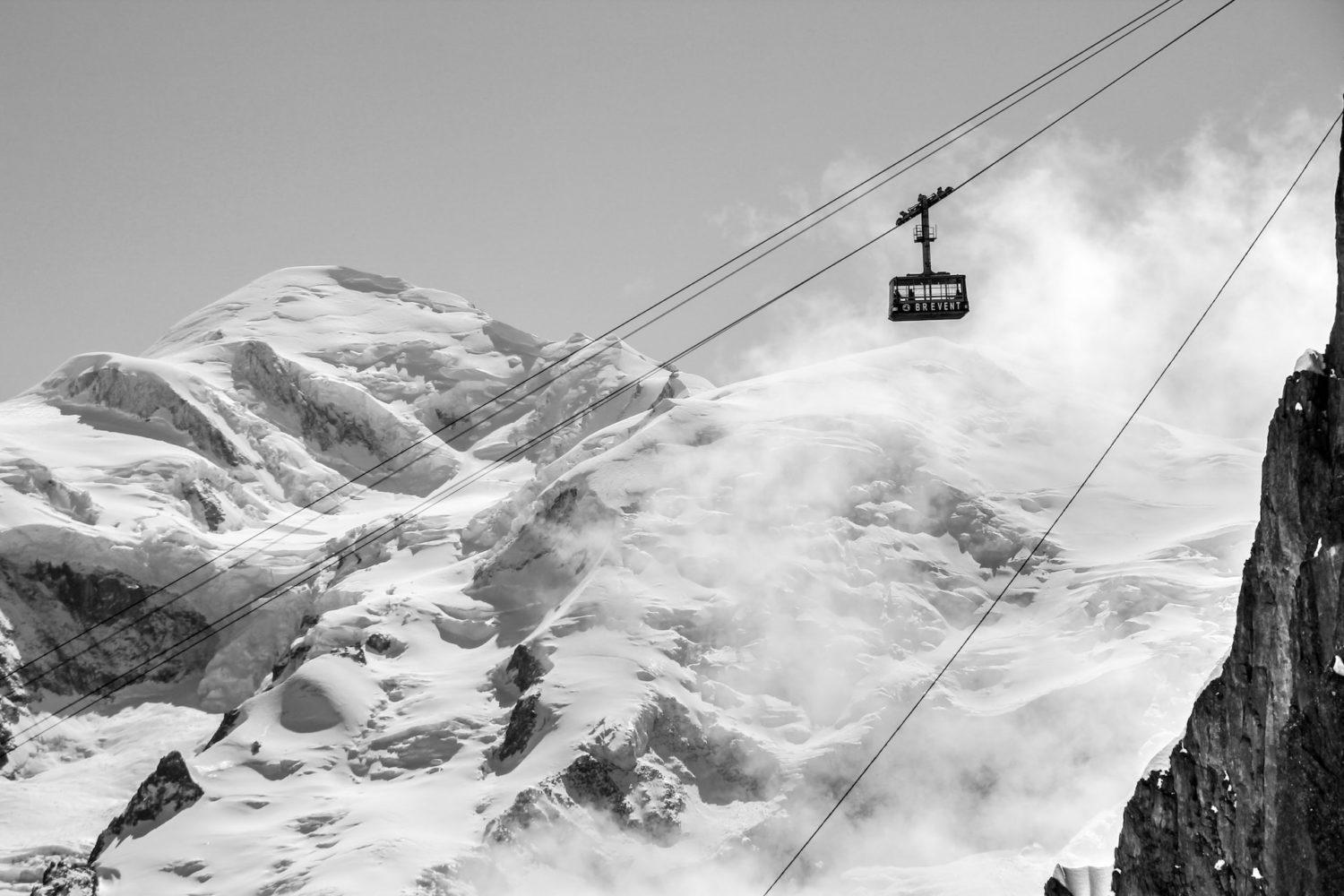 Over in Argentiere, Grand Montets offers the biggest mountain skiing in Chamonix. It's a huge resort with tons of freeriding zones. It's the closest-feeling resort to a traditional North American ski area with a base area and parking below the lifts.
It has tons of expert slopes and opportunities for ski touring from the base if you're looking for a little exercise and more adventure.
Finally, there's the Valle Blanche, which is one of the most legendary ski runs on the planet. Sadly, the conditions didn't allow us to tackle it while we were there, but that means I have a reason to go back.
It's what's called an "off-piste" run, meaning it is not ski patrolled and is very much a go-at-your-own-risk situation. The Compagnie recommends you book a guide to take you down the run, and if you don't have backcountry or mountaineering experience, I'd recommend you do the same.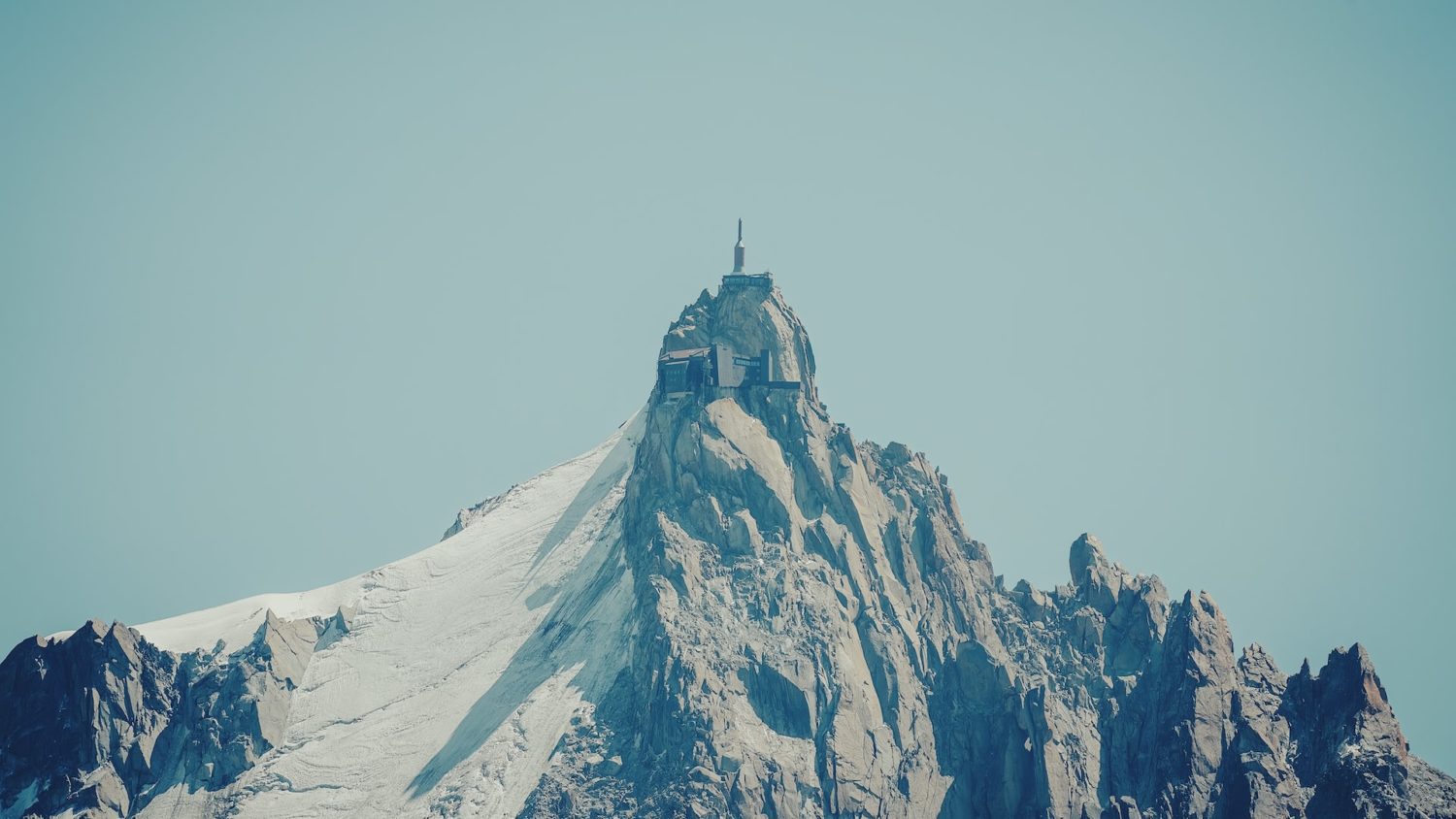 To get there, you take the tram to the top of the Aiguille du Midi, which is an add-on to most Chamonix lift tickets. From there, you have to down climb onto the route itself.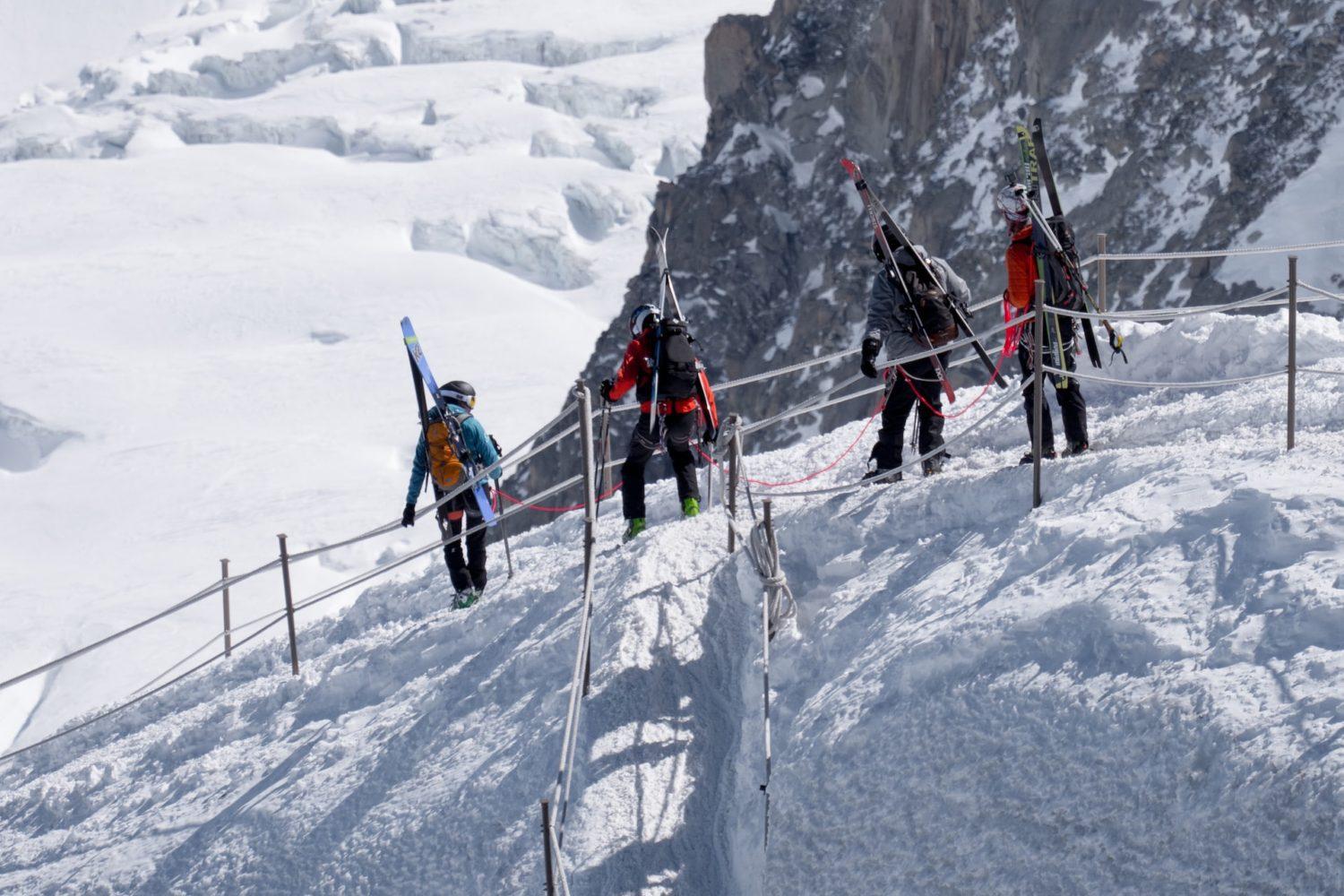 I can't speak to how special this route is, but its reputation is phenomenal. If conditions permitted, I would have hired a guide and knocked this one off the bucket list for sure.
Lift Tickets in Chamonix
The lift ticket system in Chamonix is easy and incredibly cheap compared to those in the United States and Canada.
Look at these daily rates for February. And remember that the euro and the U.S. dollar are almost 1:1 right now.
$42 for a lift ticket to one of the best ski regions in the world is an insane value, especially when you consider that skiing at places like Vail, Big Sky, Steamboat, or Deer Valley costs you more than $200 per day in the U.S.
If you buy your lift ticket the morning of or within a few days of skiing, you're likely to pay closer to 60-65 euro, which is still an amazing deal.
A note for Ikon Pass or Mountain Collective Pass holders: While Chamonix is on both of these passes (7 free days for Ikon Pass and 2 free days for Mountain Collective Pass), you still have to go to the ticket window to redeem your pass.
The Ikon Pass doesn't work on Chamonix's RFID readers, so you have to go get a translated version of the card to carry onto the lift.
Read Next: Ikon or Epic: Which Ski Pass is Best For You
Chamonix and its Surroundings in Summer
Chamonix and the Chamonix valley are perfect destinations for a summer trip, whether you just want to ride the lifts and see the sights or hike up the mountains yourself.
The Aiguille du Midi (the top of which is pictured below) is a must-see attraction in the summer, too. In order to access the mountaintop vista, you'll need a summer lift ticket.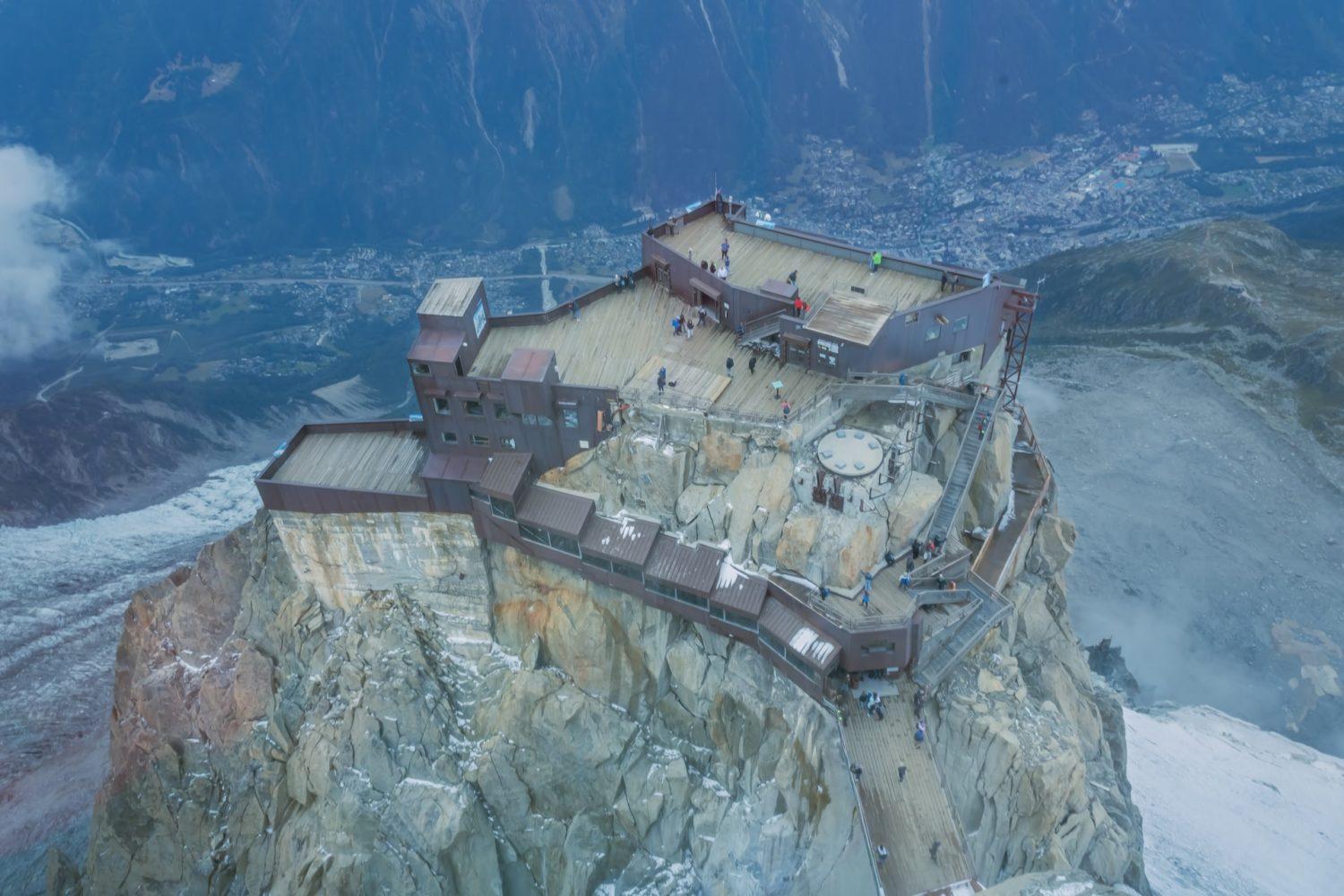 Summer lift tickets can be bought through the Compagnie as well and can help you access all of Chamonix's sites.
Roundtrip fares on the Aiguille Du Midi are a little steep at 69 euro. But you can also get roundtrips on excursions like the Montenvers – Mer de Glace for as little as 21 euro roundtrip.
And according to Jared and Erica, it's a can't-miss attraction.
You board this red train in the center of town and it takes you up and around a mountain into the alpine.
At the top, you can dine at this mountainside restaurant with unparalleled views.
How good would the beer taste at that table? Amazing.
If you're in the Chamonix valley, you have to go hiking. Getting up close and personal in the Alps is special, and Chamonix's interactive hiking trail map can help you decide which trails are right for you. There are also conditions updates and more details on the Compagnie's website.
Jared (pictured), Erica, and their son tackled this hike in the valley and loved it.
Besides the miles and miles of trails around the Chamonix valley, there's so much to see around the Chamonix area, too. Day trips from Chamonix are a great way to see other parts of the region, and in the summer, these drives are short and easy.
Would you drive 90 minutes for this view of Lake Geneva for instance? That's a very easy day trip from Chamonix and could make for a fantastic memory. You can stay on the France side of Lake Geneva, or head around to Switzerland, too.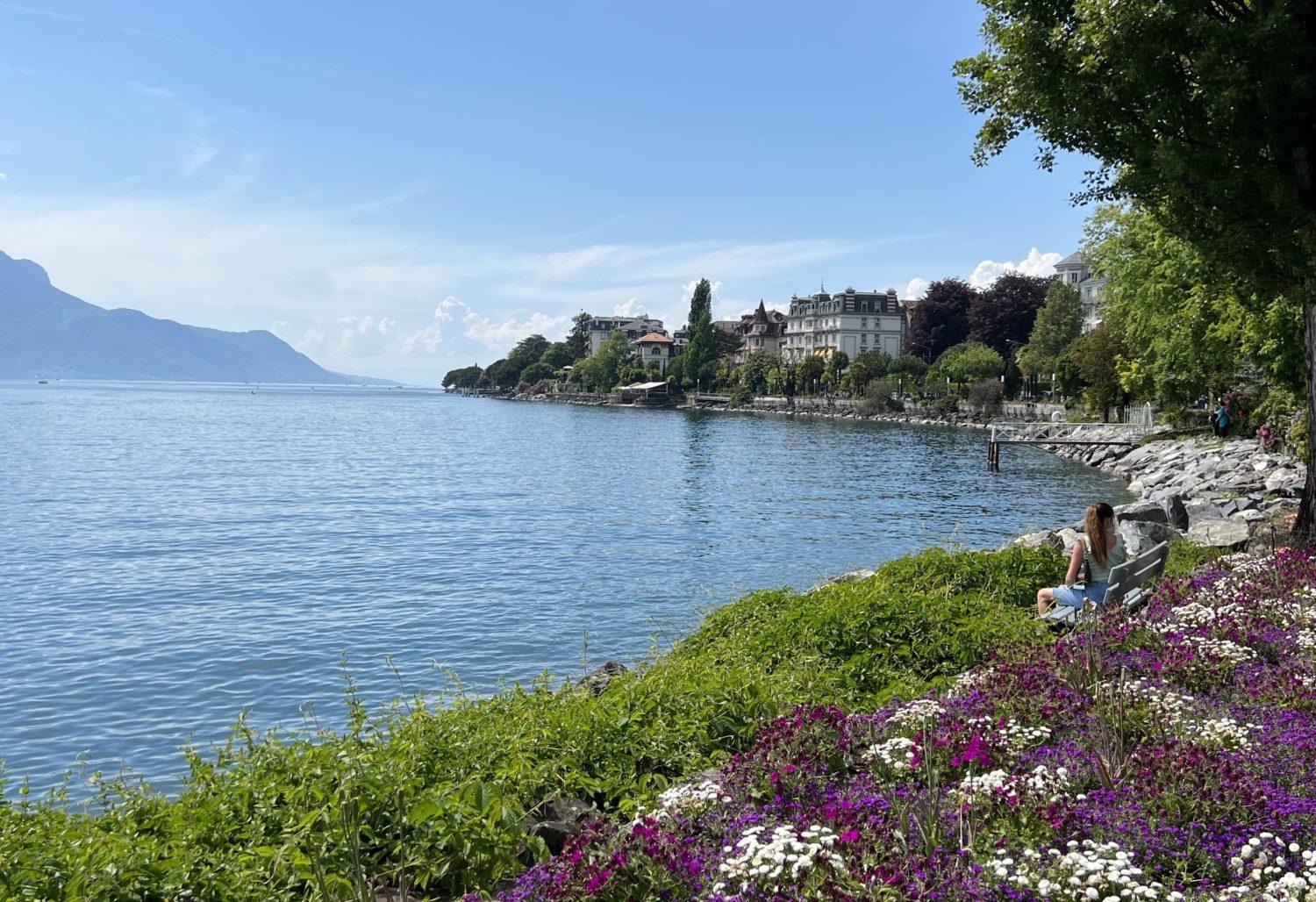 Jared and Erica also recommended heading over to Italy and the city of Aosta, which is only about an hour's drive thanks to the tunnel dug beneath Mont Blanc that connects drivers right to Italy.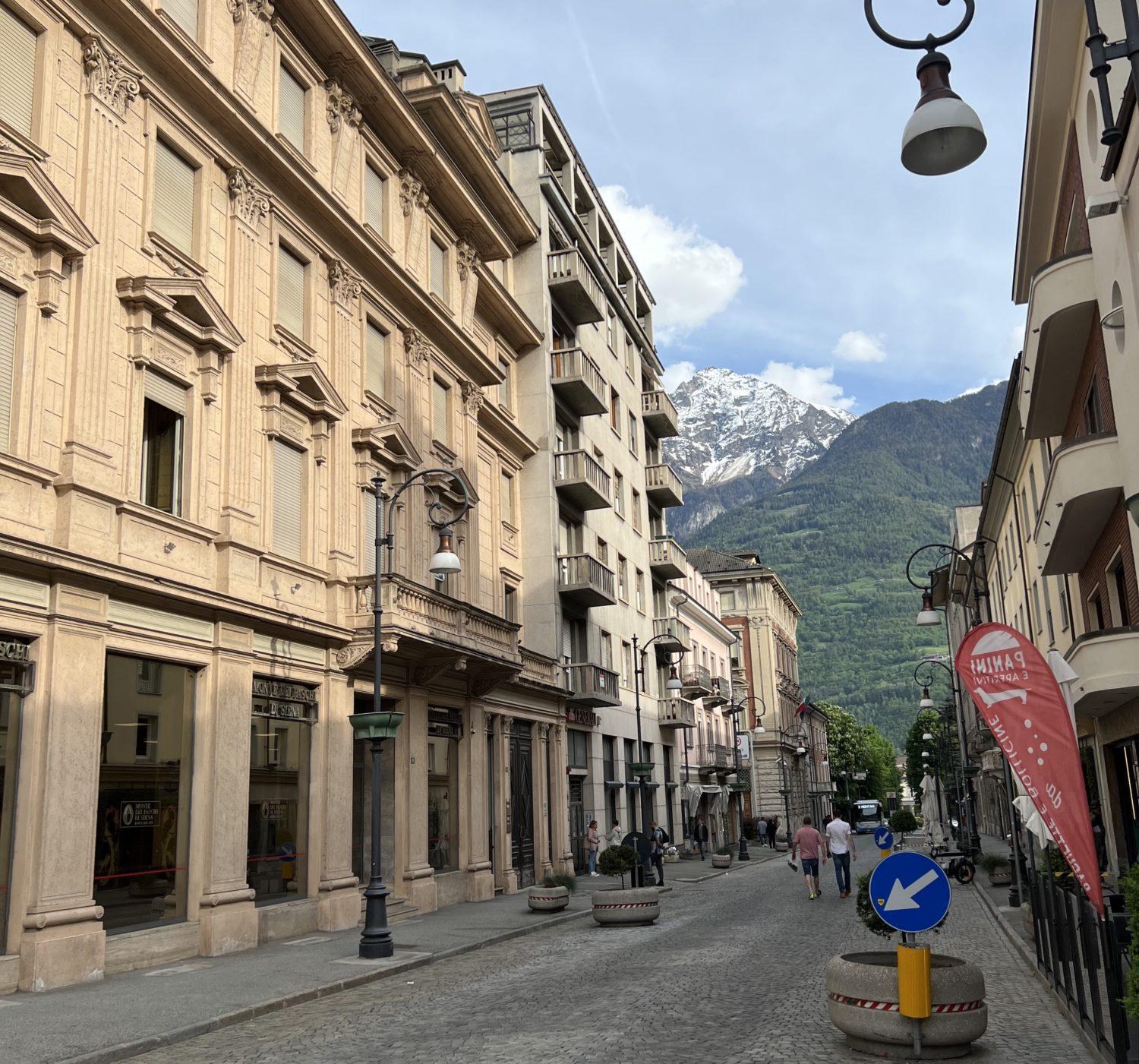 European mountain towns are special. There's nothing like some of the gnarliest mountains in the world jetting straight up from a centuries-old village. Spectacular.
Bottom Line
Chamonix, France has it all and deserves a spot on your travel list. It's easy to get there, easy to find accommodations, and is inexpensive when compared to most North American mountain towns.
So whether you're a skier looking for a thrill in the mountains, a hiker looking for an epic trail, or a traveler looking for a quintessential Alps experience, Chamonix has what you're looking for.
Thrifty Traveler's Erica Kamrowski contributed to this story.